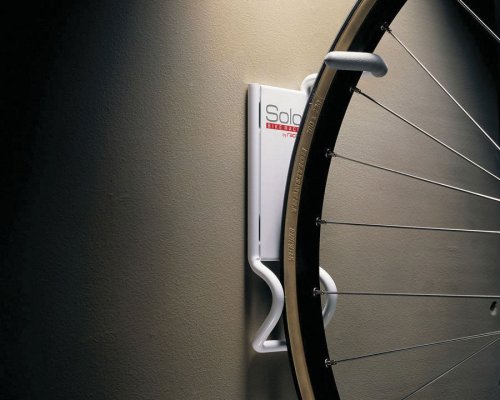 Whether you use your bike everyday or just occasionally, keeping your bike safe is a big concern for all bike owners. That's because having your bike stolen, or damaged by the weather are 2 very real possibilities regardless of where you may live. Fortunately there are many options for people who are looking for both outdoor and indoor bike storage. From bike storage sheds to bike hooks and everything in between there are a bunch of excellent options to fit your space, storage needs, and of course your budget.
Outdoor Bike Storage Solutions:
-A Bike Storage Shed For Maximum Protection
A simple way to keep your bike not only protected from the elements but from thieves as well is with a bike storage shed. Bike storage sheds are built to be much tougher than normal sheds as they are meant to deal with the weather while at the same time keeping out criminals. They are much more expensive than a normal garden shed, usually costing at least $900 but if you are keeping expensive bikes inside,  it's worth the investment and peace of mind.
In fact it's almost like purchasing a safe for your bikes as they offer the most secure bike storage other than keeping your bikes inside your home. Typically bike storage sheds can comfortably keep around 3 bikes along with biking and safety gear. A perfect example is the ones made by Bosmere shown below which is built from PVC coated galvanized steel, extremely strong, fireproof, and corrosion resistant.
Many models like this one have a spring assisted opening action so that you can easily open them along with 2 padlock positions for safety and can even be bolted down for extra security.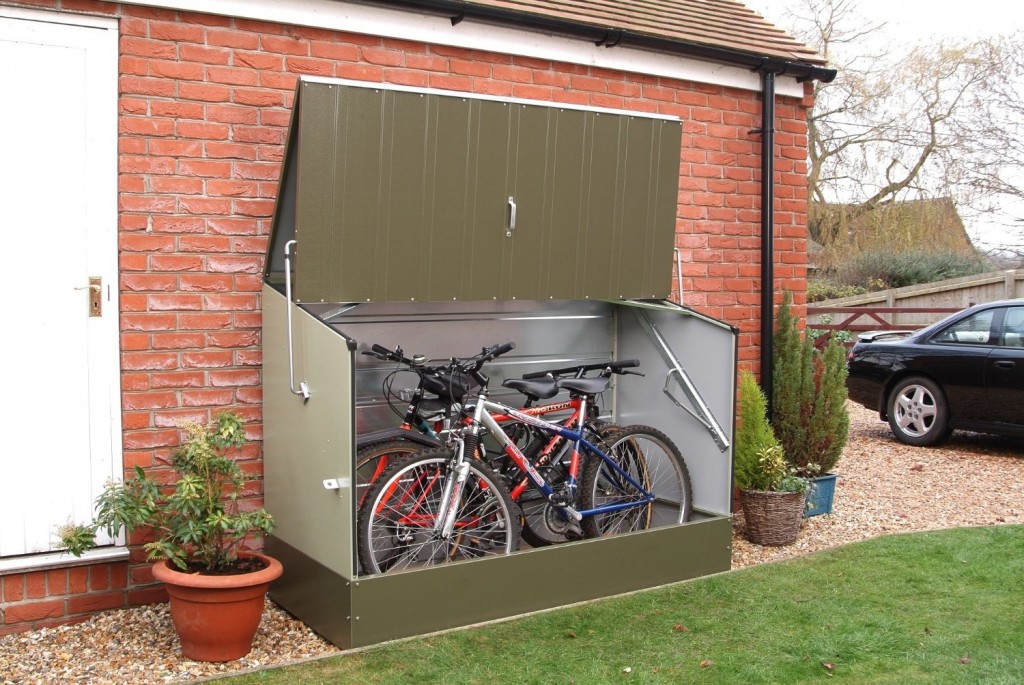 -A Garden Shed Can Work Too
If you don't need or are or not really interested in the extra protection that a bike storage shed offers, purchasing a normal garden shed could be the answer. They can keep your bikes out of the rain, snow, and Sun's rays and still offer security as they can be padlocked shut.
Normally these are made from either wood or plastic. Rubber Maid and Suncast offer some excellent resin plastic options ranging from small sheds which can accommodate a few bikes and only cost a few hundred dollars to ones which are large enough to keep all your landscaping equipment, tools, bikes, and more.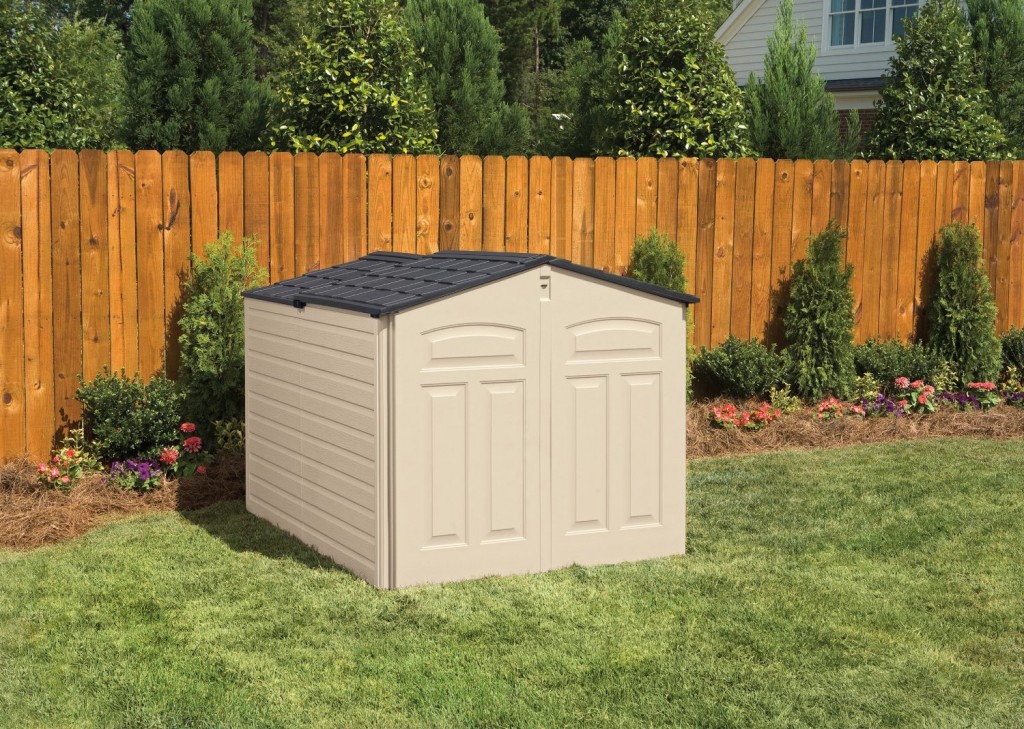 -A Bike Storage Tent Is Extremely Versatile
An inexpensive outdoor bike storage option is a storage tent. They take only a few minutes to assemble and are made from heavy duty polyester to keep out the elements and even have storm flaps.  The best bike storage tents have a reinforced floor and can fit 2 bikes snugly. Many even have carry bags so you can conveniently bring them with you on your biking trips providing protection from the weather wherever you are.
Not only are these an excellent backyard, garden, or travel option but many apartment owners use them to keep their bikes outdoors on their balconies. The most popular brand is Yardstash which offers several models around $100.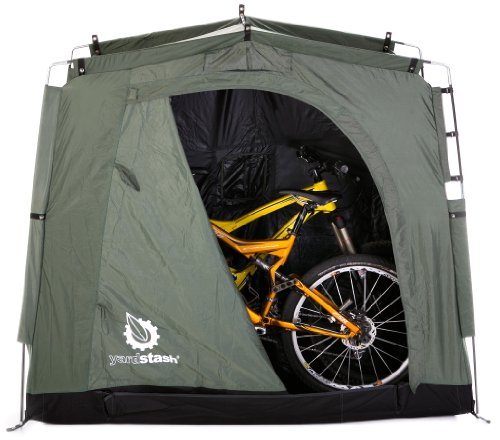 Garage Bike Storage:
-Bike Stands Are Great For Kids
A bike stand is a simple bike storage solution which doesn't require any tools or lifting your bike up in the air to put it away. Because they are easy and safe to use they are a favorite of parents with young children for keeping bikes stored properly in the garage. These are meant to keep bikes in a convenient standing position and not of leaning against each other which can easily cause damage by itself or cause the bikes to fall over causing even more damage.
While most stands are made for 2 bikes you can purchase ones which can hold up anywhere from 1 to 6 bikes. Almost all stands will allow you to face your bikes in opposing directions or facing forward, it's up to you. A good quality stand like the ones built by the best-selling company Racor cost between $100-200 however there are many other brands which offer them as low as $30.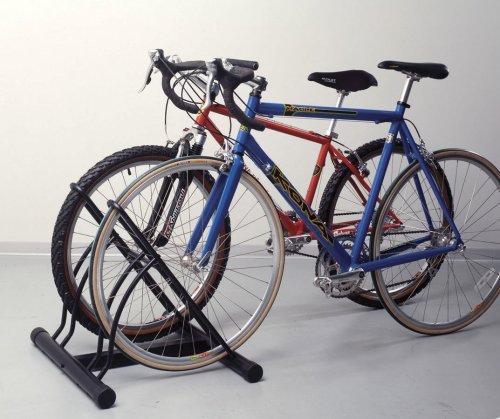 -A Bike Hoist Frees Up A Lot of Space
For homeowners who want to keep their bikes in their garage but don't have a lot of space, or who just love to use their garage to its full potential, a hoist is a fantastic vertical bike storage option. A bike hoist uses hooks which attach under the seat and handlebars along with pulleys so that you can easily hoist your bike up and out of the way utilizing space you thought you never had.
Some can even lift bikes over 100 pounds and up to 12 feet high. These can be a very affordable option especially when purchased online from places like Amazon where you can find hoists from top brands like Bike Lane and RAD for as low as $15-25. Because your bike will be off the ground it is very important you purchase a high quality hoist with features such as a locking mechanism which prevents the accidental release of the bike. Hooks with bright colors are also a great feature especially for the dimly lit garage.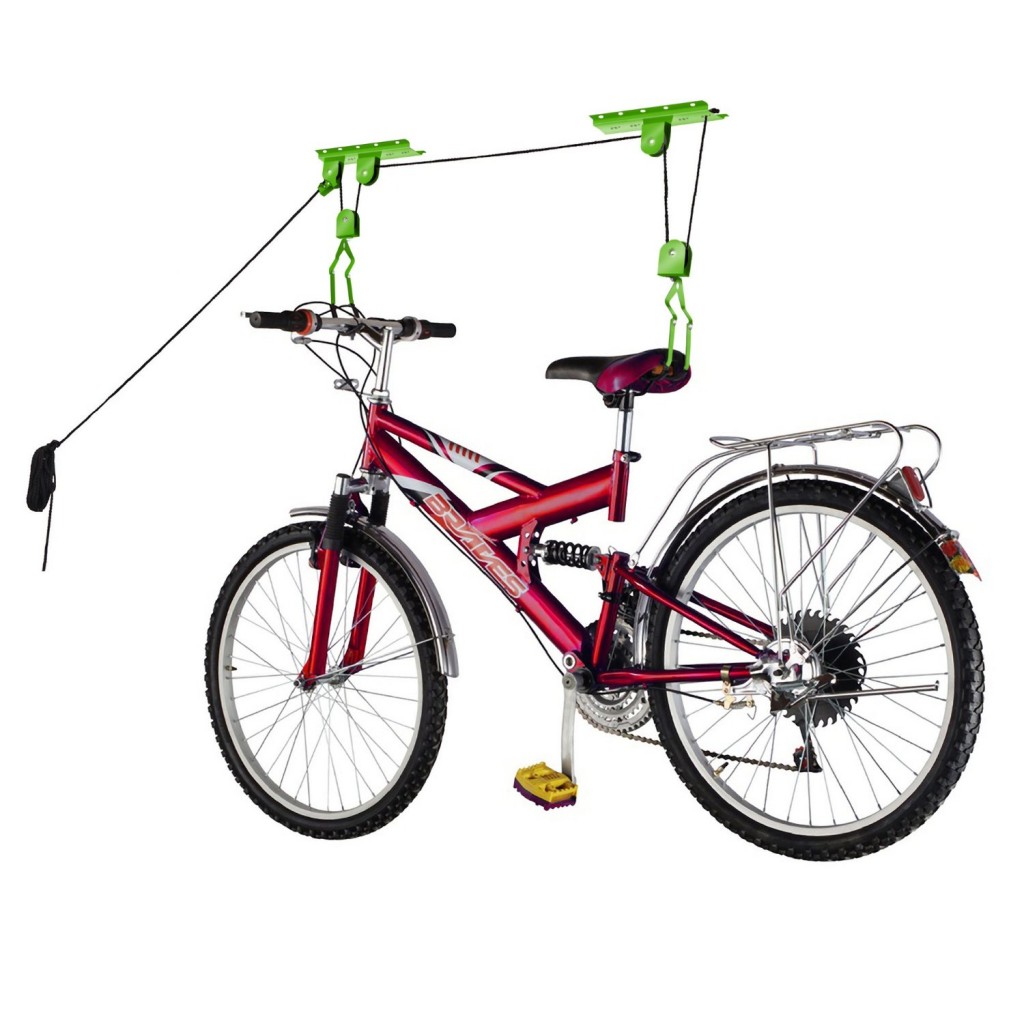 -A Floor To Ceiling Bike Storage Rack Keeps Walls Hole-Free
Another vertical option is a floor to ceiling bike storage rack. Using a tension mounted system they can be used in any garage, apartment, or home that has a sturdy ceiling. While they are most often seen in garages they are great for apartment bike storage because they don't require you to drill any holes, which can sometimes be a problem if you are not the owner.
A floor to ceiling rack can normally hold 2 bikes but some will hold up to 4 and can extend to up to 11 feet high. For a quality floor to ceiling bike storage rack expect to pay between $60 to $150.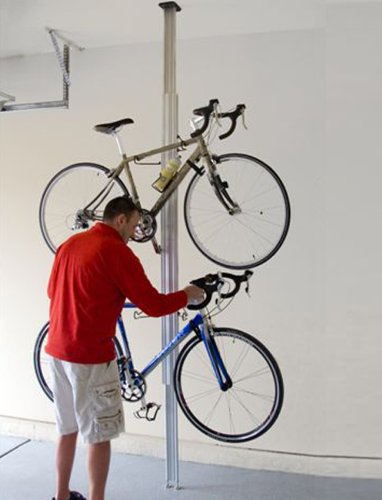 -A Wall Mounted Bike Storage Rack Keeps Bikes Up And Out Of The Way  
If you prefer to use your wall space to store your bikes a wall mounted bike storage rack could be the best choice for you. Depending on the model some can hold up to 6 bikes which means it can work for the whole family; however the more bikes a rack can fit the more expensive it is. This could mean paying $15 for a single rack or $100 for a 6 bike rack.
Simple to install, they are drilled into the wall and have plastic coated hooks attached which hold the bike up by one tire. When doing so it would be a smart idea not to install your rack above 8 feet high as any higher than that and it will start to become much more difficult for the average person to put the bike on or take it off. Good brands include: Monkey Bar Storage, Racor, Top Peak, and Delta to name a few. Both Racor and Delta offer some very good quality and yet very inexpensive single rack options.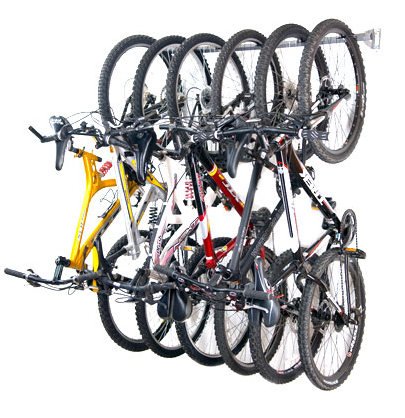 -A Ceiling Mounted Bike Storage Rack Is A Unique Vertical Alternative
Many homeowners don't even realize that ceiling storage is an option yet it's one which can really free up the floor space in your garage. The racks are drilled into the ceiling and each bike is held up by 2 hooks which are attached to the rack and hold each wheel of the bike. Because you are installing this type of rack to the ceiling it can be a little more difficult to set up initially than other types of racks.
Also keep in mind that you will have to be lifting your bikes up to attach to this so it might not be ideal for someone with shoulder or back problems. Like with bike hoists because your bike will be up in the air it is very important to purchase a brand that you can trust, Saris offers a very sturdy and well made rack for around $230.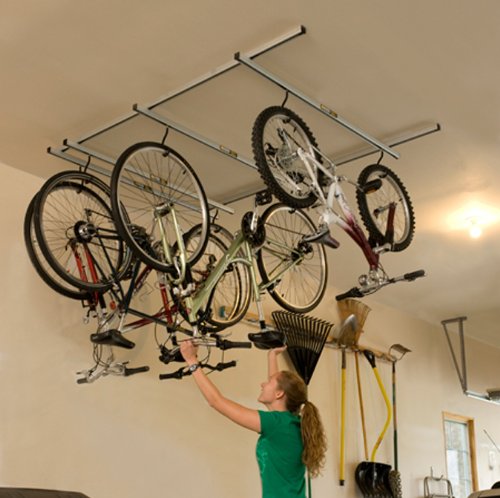 -Bike Hooks Offer Affordable Storage  
A cheaper alternative to a ceiling mounted storage rack are bike storage hooks. While not as heavy duty as a rack they are very inexpensive and cost usually less than $10 for a set of 2. They are a good option for anyone who only wants to hang 1 or 2 bikes from the ceiling and save some cash. Bike storage hooks a cinch to install, all you have to do is drill a hole into your ceiling, screw the hooks in, and you're done.
These are also perfect for storing all types of yard equipment and tools. Depending on the brand, of which there are many, they will hold anywhere between 40-60 pounds of weight.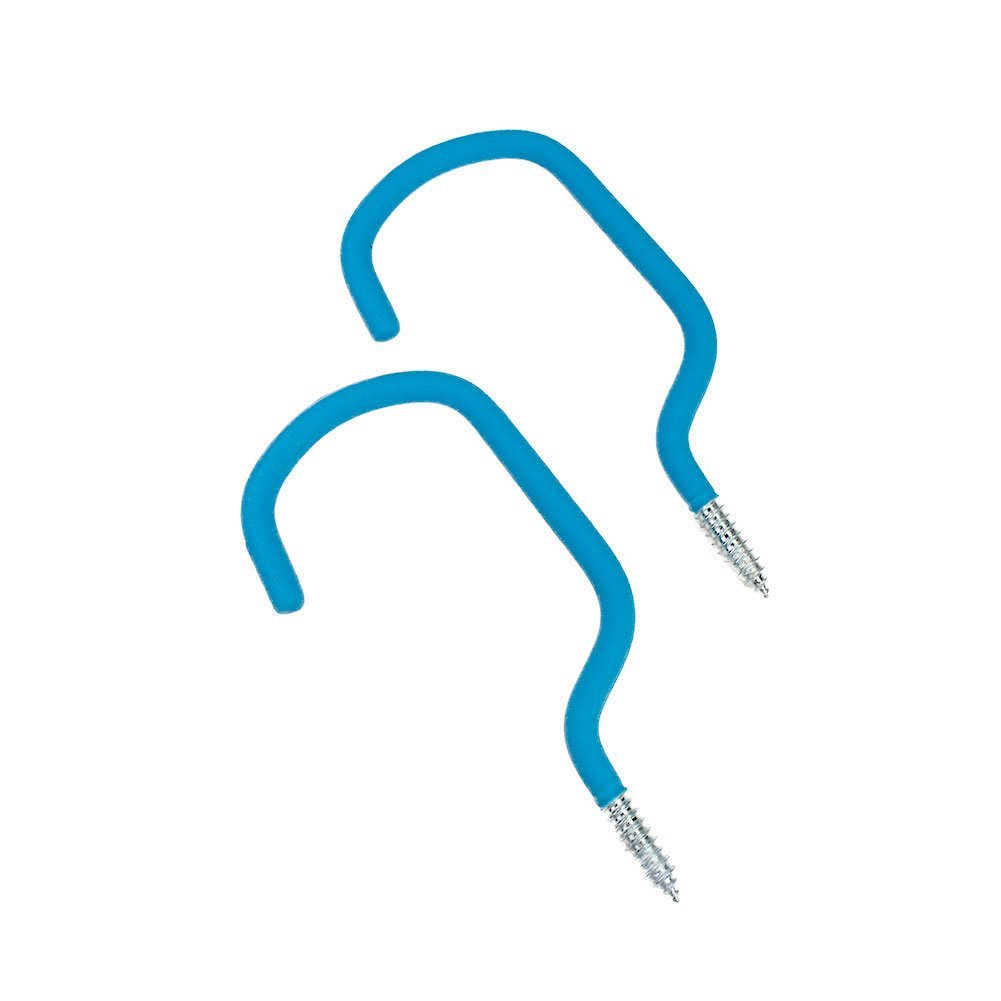 Apartment Bike Storage:
When it comes to keeping your bike in an apartment there are quite a few options that work well. Wall mounted storage racks are probably the most popular, especially in apartments where space is limited. If you do choose a wall mounted rack in your home it would be a smart idea to choose one like the one below which uses rubber pads to prevent the bike's tires from marking the walls.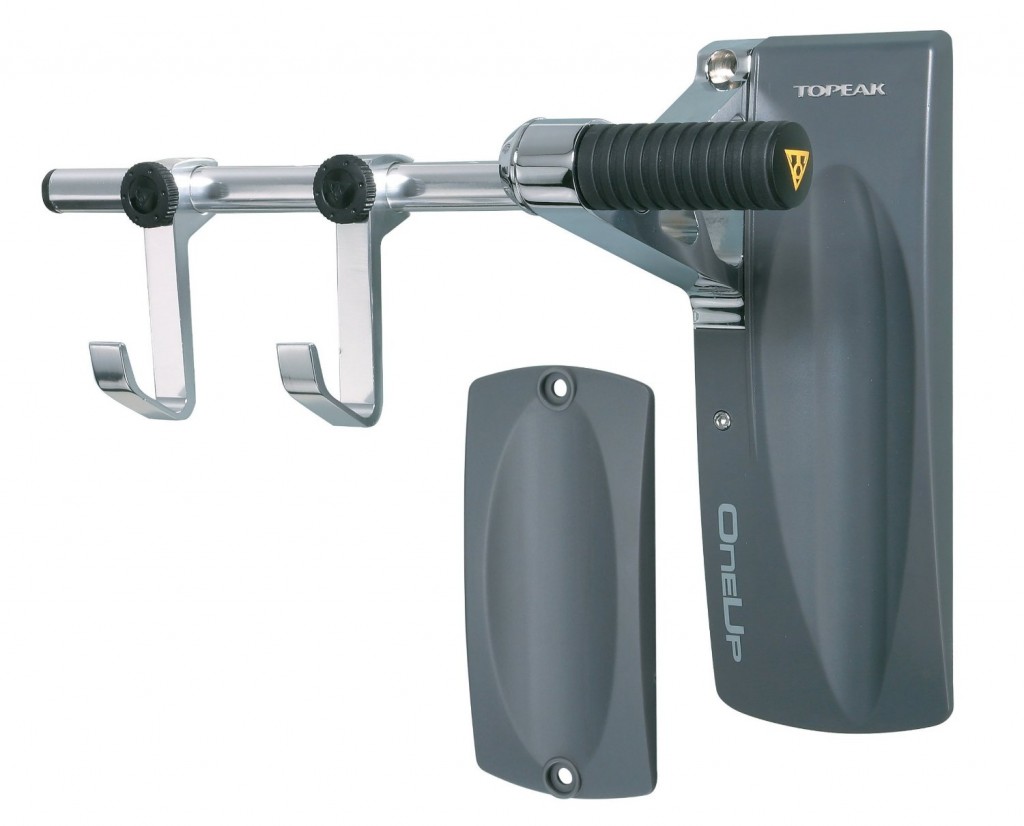 -A Free Standing Bike Rack Looks Good And Is Easy On Your Apartment
If you are renting or don't want to drill any holes in the walls and you like the idea of vertical bike storage you can opt for a free-standing bike rack. A free-standing rack has a weighted base to keep it from tipping over and normally holds 2 bikes and up to 100 pounds. They are not only a good idea for apartments but also garages and can be used to hang almost anything you can think of. The Michelangelo Gravity stand by Delta can even be used to hold your kayak.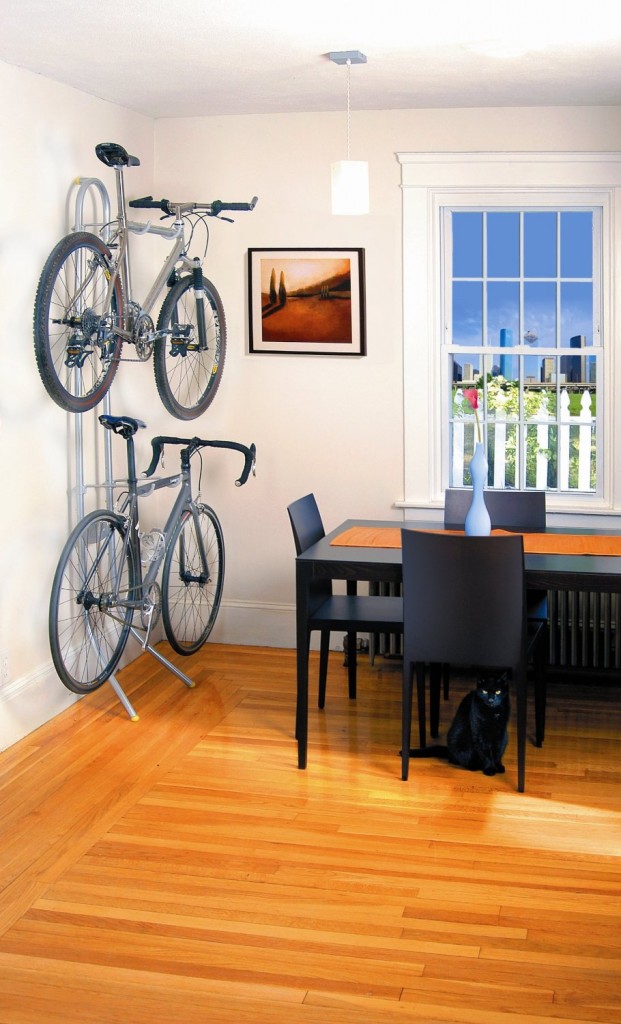 Other Apartment Options:
If you have the storage space to keep your bike on the ground a simple bike stand will work to keep your bike upright or its handles from marking the walls as a result of being leaned against them for support. A bike tent works well indoors as well, or on an outside balcony to keep your bike close at hand yet still protected.
Some people also use floor to ceiling racks indoors and there are also plenty of DIY indoor bike rack ideas that can look great and function to hold your bike off the floor by its frame or by its wheels.
As you can see, there are a ton of bike storage options available. Where you decide to store your bike will have the biggest influence on the type you decide to use so make sure you analyze this space to see what it can handle before making up your mind. Your bike is an investment in both fun and recreation as well as in your health and well-being so protect that investment with the proper bike storage option so you can enjoy all of the great benefits of having a bike for years to come.
Click Here Nowto start shopping for bike storage solutions!