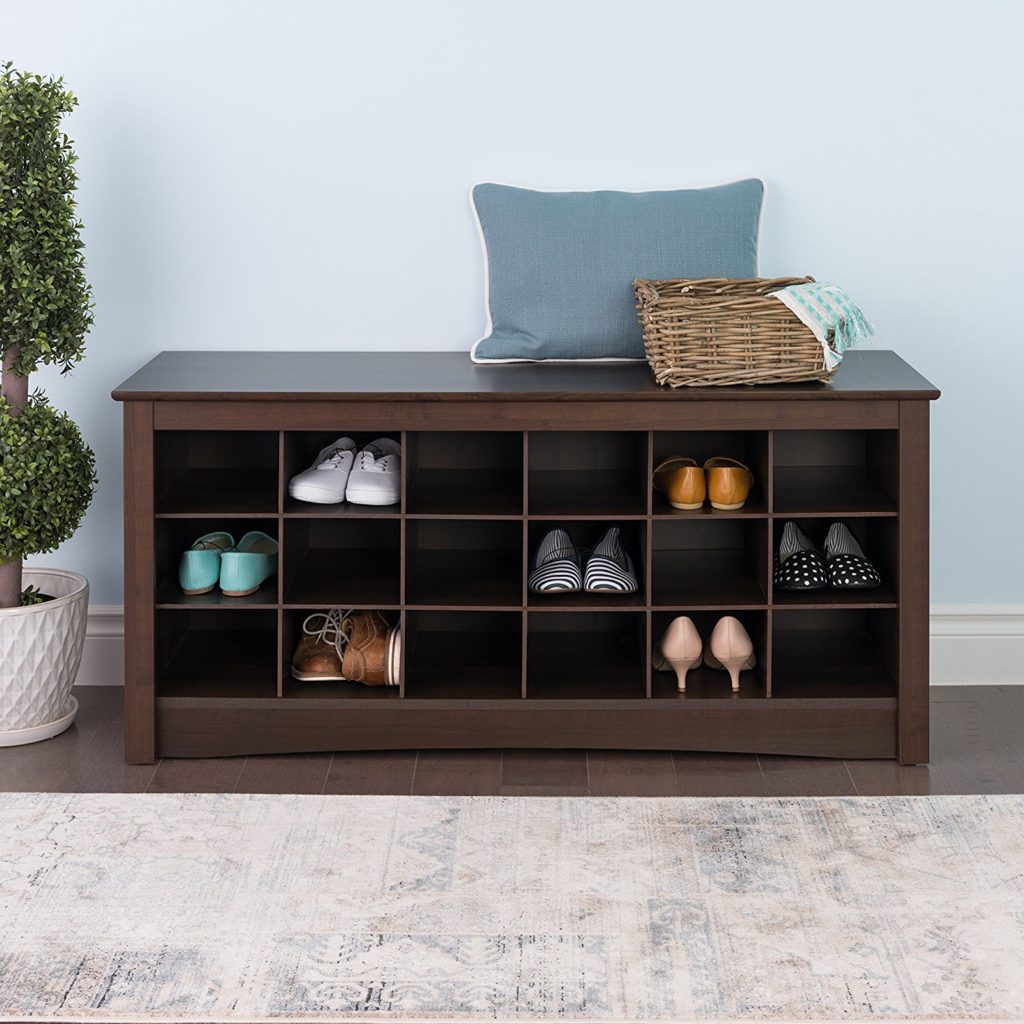 Piles of shoes near the door, in your closet, or under the bed never look good. In fact, they take away from the look of your home, waste time, and even allow your shoes to become damaged. Even worse they can be a safety hazard. Regardless of how many shoes you have, keeping them organized is simple, but you will need the right storage solution.
To help you find one that works for your situation, we've come up with a list of the best shoe storage ideas. Each one offers something a little different. That being said, here are our top picks: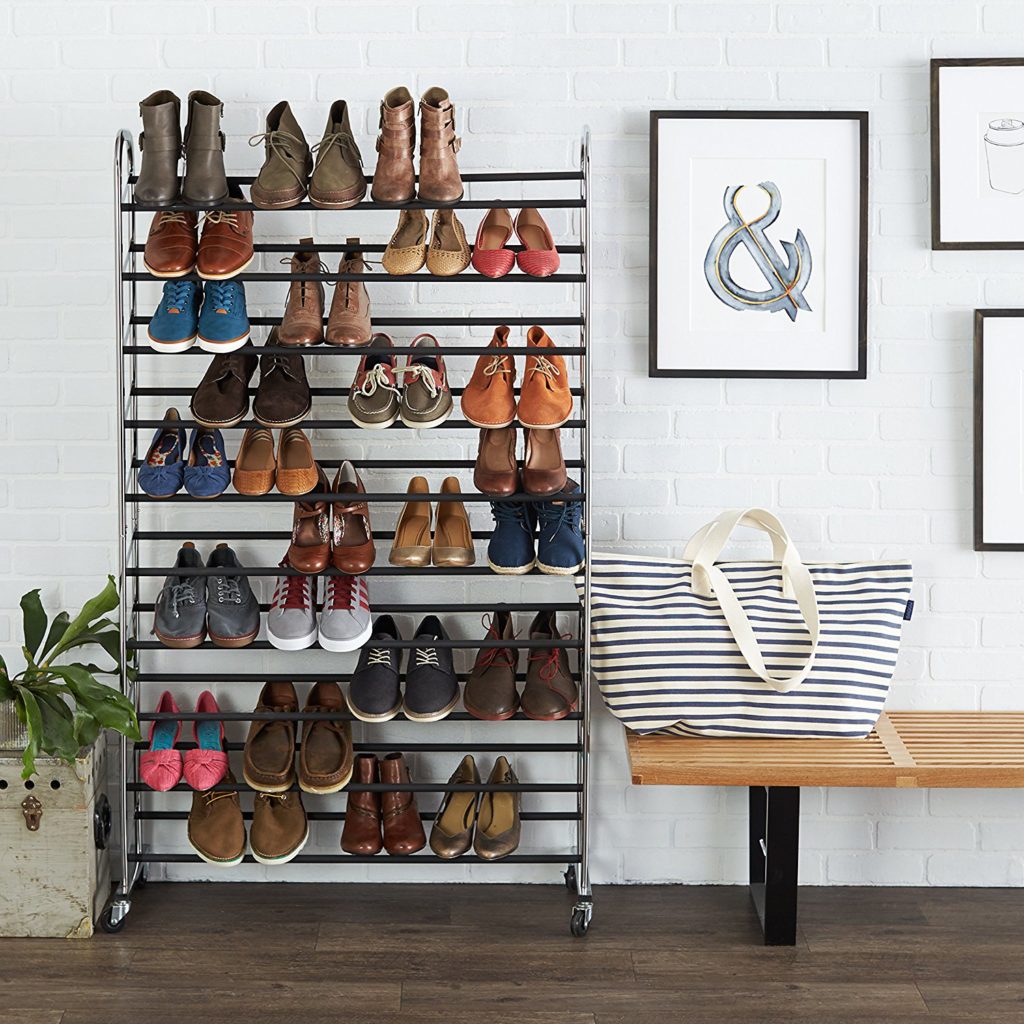 Shoe Storage Cabinet
Many people consider a shoe cabinet the best looking choice for keeping footwear. This is not just because cabinets themselves can be very attractive furnishings but they also make sure that the shoes are totally hidden from view. Sometimes also called a shoe storage cupboard, they normally come with around four or five shelves inside that can accommodate many different pairs of shoes.
Exactly how much your cabinet can hold will depend on the specific model you choose since some are wider and taller than others. Some models can hold up to around twenty five pairs which would be perfect for a family or anyone who is an athlete or has a serious shoe collection.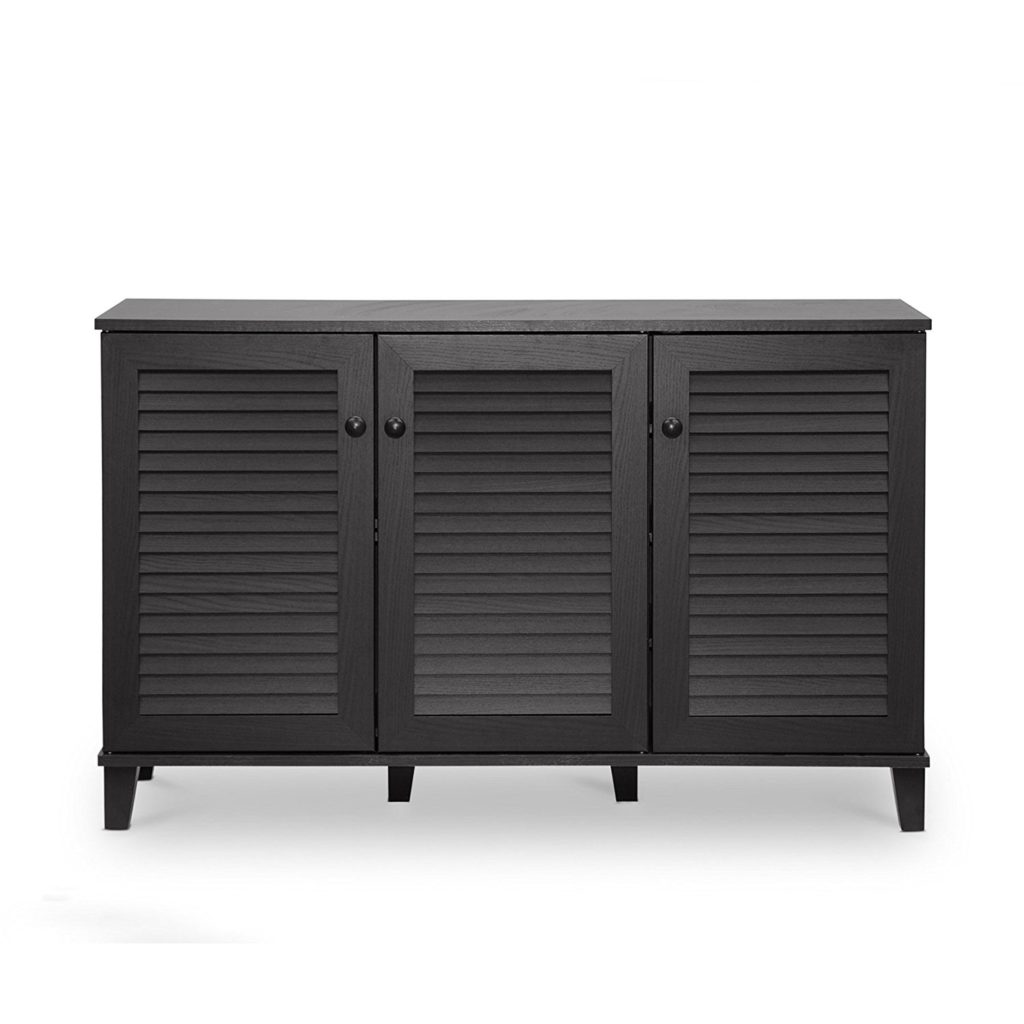 You'll notice when shopping for them that most are made with a wood veneer or laminate covering which is easy to wipe clean and resistant to scratches. A cabinet is ideal for controlling shoe clutter in entryways and most guests will have no clue what's inside, unless you tell them of course.
They also can be used for hallway shoe storage too and the fact that many models also have extra drawers for storing other household items can make them a very handy addition to the hall or near the door. But since they are an eye-catching piece of furniture really can be used in just about any room of the house.
Don't forget their flat top can be the perfect spot to add framed photos, artwork, candles, plants, or any other decorative touch you may be thinking of. Like with many other shoe storage solutions you will need to put them together with the included instructions when you buy one.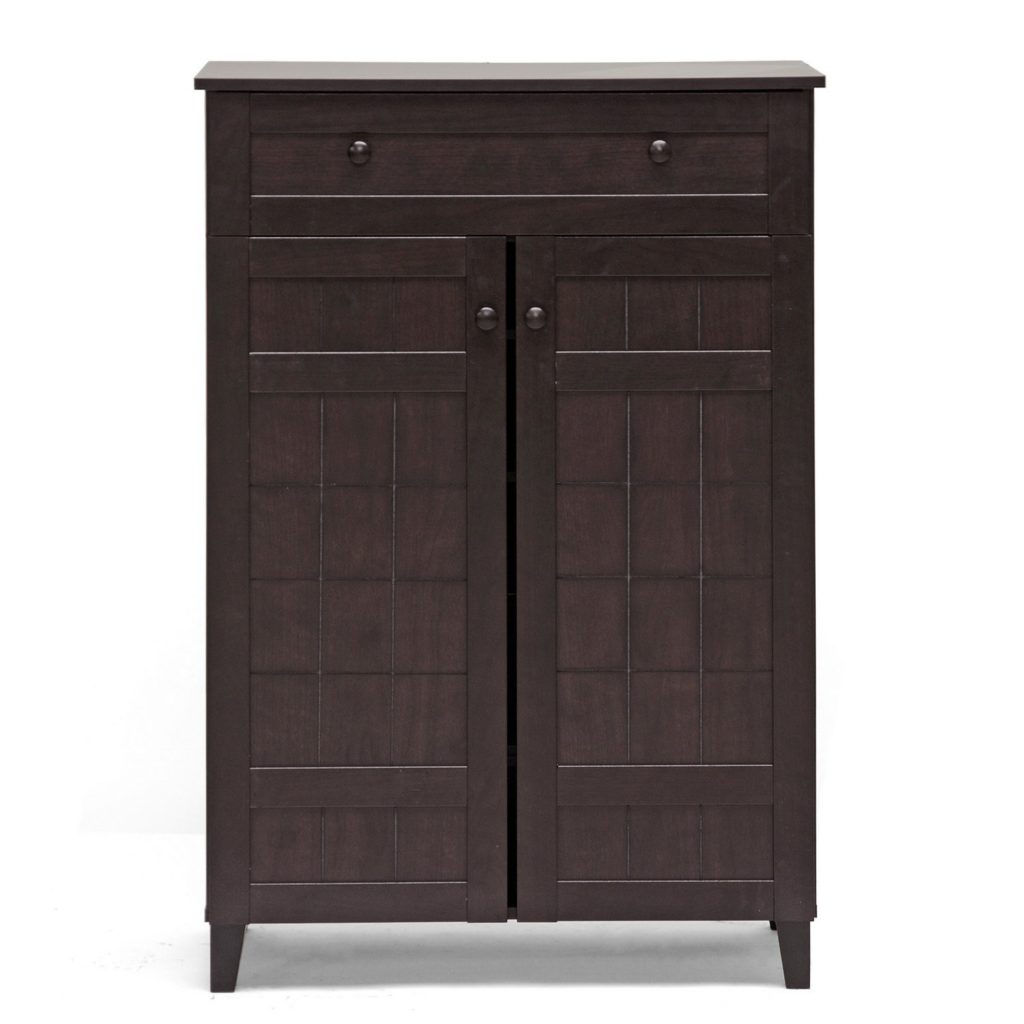 Tips:
-Just like with other pieces of furniture you will first want decide where you want to use one and then pick something that will complement that space.
-A very helpful feature to look for especially if you will be keeping very tall shoes or boots are adjustable shelves.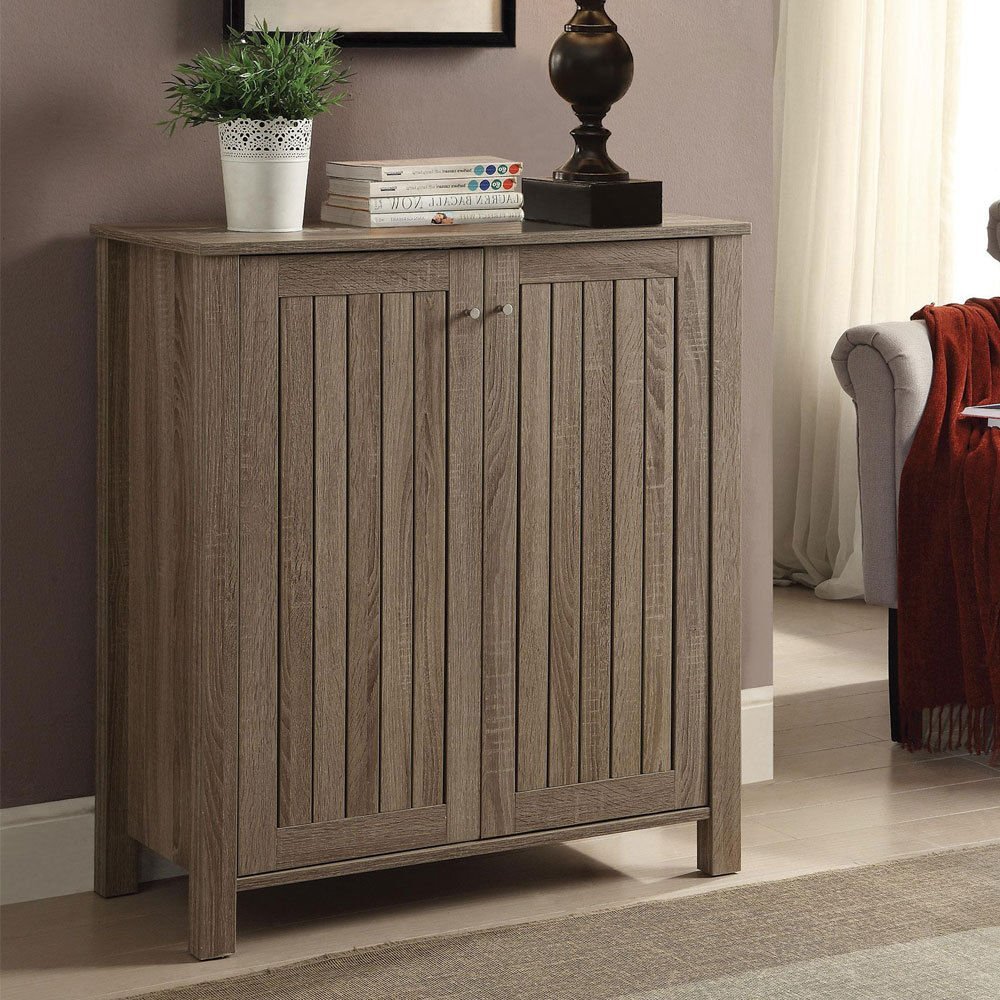 -For those who have very large shoes be sure to purchase the deepest cabinet you can, if you don't you may end up having to place them sideways on the shoe storage shelves inside.
-Spending a little more will get you a much higher quality product. If you try to save too much and purchase a model that is very inexpensive you most likely will end up with materials that cannot support the weight of many pairs of shoes and end up cracking or breaking. A top-rated cabinet won't cost too much more but will give you many years of use and help upgrade the look of your home.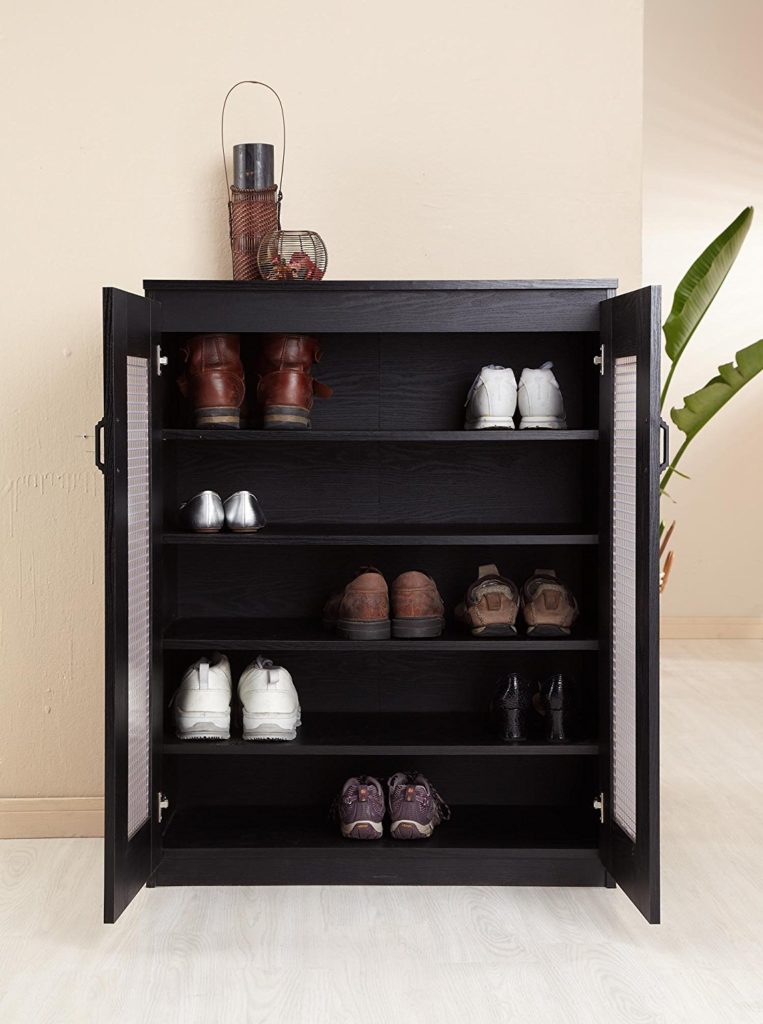 Shoe Storage Bench
Unlike other options a shoe storage bench offers both a place to keep your shoes and seating. Most will have a shoe rack or cubby spaces underneath the bench to neatly place your footwear. So while the shoes are visible, this is a more discreet form of storage. Some benches may even a hollow space inside the body of the bench for keeping extra items too.
A bench is one of the best choices for entryway shoe storage because it can give you a place to sit down comfortably and put your shoes on when leaving the house, or take them off and store them when entering it. Using one in an entryway is a superb way to keep shoes from forming an unsightly pile near your door while adding an attractive piece of décor to your home.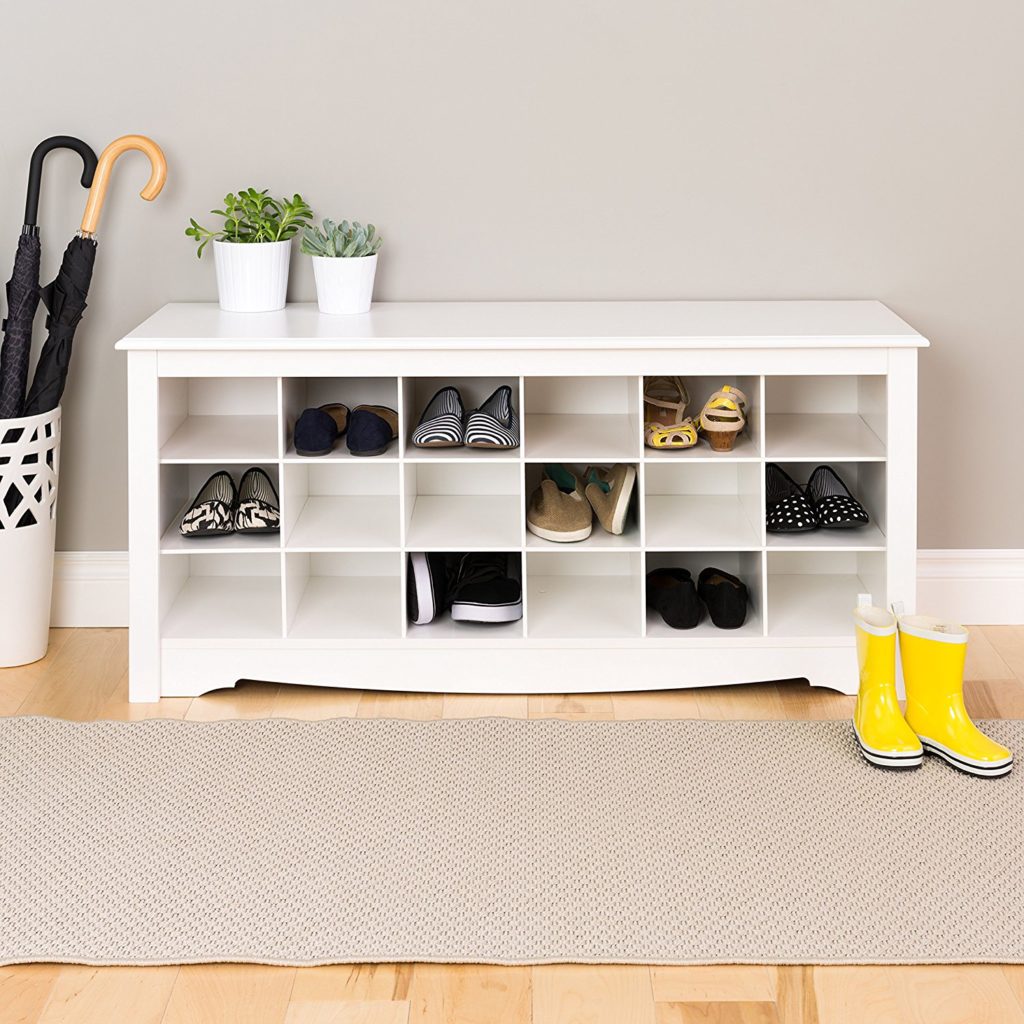 Benches are available in a variety of wood types and in many different finishes to match your interior.  Metal is also an option as well but usually not as common as wood. Depending on what you prefer there are benches without cushions (but of course you can always purchase your own separately if you want some later) or those that have soft upholstered seats.
Most benches will require you to put them together on your own once they are purchased, but this is very basic assembly and requires no skill. And while you can find expensive models, the majority are pretty cheap in price yet look like they cost much more.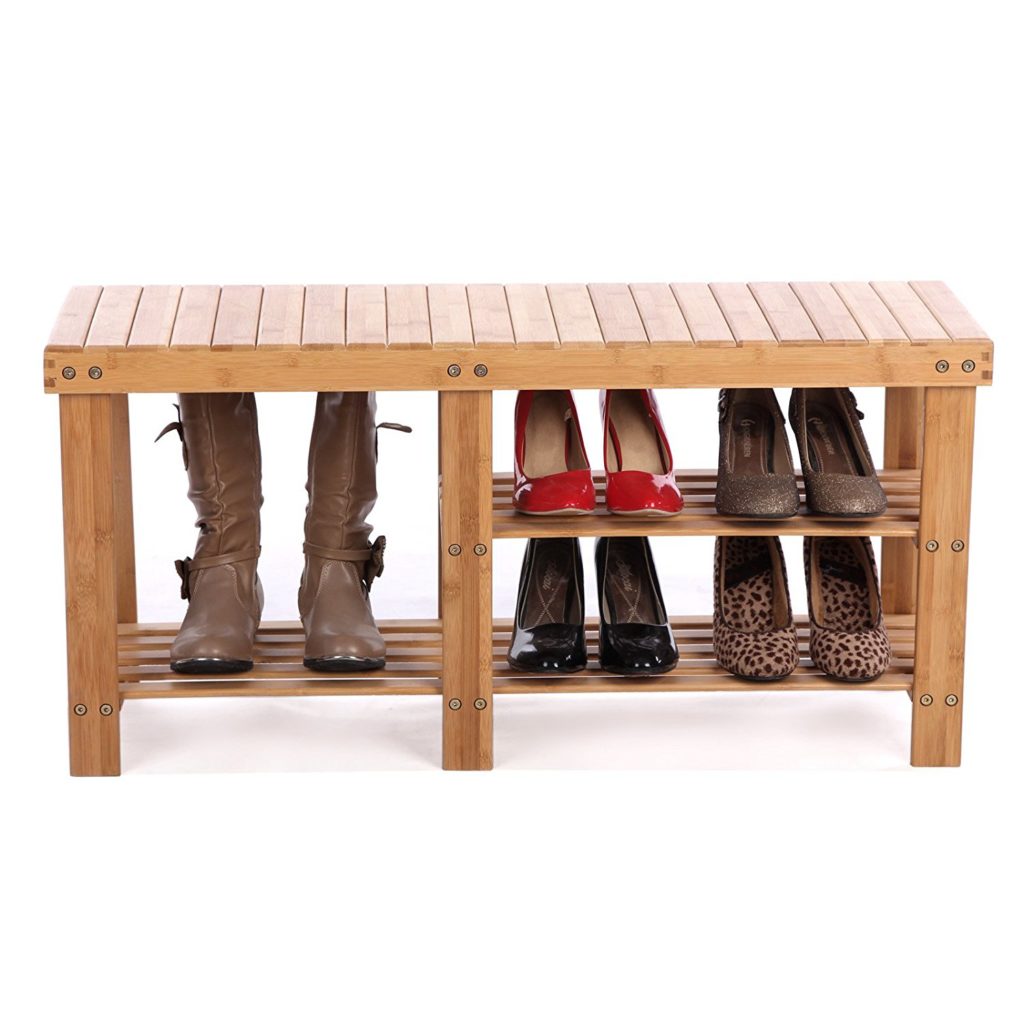 Tips:
-A bench with shoe storage can be a very stylish addition to whatever space you choose to use one in. Taking a little time to choose a material, color, style, and size that work and also fit in the room can go a long way in terms of results. This is especially true in smaller rooms like entryways. For example choosing a model with tufted faux leather upholstery could be the extra touch that completes the look of your space.
-Don't overlook these for hallway shoe storage either, a bench can make a plain looking hall much more visually appealing while also adding function.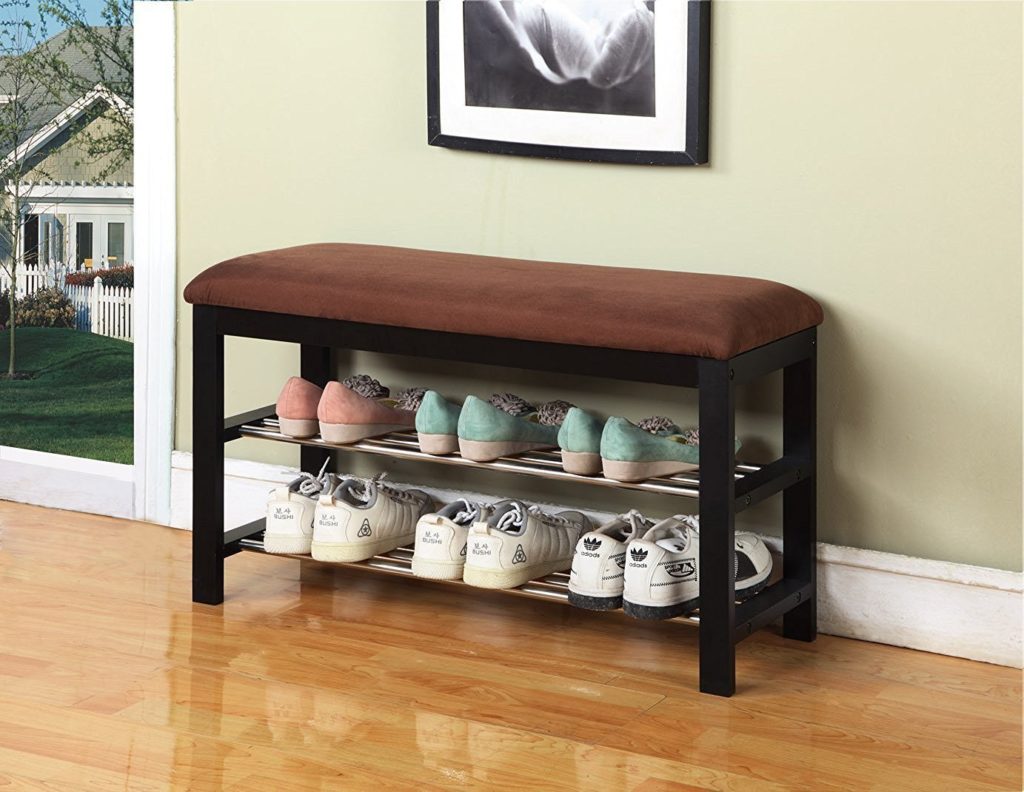 Shoe Storage Rack
For very large amounts of shoes you won't find a better value than a shoe rack. A rack will give you vertical storage to help take up as little floor space as possible. Shoes are placed on shelves which are normally made from rails which are easy to wipe clean. Shelves are either flat or slightly angled so you can see your shoes more clearly.
The height of your rack, how wide it is, and how many shelves it has will determine how many pairs of shoes it can hold. Some larger racks can handle up to around fifty pairs which make them a cheap shoe storage choice for the serious shoe collector or large family. But of course not everyone needs that much storage, and there are shorter options for keeping smaller amounts.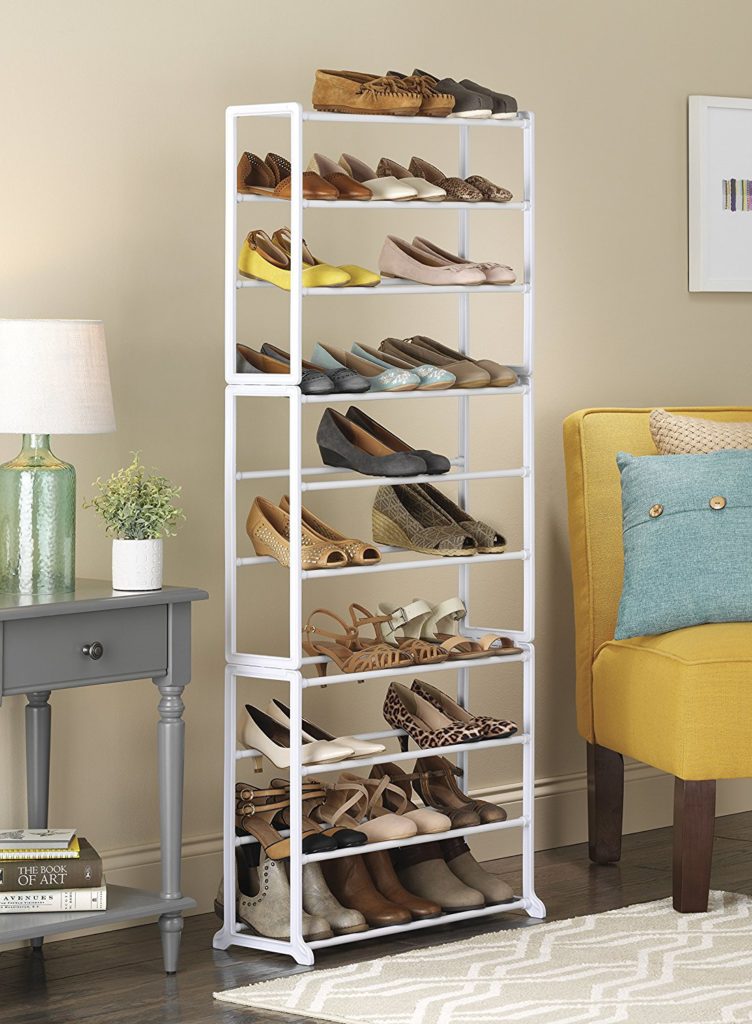 A rack is a perfect choice for the closet particularly if you don't want to keep your shoes where everyone can see them. Shorter racks can often fit right under the hanging clothing in your closet which is an efficient way to use your space. A shoe rack also works amazingly well in entryways and that's why you will see them used there so often. For porches and covered areas near the front or back door a rack is one of the easiest outdoor shoe storage ideas as well.
Most racks are made from plastic, metal, or wood with plastic being the least expensive choice. While a wooden shoe storage rack will usually cost a little more than both plastic and metal, it will provide more charm and would be a good buy for those who are looking for something that is more attractive.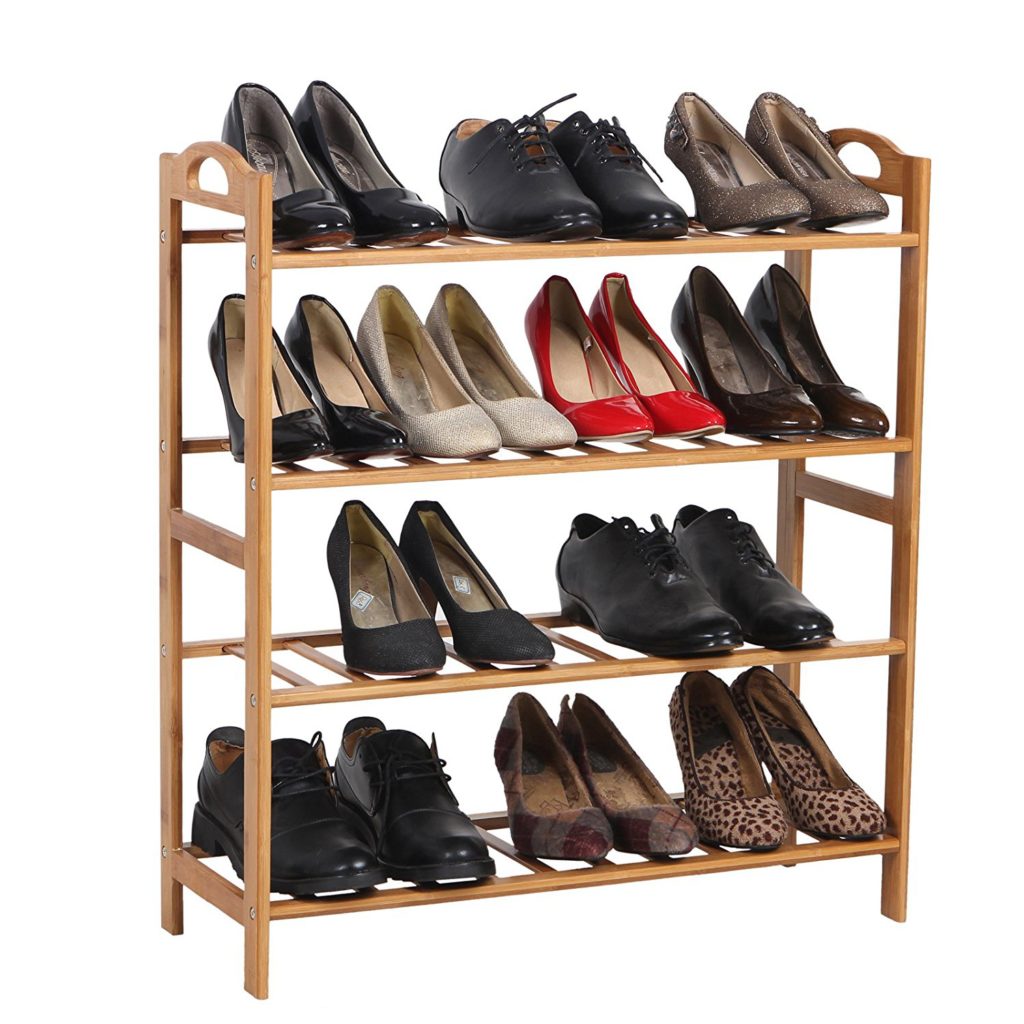 Tips:
-Many consumers like to choose a rack that leaves enough space below the bottom shelf to store shoes or other items on the floor to save even more space.
-If you like the idea of a rack but want something more discreet you should consider one that has a cover. This will hide your shoes from view and keep them dust-free.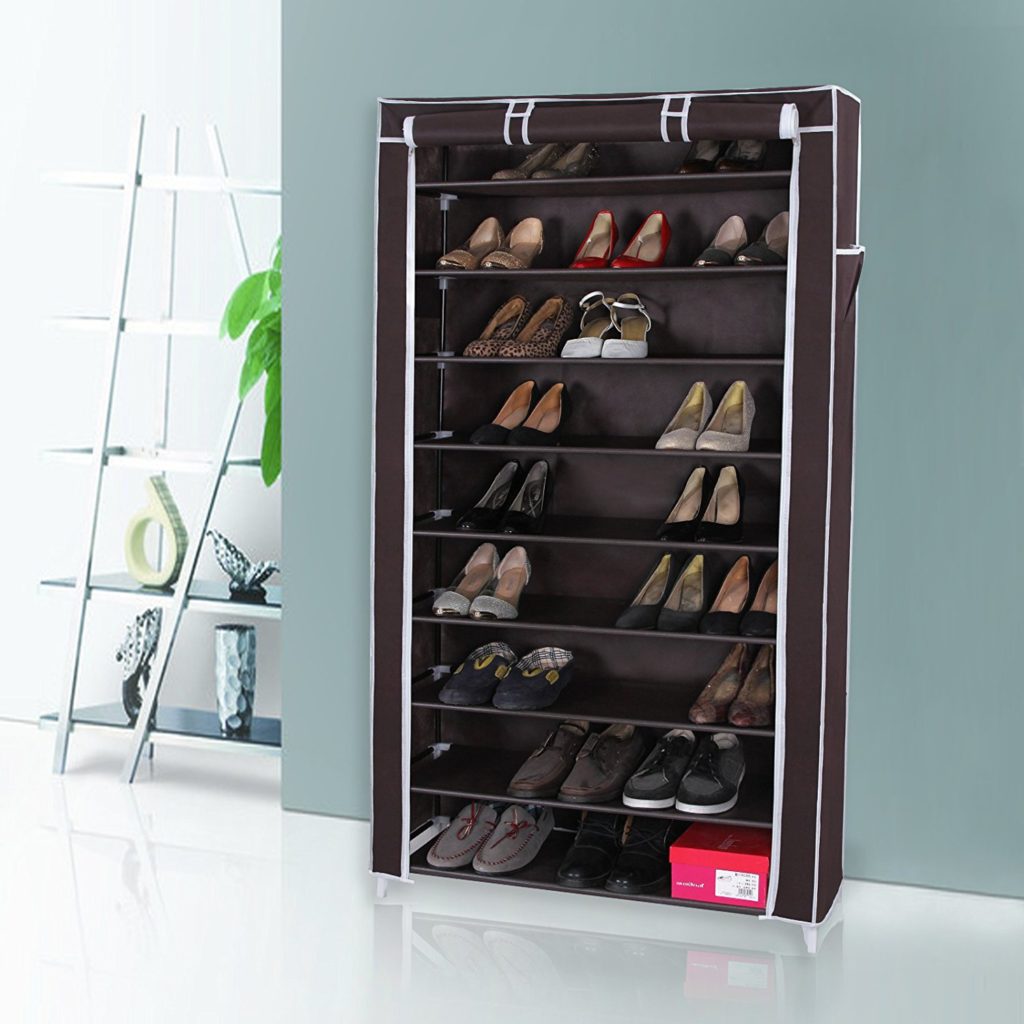 -While many racks are lightweight and easy to move, if you think you will need to move yours quite often be sure to look at models that have wheels.
-Another handy feature are adjustable shelves, which can be a big plus if you will need to fit larger size shoes or boots.
-Some models can interlock and be stacked so if you think your shoe collection will be growing in the future, it might be best to think about a rack that has this feature.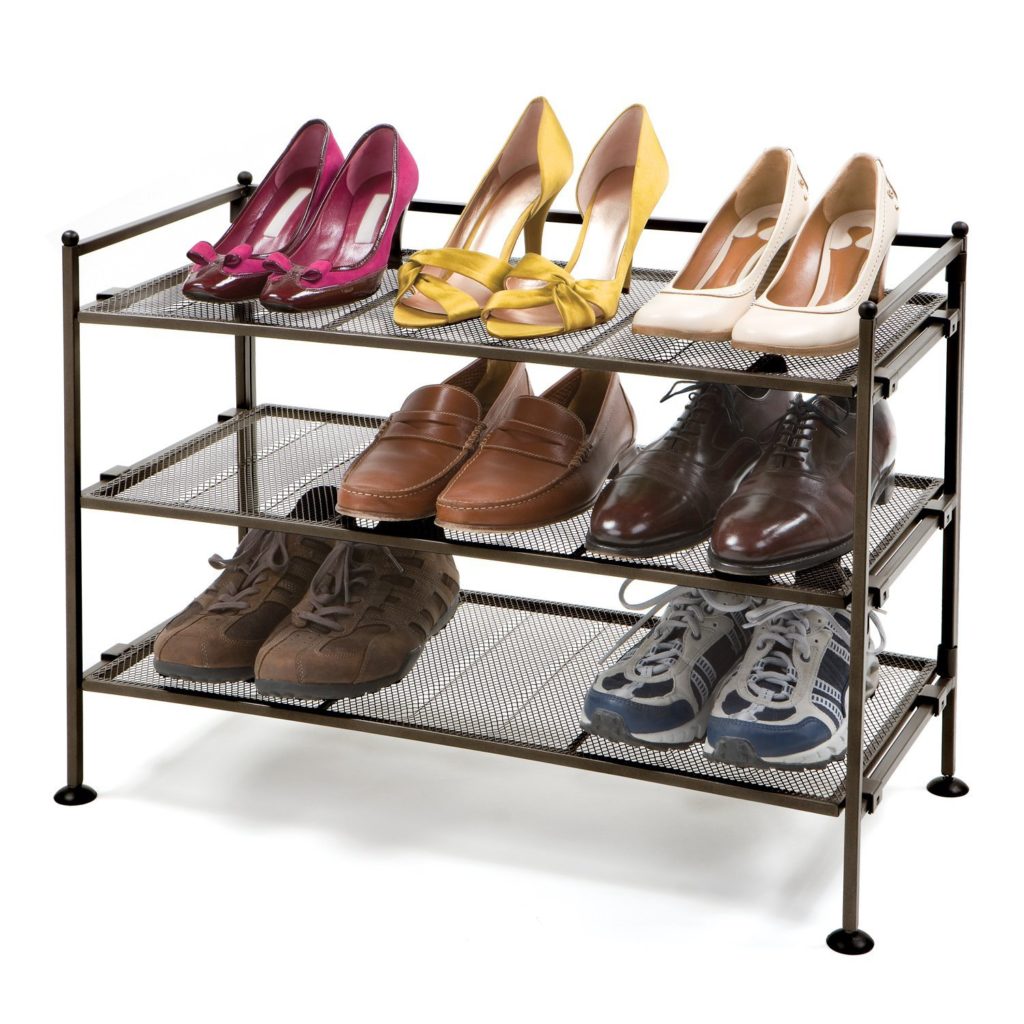 Hanging Shoe Organizer
This is a unique looking option which is also a great way to utilize a space that many people overlook. Most models are made to either hang over your closet door itself or on your closet rod like a hanger.  While some have cubby holes to keep your shoes, others have vertical pouches. The majority of organizers are made from canvas but linen is another choice as well.
Hanging shoe storage will help you to free up floors and shelves so they can be used for other things and at the same time will only take up a small amount of space in your closet. Because they keep your footwear up off ground they are a smart way to go for anyone with a bad back, knees, or who just doesn't like the idea of having to bend down every time they want to find a pair of shoes. Even though they are made for the closet they can also be used over any door in the house or even on clothing racks.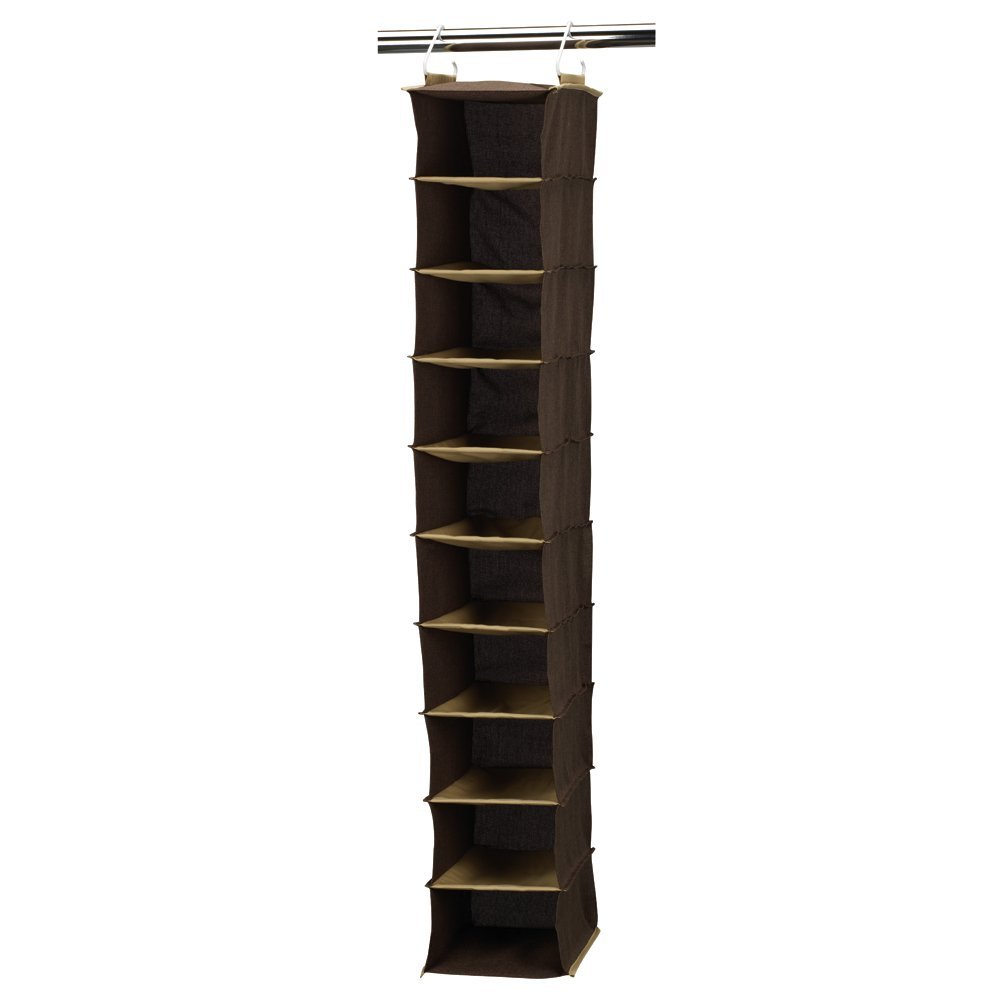 Tips:
-Not all organizers have pouches or cubby holes that can handle very big shoe sizes. If you have large size shoes or high heels you might want to think about choosing an organizer with as many holders as possible so you can place a single shoe in each.
-You many want to purchase a stick-on door hook that you can attach to the face of your door if you don't feel like hanging your organizer over the door.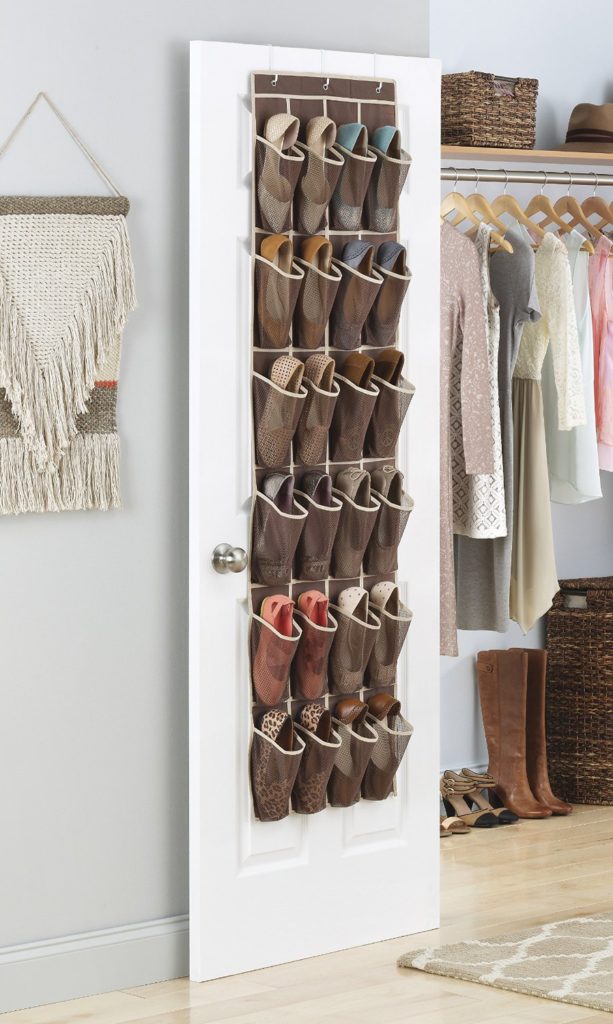 Under Bed Shoe Storage Organizer
Keeping shoes under a bed is a smart idea since you won't be taking up any extra floor space. However, it needs to be done right. An under bed shoe storage organizer is the simplest way to do this in a clean, convenient, and organized way. It also happens to be a very inexpensive option.
These look similar to an open suitcase with many different pockets for separate pairs of shoes. They normally have a clear vinyl cover that lets you pick out the shoes you need at first glance with zero wasted time. This cover also makes sure your footwear is dust-free so you so you won't need to wipe down your shoes before you wear them.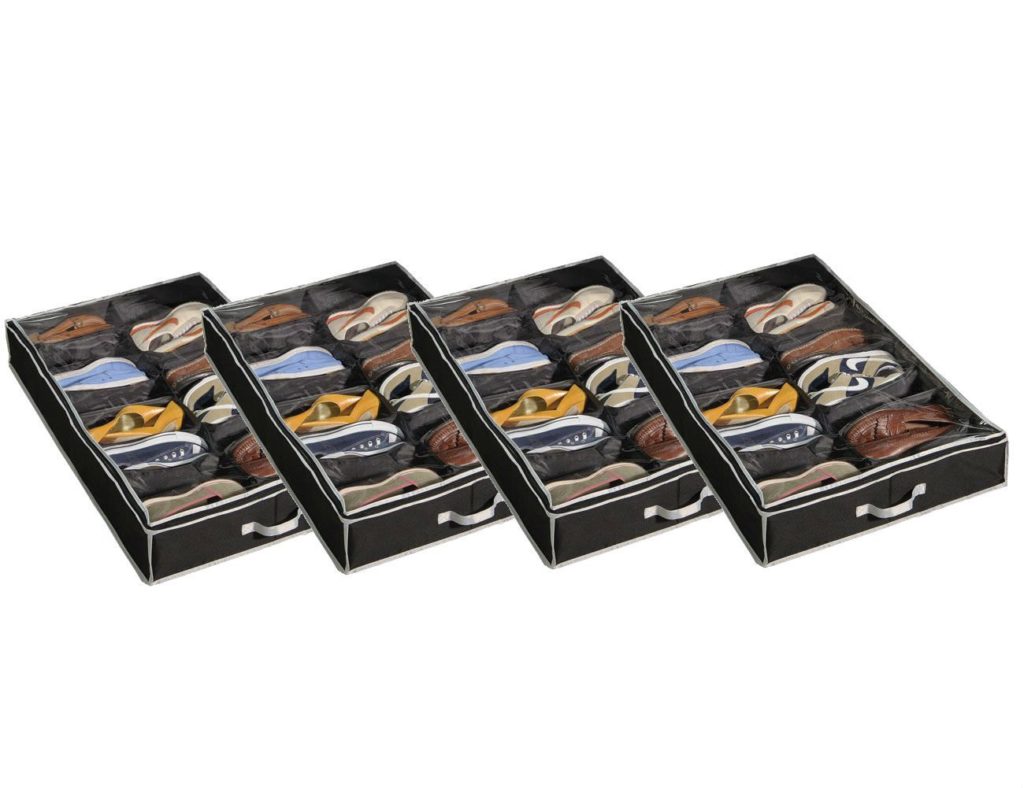 Virtually all under the bed shoe storage options are made from breathable materials that allow for proper ventilation which is always a good thing since it helps keep bad smells from building up. Because they have handles and are lightweight you can pull them out from under your bed with little effort.
Tips:
-Strong and durable handles are a must, some can hold up to 18 pairs of shoes so the handles need to be strong enough to deal with that weight when you move or lift your organizer. Be sure to stick with top brands so you don't end up with flimsy or cheaply made materials.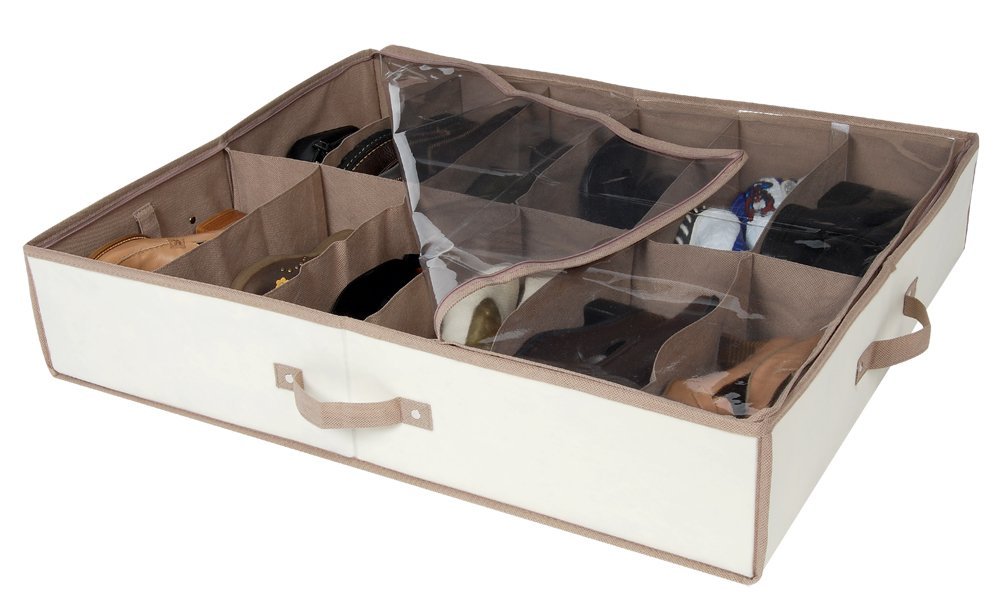 -A good feature to look for is that the organizer is foldable. This will give you fantastic under bed shoe storage that won't take up extra space when it's not in use.
-These are a great idea for college students living in dorms where the space is particularly limited.
-Another popular place to use one of these is in the closet. Because they have handles and are light you can keep them up on a closet shelf. And of course they can be used for keeping other items such clothing.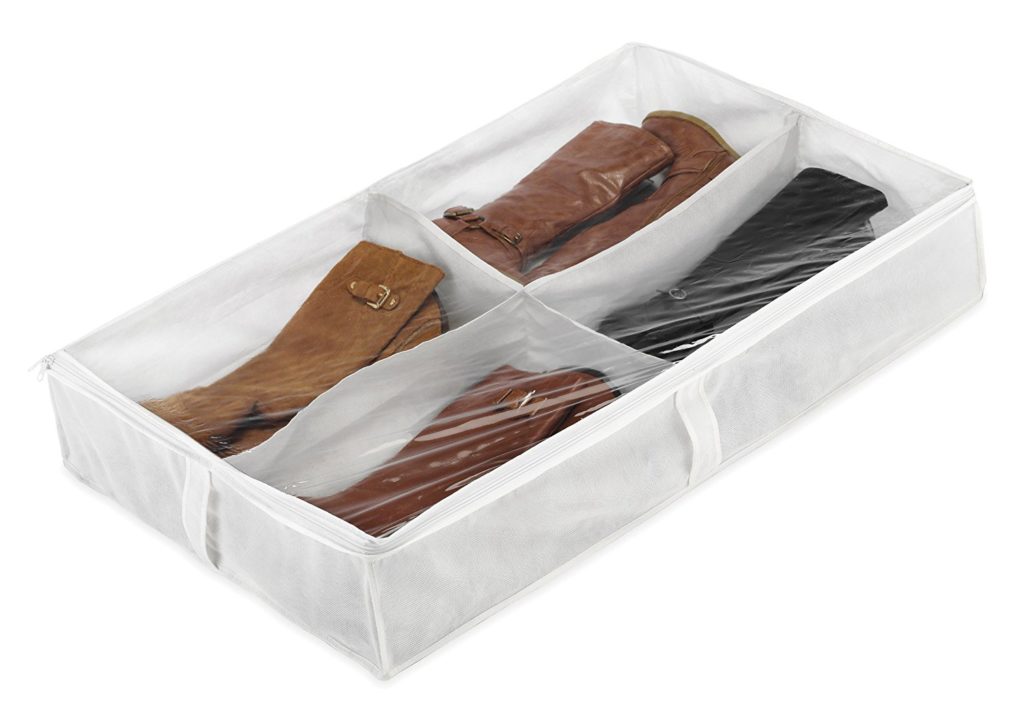 Shoe Storage Boxes
Most people like to keep their shoes in the box they were purchased in. Unfortunately this often wastes a huge amount of time. Stacking them can be a nightmare since they are easily crushed and come in so many different sizes. Add the fact that you most likely will have to open each one to see what's inside and you have more than enough reasons to consider  shoe storage boxes.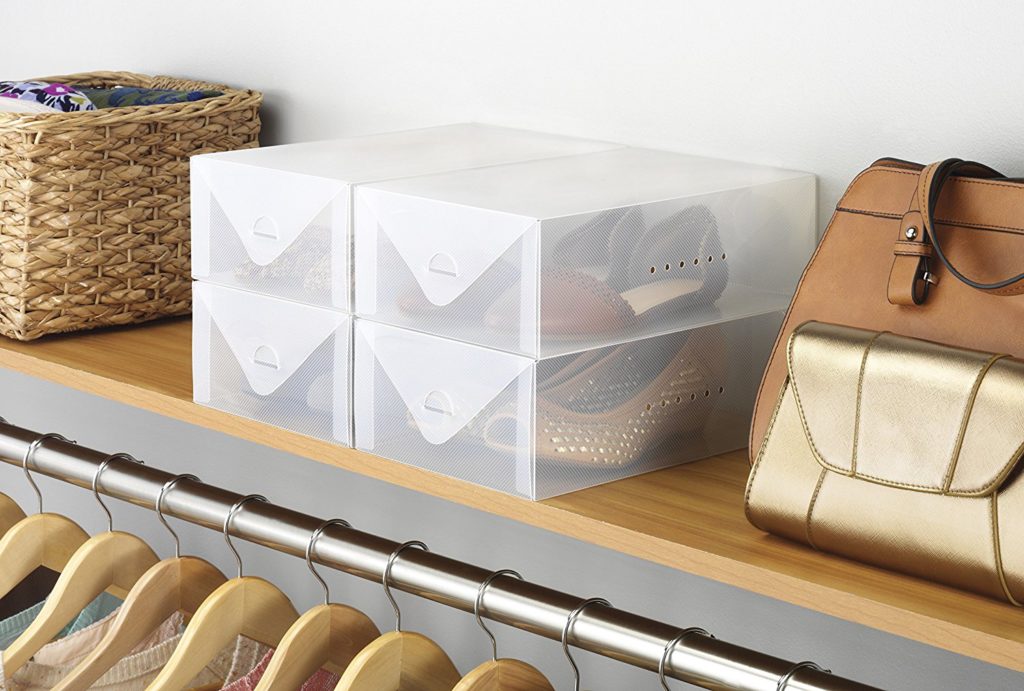 Made from clear plastic and designed to be stackable, with storage boxes you can find what you are looking for fast. Boxes will keep out dust out so your shoes are always ready to wear but also protected in general. They come in two basic types those that can fold down flat when you are not using them and those that are made from harder plastic and have a lid.
Normally each box can fit one pair of shoes so if you have a large collection it is usually a good idea to buy a pack of boxes. They are usually used to help reduce clutter in the closet where they are stacked on the floor, shelves, or both.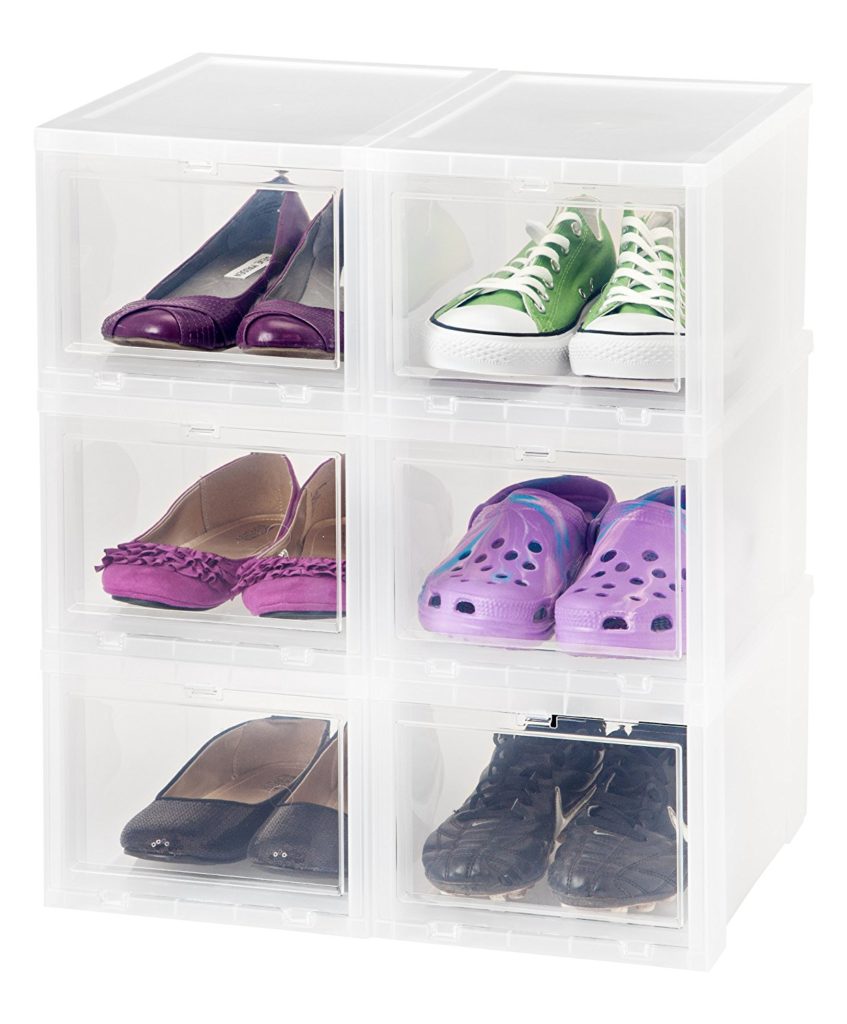 Tips :
-When purchasing it is usually a smart idea to choose the clearest boxes you can. If you don't you might have more difficulty telling them apart in a dimly lit closet.
-An excellent feature to look for are finger holes or handles which make the boxes easy to pull off of shelves or out from the stack. Or you may want to think about drop front shoe storage boxes that allow you to open them from the front so you don't have to take any boxes out of the stack at all.
-Ventilation holes are another great feature to look for as they allow air to circulate through the box while still allowing you to enjoy all the benefits and protection of enclosed shoe storage.
-Boxes are available for boots as well, these are made to be longer than those for shoes.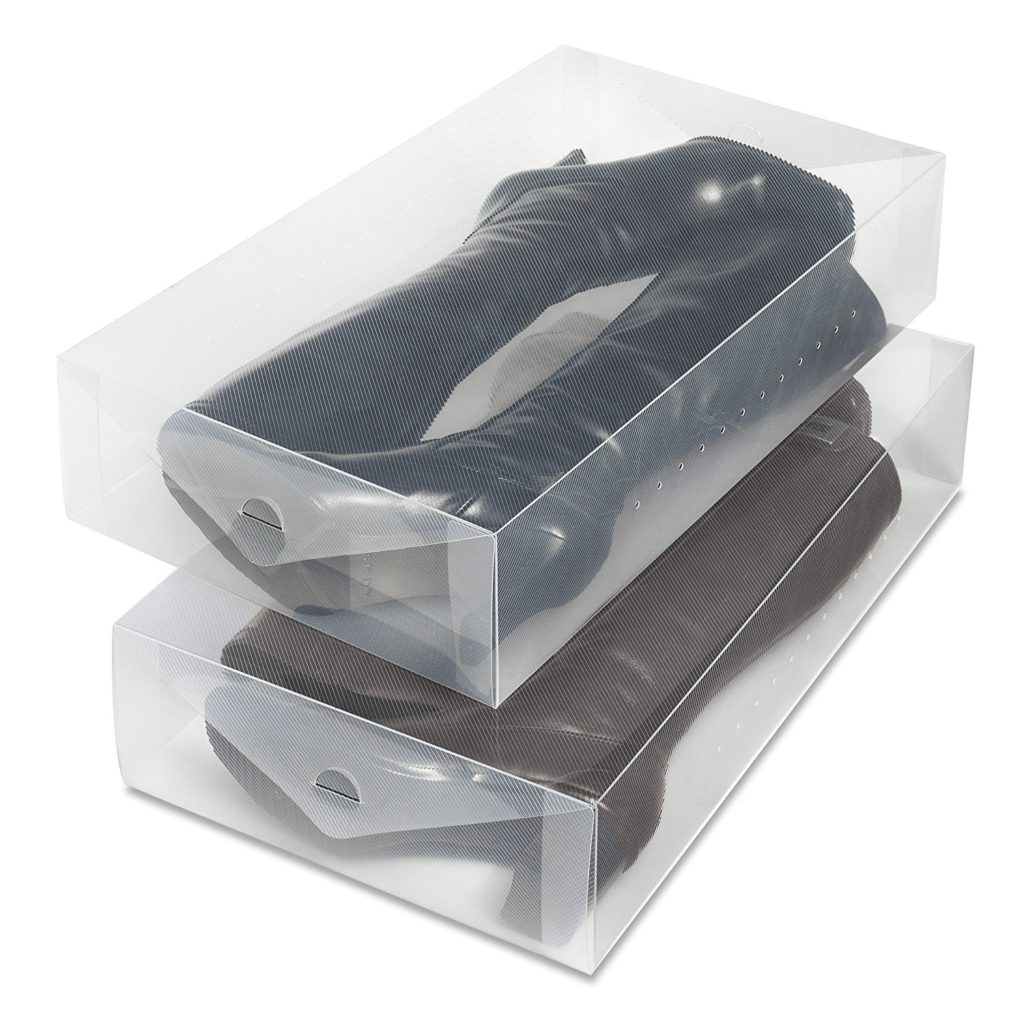 By using one or more of the options listed above you will be sure to cut down on clutter and improve the look of your home right away. And don't forget to keep the tips in mind too; they might be able to save you some space, time, and even money.
Click Here Nowto start shopping for shoe storage solutions!