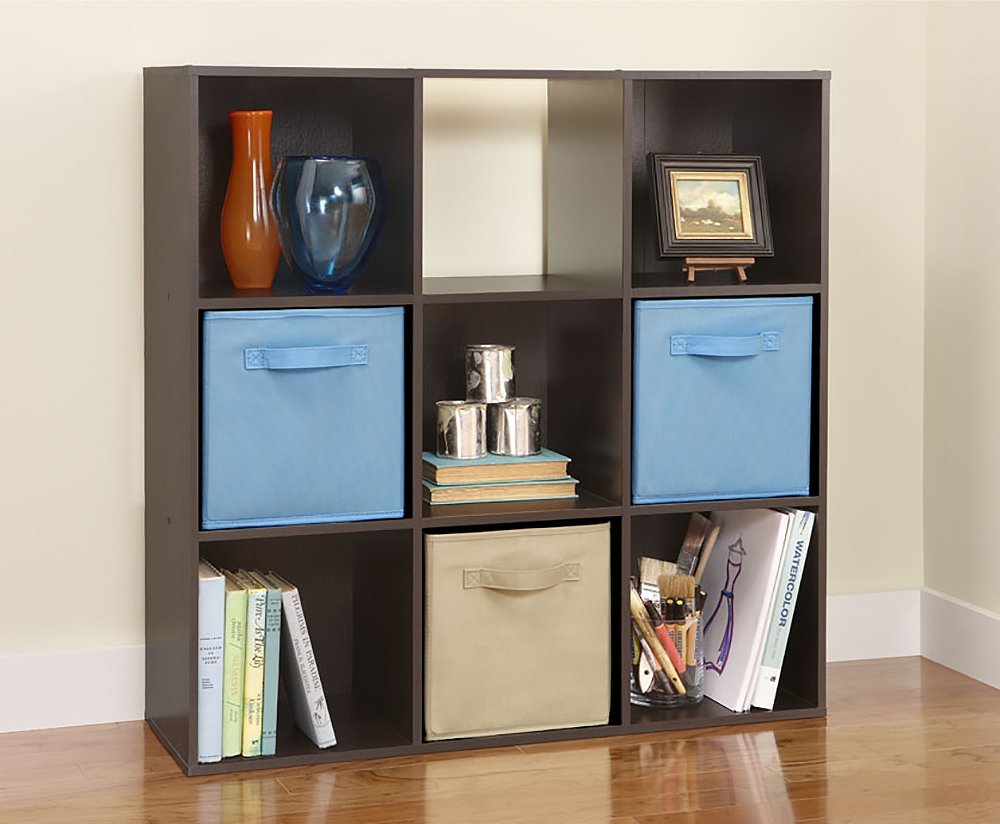 Storage cubes are a fabulous storage option and also great way to keep organized.  Like their name suggests storage cubes are cube-shaped storage containers which you can use to keep a wide variety of small and medium-sized items. Storage cubes come in a quite a few different materials and also in a few different forms as well.
Sometimes this can be a little confusing as whether they are functioning as shelving units or the containers which fit into those shelves, they are all referred to as cubes. To make things even more confusing some square storage ottomans are also called cubes. However with a few minutes of reading and looking at some photos you'll soon know everything you need to about all the different types of storage cubes.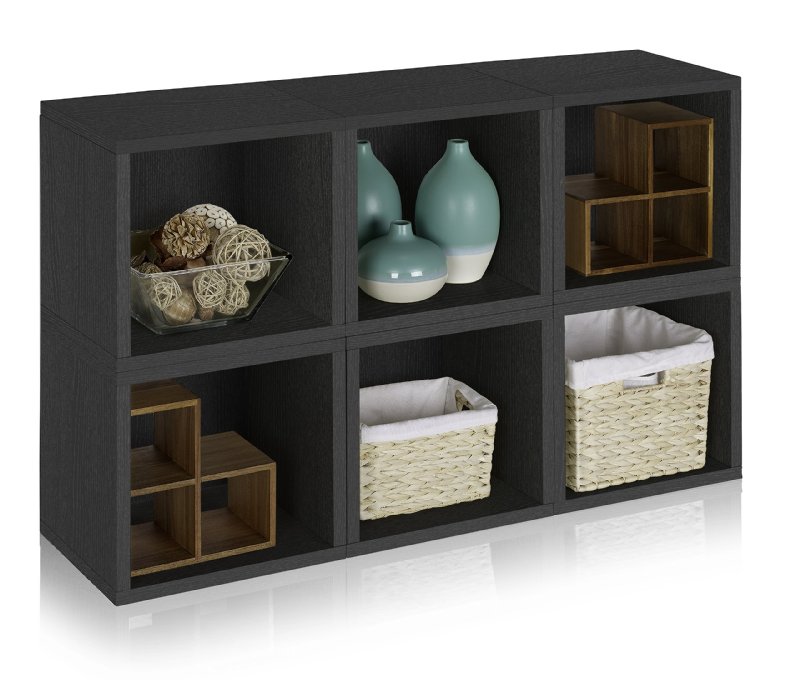 Wire Storage Cubes For Your Home, Office or Business
Wire storage cubes are becoming very trendy and are a unique way to store your things. Normally wire cubes are around 14"x 14"in size for each cube, and sold in sets of 4-12 which require very basic assembly with no needed tools.
All you need to do is insert the steel wire panels into the plastic connectors and you are on your way. The fact they are easy to put together also means they are easy to take apart, and are easy to store. When taking them apart you can stack each wire panel flat on top of one another which takes up very little space.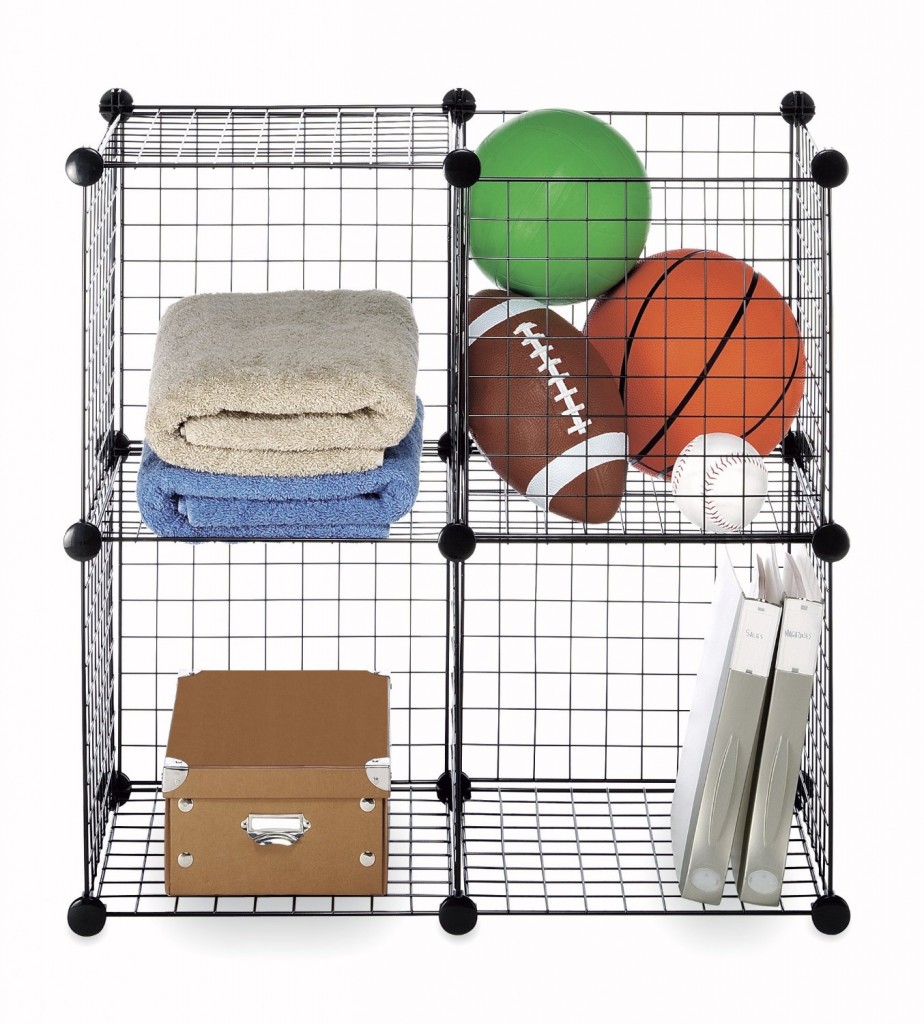 Why Use Them?
Many home and business owners love wire storage cubes because unlike conventional furniture you can keep adding as many sets together as you want, stacking them on top or next to each other to form a storage area as large as you need. A lot of people who purchase these buy one or two sets at first and just keep buying more as their storage needs increase.
Also because you can build up your cubes to any height or width your need, they make the perfect storage tool for awkward spaces such as attics with sloping roofs, closets, etc. The fact that you can see through the spaces in the wire and makes wire storage cubes a favorite of many retail shops as they allow the consumer to see the products much more clearly than if they were placed on traditional shelving.
They are available in a variety of colors to suit your personal preference; however the most common are all white and all black.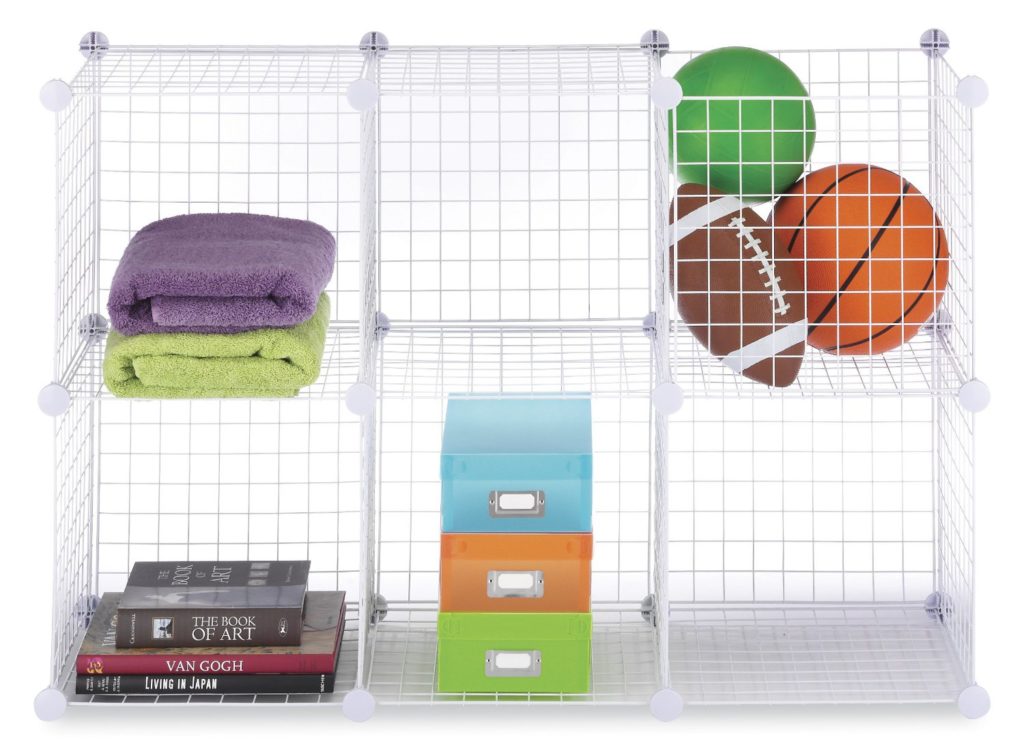 Where to Use Them
Most often wire storage cubes are used in: dorm rooms, closets, retail shops, bedrooms, children's playrooms, and offices. Of course any awkward space where you can't use normal sized furniture also makes an excellent place for wire storage cubes. They are often seen at trade shows and conventions because they are very quick and easy to set them up, take down, and also to travel with.
What Can You Use Them to Store?
They are usually used to store folded clothing of all types, shoes, books, magazines, and toys.
Extra Tips:
-Wire storage cubes not only function as shelving, but are also sturdy enough to be used to build enclosures for small animals. Many rabbit, guinea pig, and other small pet owners use these to construct their own custom size cages or play areas for their pets, and they work great! Not only will doing so save you money, but you can put as many or as few together as you need for your pet to have ample room.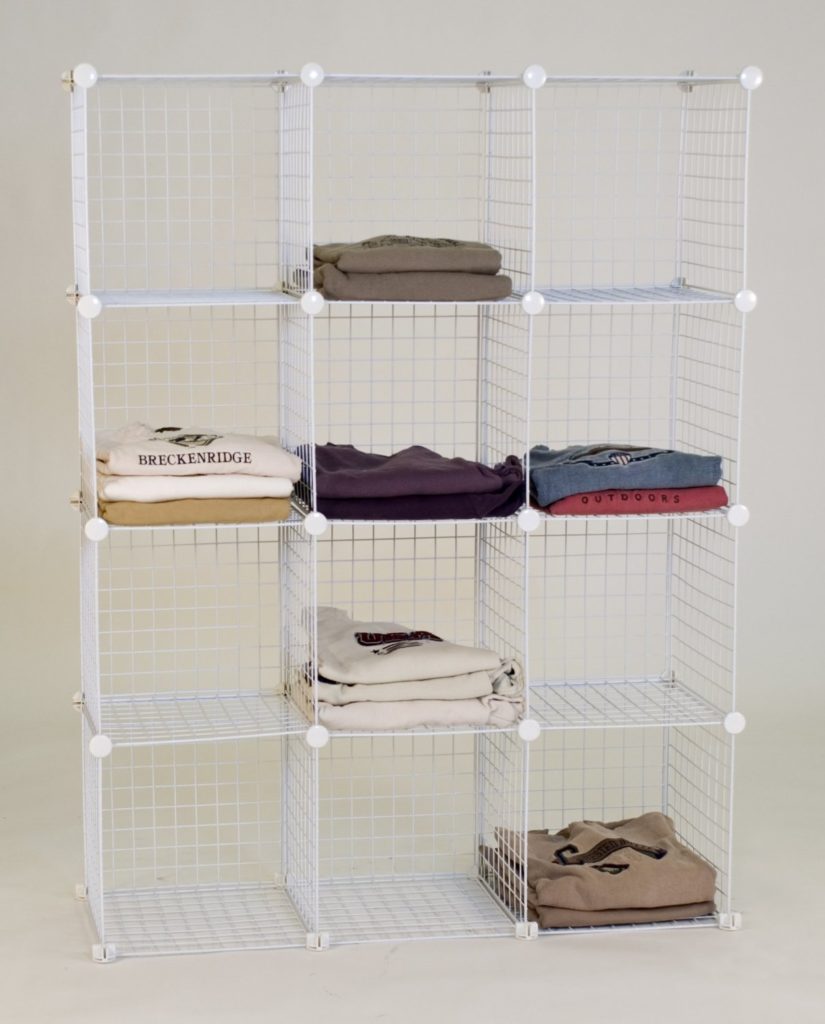 Wood Storage Cubes Make a Classy Looking Storage Option
Wood storage cubes normally have a wood frame and are covered with a PVC laminate for protection. They can be purchased as individual squares or as rectangular pieces which have 2-3 cube sized spaces or cubbies. All of which you can stack in any way you want.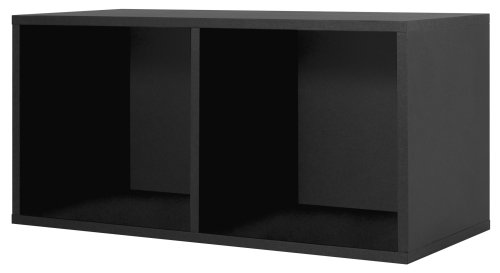 Why Use Them?
The fact that these are stackable storage cubes means that you can mix and match them to fit your space or create your own.  They are also extremely good looking. The lavish look of wood always adds to the style and décor of any home or space and with quite a few colors to choose from they can easily do just that. Being made from wood, they are also very sturdy and can hold heavier items and more of them, than wire cubes.
Where to Use Them
Because they are so good looking, many people use them in their family rooms, dining rooms, bedrooms, and offices as pieces of attractive looking furniture. But of course they can be used in a closet as well.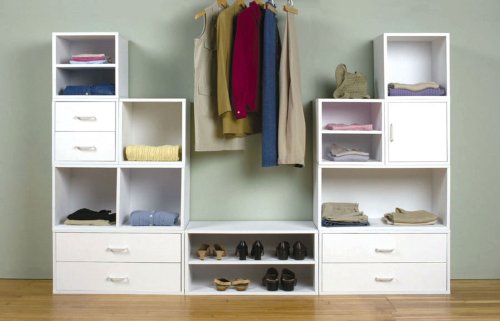 What Can You Use Them to Store?
As a result of being both strong and chic, they usually end up functioning as shelves for things like picture frames, DVD's, speakers, vinyl records, CD's, books, magazines, figurines, stereos, plaques, and office equipment. Some homeowners also use them as a base for their TV.
Extra Tips: 
-A little silicone cement glue can work wonders on loose shelves.
-Wood storage cubes are the best solution for vinyl records. If you have an extensive record collection they will help you keep them safe, organized, and easy to take out and put away without having to open any lids or lift any boxes.
Wall Storage Cubes for a Unique Impression
Wall storage cubes are cube shaped shelves which have two open faces and are placed flush against the wall. Not only is there no front face but no back face either. This means you can see right through the cube to the wall behind it. While most are both stackable and can be mounted on the wall some smaller versions are made only to be wall mounted. Many also come in sets with multiple sizes.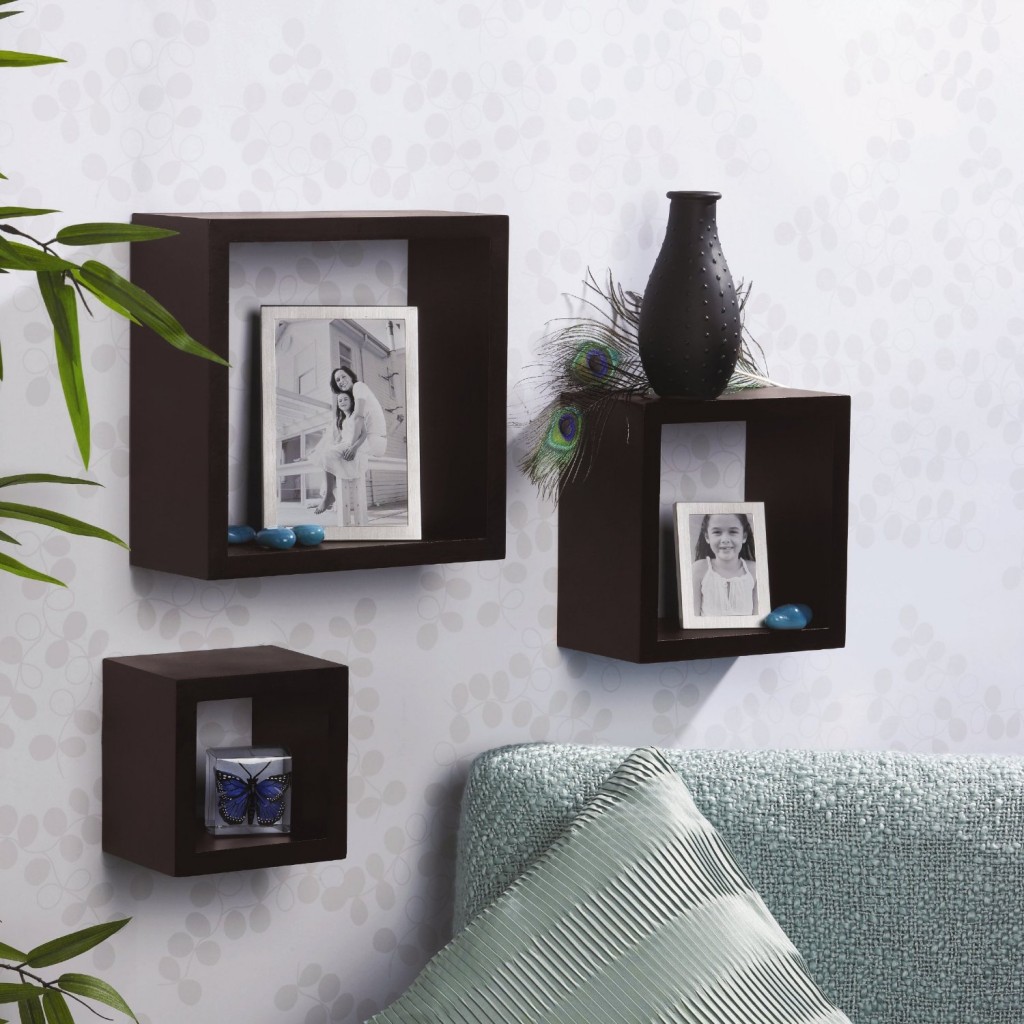 Why Use Them?
Wall storage cubes are both stylish and unique. They allow you to keep your things in spot you normally wouldn't be able to, on your wall. And regardless of what you use them to display or keep, the cubes themselves will always draw the attention of your guests.
Many homeowners love them because they can mount their cubes to the wall in any pattern, formation, or shape they like. Another really good feature of wall storage cubes is that they are actually very sturdy, despite being smaller than other types of cubes; many can even hold items up to 200 pounds in weight.
Where to Use Them
These look good on almost any wall as they will match most décor. They are mostly used in the bathroom, living room, bedroom, and family room. They are also a great way to liven up your hallways.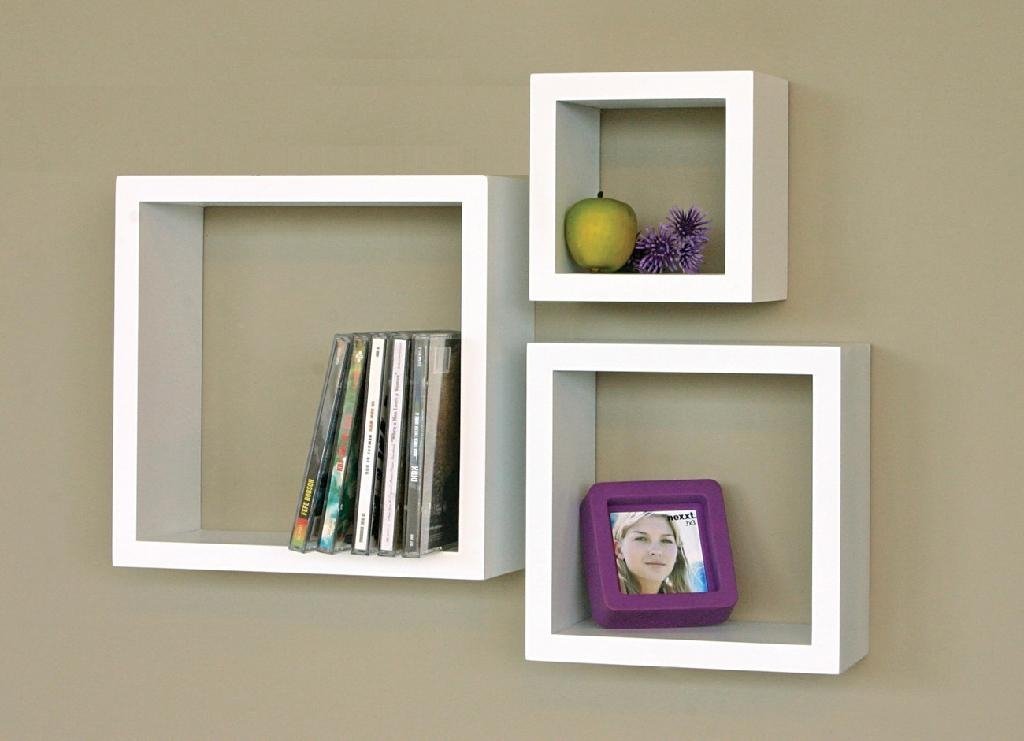 What Can You Use Them to Store?
Being shallower than other types of storage, they can't hold as many items or ones as large as wood storage cubes can, however they are perfect for: DVD's, pictures, figurines, wood carvings, remotes, scarves, and small household supplies.
Extra Tips:
-The contrast of white wall storage cubes look fantastic against painted walls. There are even cubes available which are white on the outside and are colored on the inside of the cube. By purchasing one of these that has the same color  inside as the color of your wall, they will look even more attractive.
-Don't forget to always use a level when installing to keep your wall storage cubes straight. 
Fabric Storage Cubes Keep you Organized While Staying Stylish
Unlike all of the storage cubes which are used to form shelving (also called modular storage cubes); fabric storage cubes are made to function like a drawer or basket that looks like a cube without a top. Because of this they are also sometimes called fabric drawers or fabric baskets.
They have a handle on the face of the cube so that you can easily pull them off, out, or down from where you keep them and are normally made from durable polypropylene. There are also canvas storage cubes available which are another very durable option.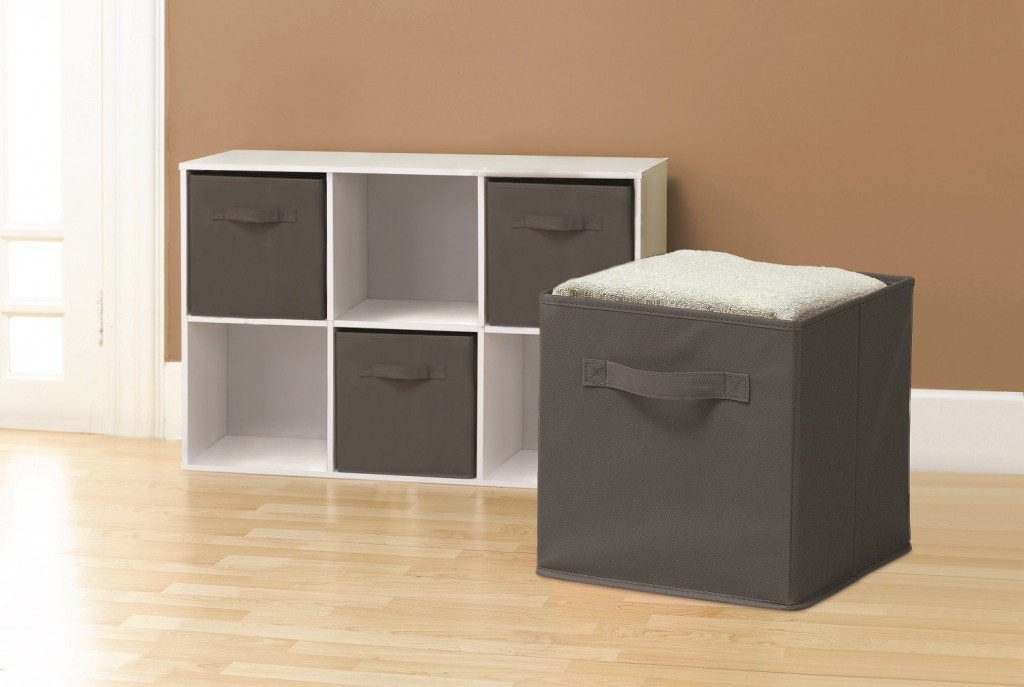 Why Use Them?
There are quite a few advantages of using fabric storage cubes. The most obvious is that they offer light weight storage and this makes them easy to move, take out, put away, and bring with you in the car. Many of this type are able to fold down as well so you can store the actual cubes as well when they are not in use. For this reason you will see them sometimes referred to as collapsible storage cubes or foldable storage cubes.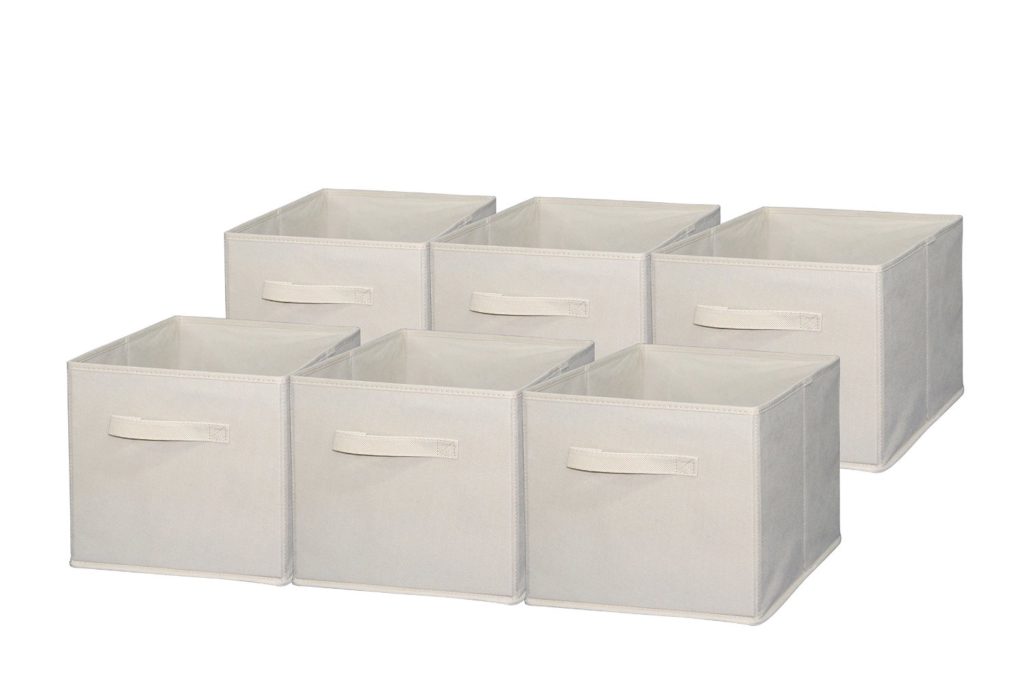 They are also made to be able to fit perfectly in storage cube shelving units like those made from wire or wood. And unlike almost all other types of storage containers fabric storage cubes are available in an enormous variety of colors and patterns too. These great looking colors and patterns allow you to keep your clutter hidden inside while the outside of the cubes adds to the style of your room or space.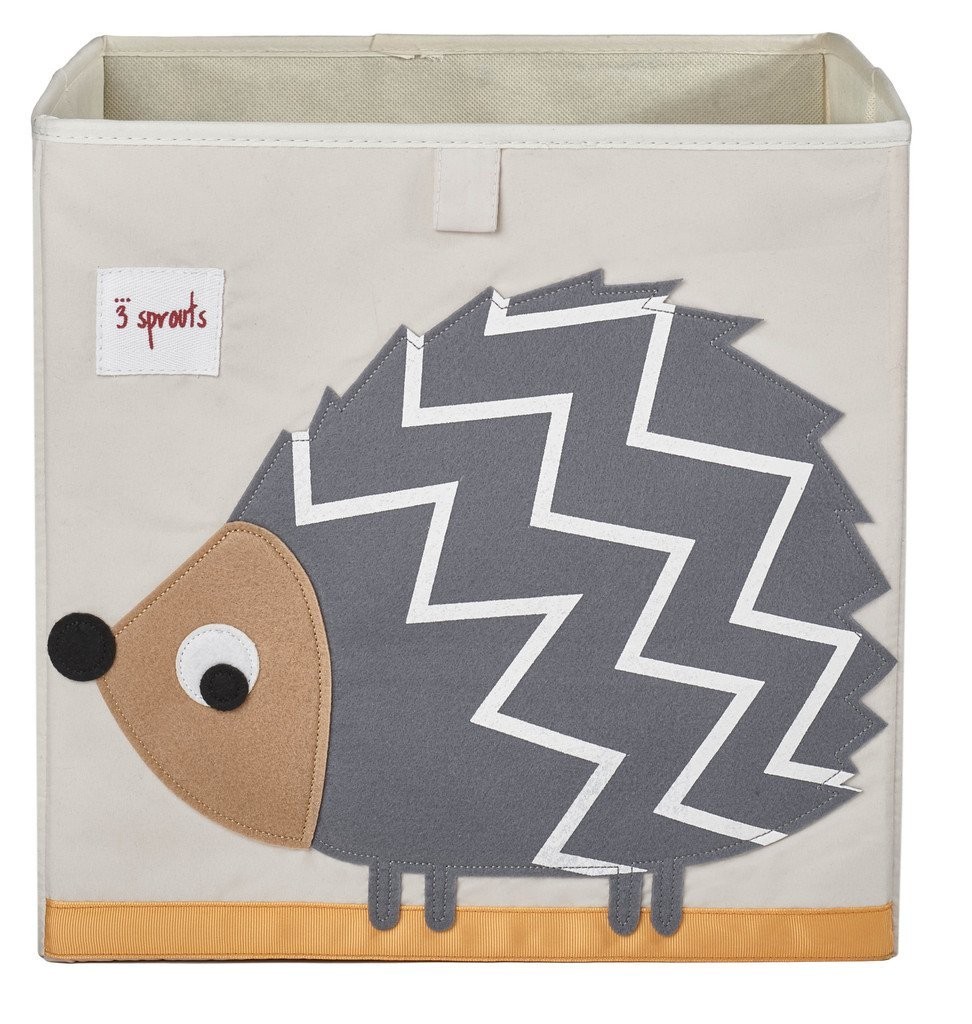 Where to Use Them
Because they were made to fit cube shelving it means they go well anywhere you would use your wire or wood storage cubes. However, they also are a good choice for closets, kitchen cabinets, inside outdoor storage benches, inside a storage ottoman, on bookshelves, or even the trunk of your car.
What Can You Use Them to Store?
Since they are enclosed on all sides' fabric storage cubes are the best solution for storing any items that could not stand on their own on a shelf or items you don't want to be on display for everyone to see. They work great for all types of toys, art supplies, magazines, shoes, dog supplies, cooking ingredients, socks, underwear, gloves, hats and more.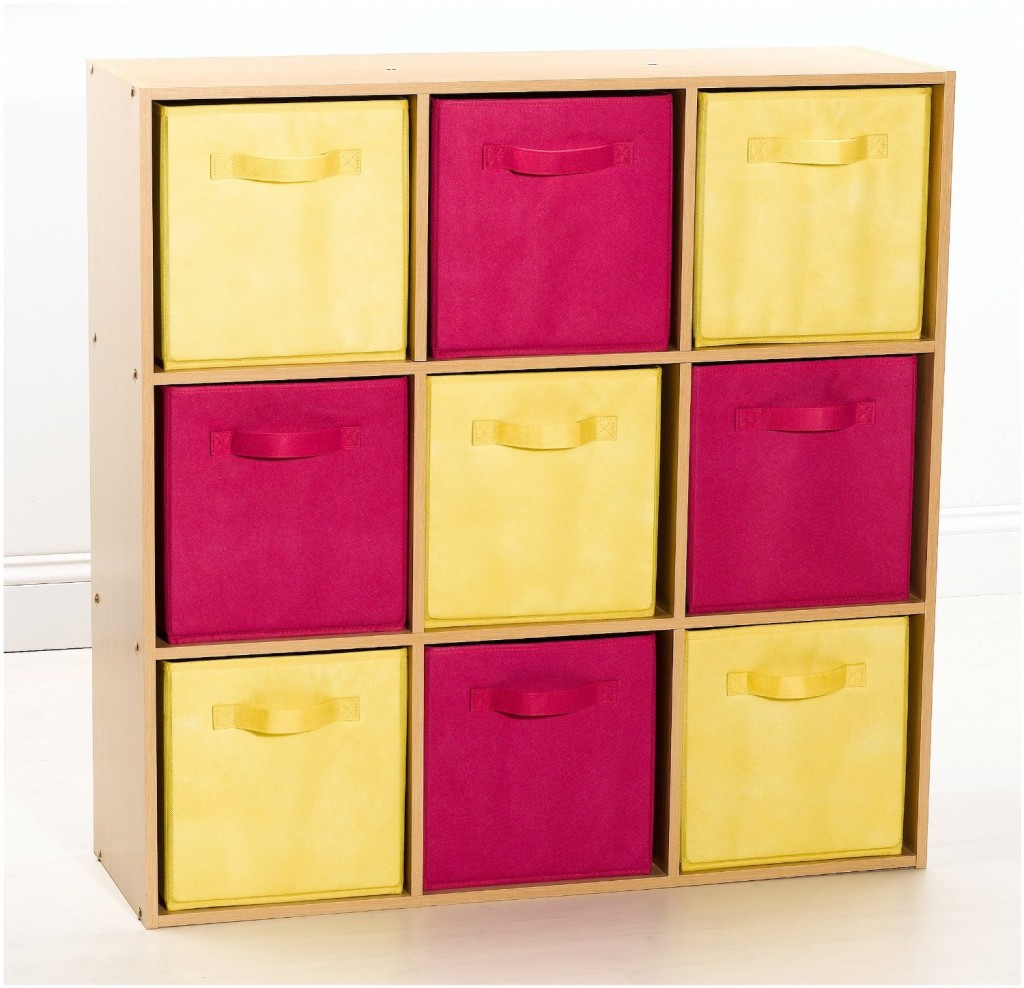 Extra Tips:
-Just like in the photo above you can use different color fabric storage cubes in an alternating pattern inside of a wood or wire storage cube to add color, style, or your own unique design to your room. Even cubes of just one color is a great way to add a burst of color to a room that needs it.
Storage cubes of any type are a brilliant way to keep clutter to a minimum. They allow you to use your space to its maximum potential especially if it is one which cannot accommodate normal sized furniture. And the best part is the more creative you are, the more creative ways you can use them!
Click Here Now to start shopping for storage cubes!