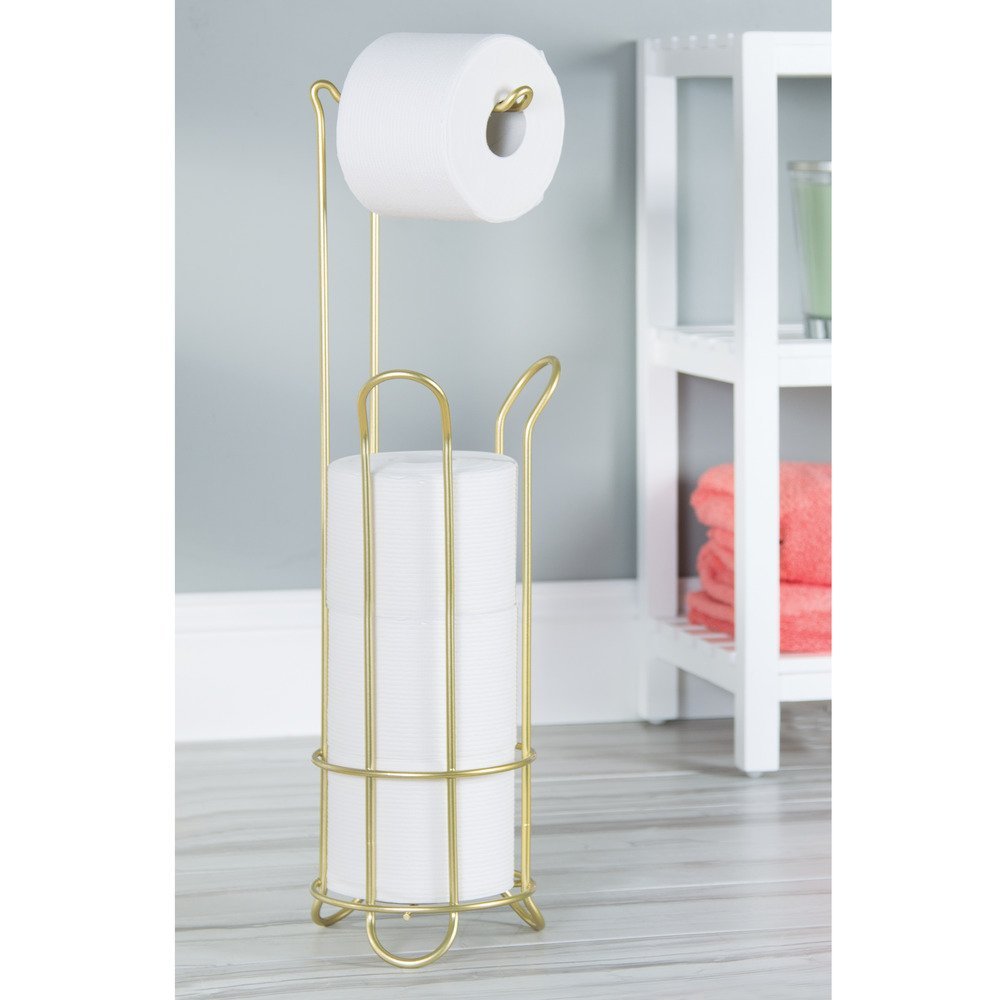 There's nothing worse than running out of toilet paper only to realize that there aren't any extra rolls within reach. By adding the right toilet paper storage solution to your bathroom you will be sure to always have some or even a lot to spare.
While keeping your extra rolls close by for convenience is of course very important so is simply having a place to keep your toilet paper in general. Many people have small bathroom spaces or pedestal sinks which don't offer any storage space at all.
And since the best deals on toilet paper are found when it is bought in bulk you can easily be left with a lot rolls but nowhere to keep them. The following choices are all proven winners that will help you to keep it dry, organized, and close to where you need it most.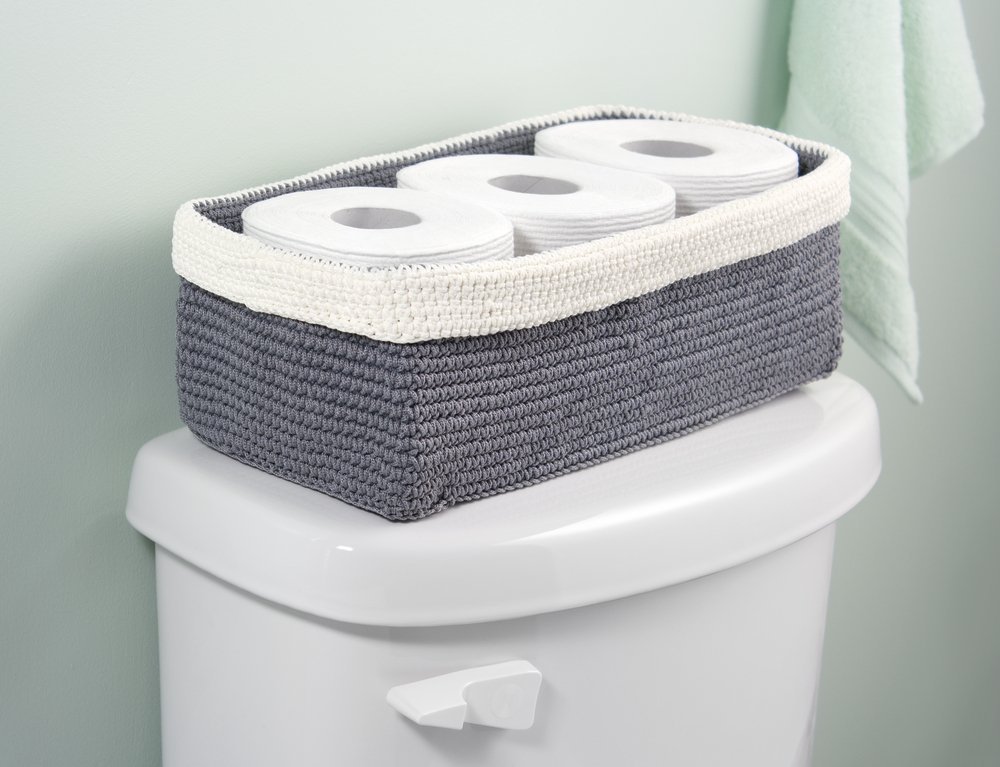 Wall Mounted
In general wall mounted toilet paper storage choices are pretty limited in how much they can handle. While your standard toilet paper holder typically only holds a single roll, there are definitely some models that can hold two if that's all you'll need. Depending on the model they may also include a shelf above the rolls for keeping extra items.
These can be an easy solution if you do already have a spot such as a vanity or cabinet that you can keep a larger supply of toilet paper in but want to be able to have an extra roll always close at hand. If you are living with a family or have limited storage space however, you may want to think about one of the choices below that can hold more.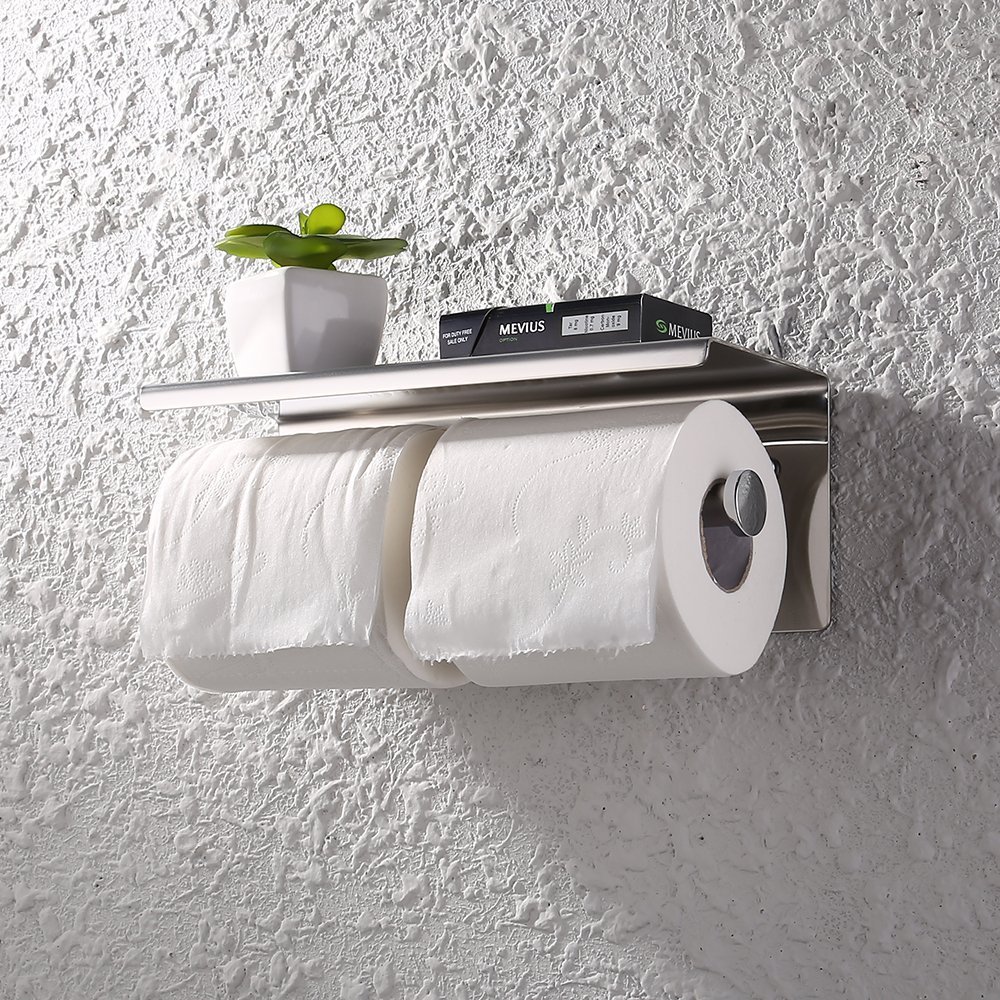 Free Standing
A toilet paper storage tower comes in two basic types: those that hold the rolls on a post or that have a basket. They both usually come in metal and may even have an added dispenser as well. These are free-standing and since they have a simple design you won't need to spend time putting them together.
They will have either a sturdy base or raised feet to make sure your toilet paper doesn't touch the wet bathroom floor and that they don't tip over. When shopping you will notice they are also sometimes simply advertised as a toilet paper storage stand as well.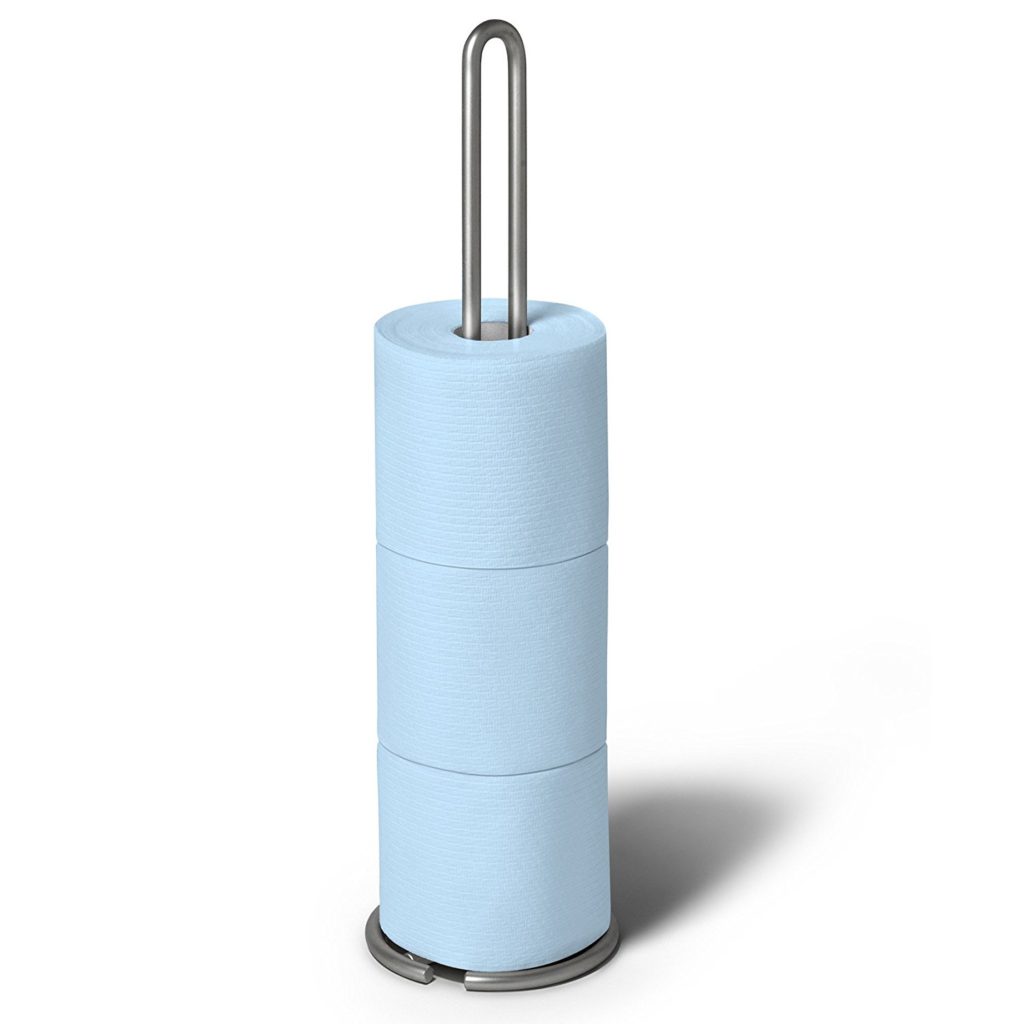 There are definitely some storage stands that can add a bit of humor to your bathroom if that's what you want. Usually this involves a funny take on the post used to hold the rolls. Many creative toilet paper storage solutions are made to look like animals such as giraffes, dogs, cats, and dinosaurs that use their neck or tail as the post.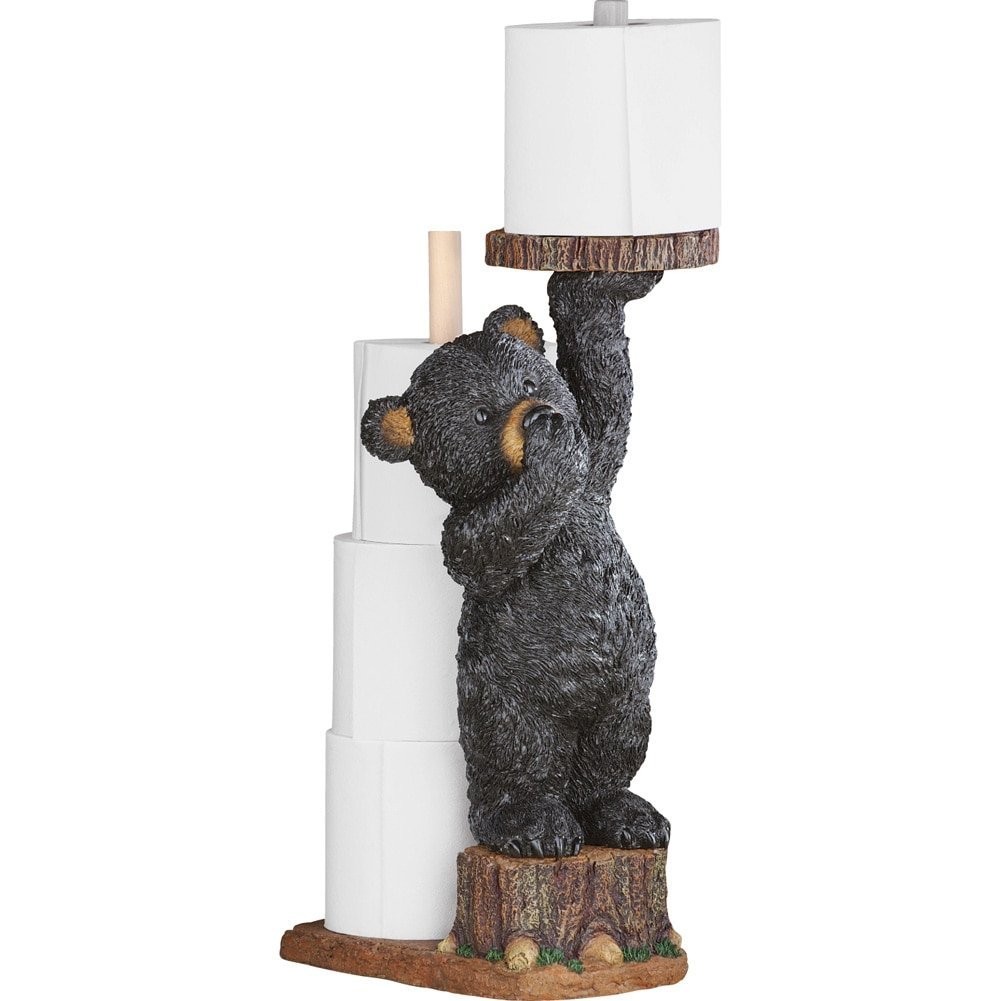 Canisters
A lot of people prefer to keep their toilet paper totally enclosed in a canister. This will make sure it is both dry and dust-free. A toilet paper storage canister can also help protect your toilet paper from naughty cats and dogs that may enjoy playing or taking bites out of it.
A canister will take up little floor space and is often placed in the corner or even behind the toilet bowl. They are more discreet than other choices since they hide the rolls from view and can even add to the look of your bathroom. Typically they are made from materials like metal, plastic, and even ceramic.
Some plastic models may be translucent so you can see inside and know without opening the lid how many rolls you have left. And different metal finishes can be a great way to match your fixtures. An oil-rubbed bronze toilet paper storage canister for example would be sure to match bronze faucets, towel storage racks, and shower heads.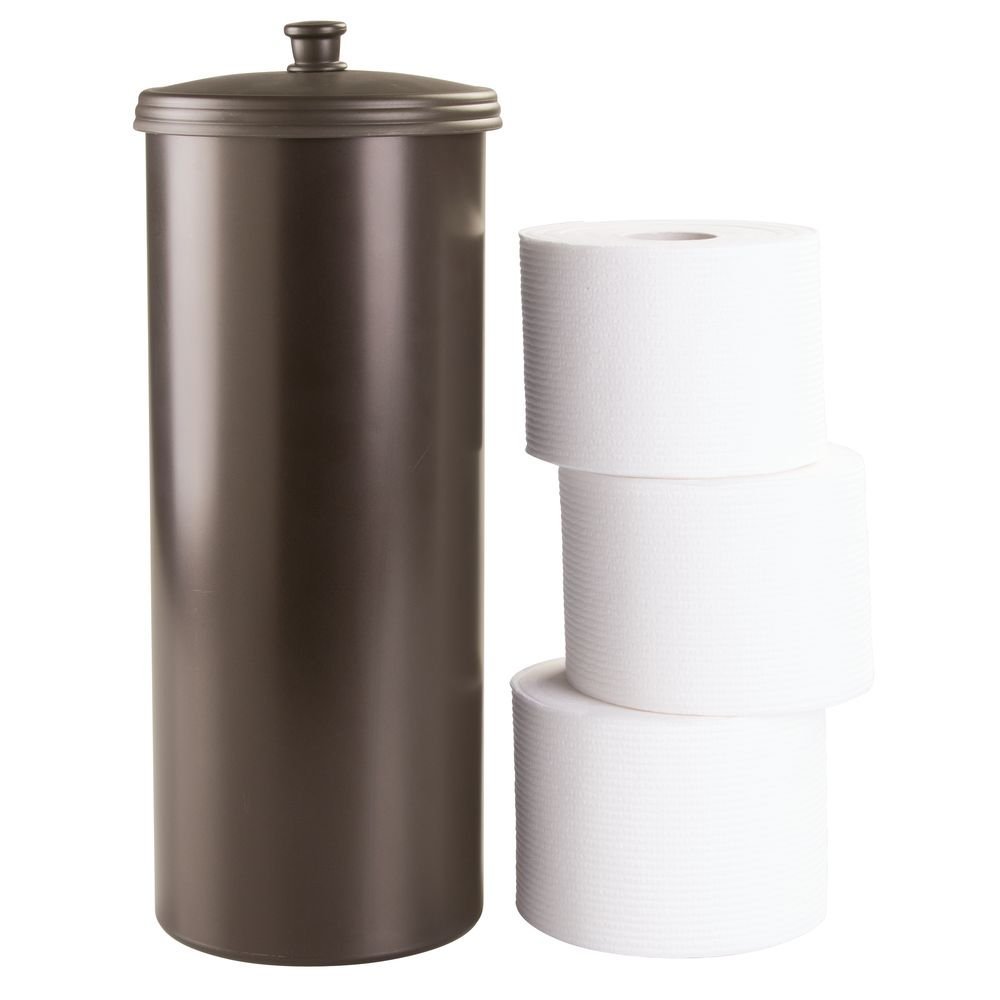 Bins, Boxes, And Baskets
There are a range of bins, baskets, and boxes available that are made to be used right on top of your toilet tank. However you will want to use them on a tank that has a cover which is flat. Decorative and functional, they will usually hold around three to four rolls.
If you would like to have quick access without having to open a lid a toilet paper storage basket or bin would be a better choice. Whereas to keep rolls hidden and free of dust a box will work best.
Fabric, knitted, and woven natural materials all are common choices. Natural options such as a wicker toilet paper storage box are particularly sought after for the organic feel they can bring to the bathroom.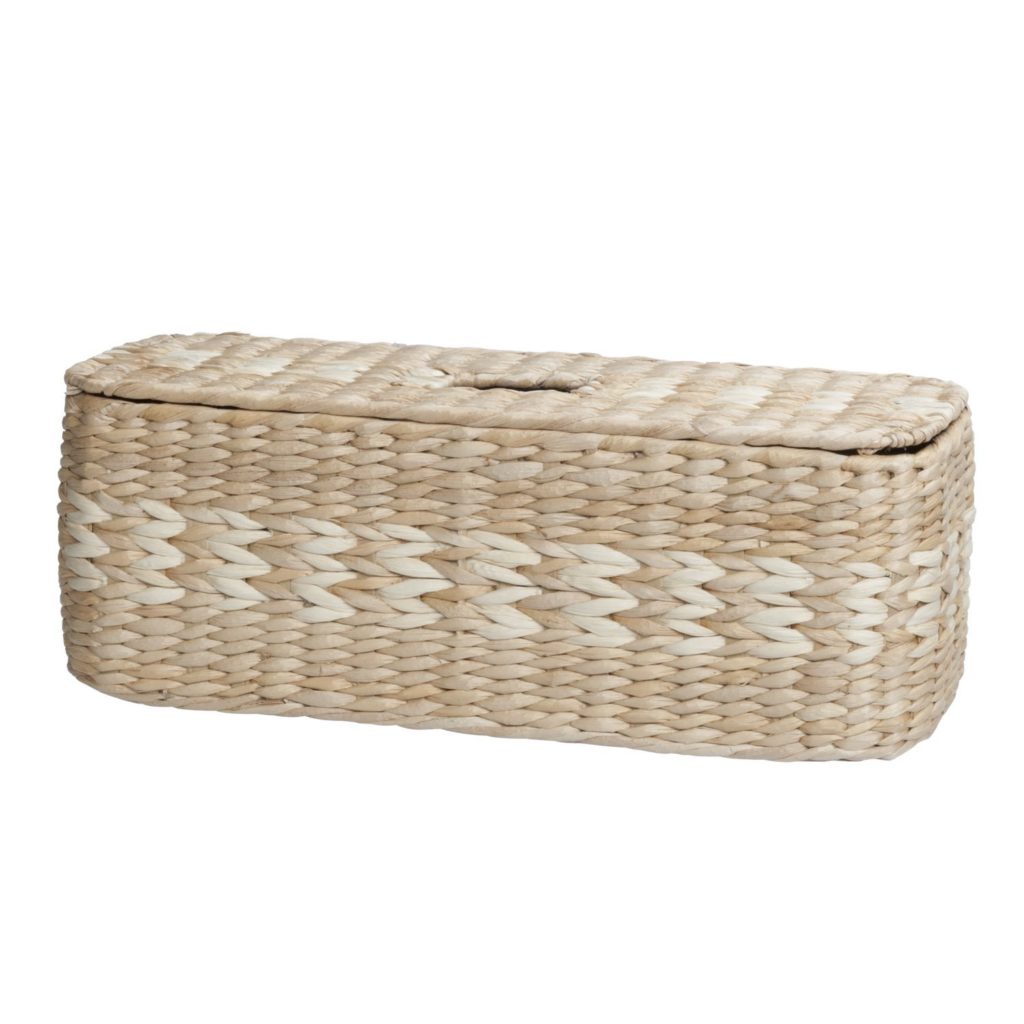 Cabinets
One of the most attractive ways to keep your extra toilet paper rolls is in a cabinet. A toilet paper storage cabinet is also a good way to go if you want something that can hold more rolls than other options. Their slim and tall design allows you to purchase in bulk while keeping your toilet paper out of sight and protected.
These will typically hold one roll per shelf and may also have a dispenser on top. But of course you can always use your cabinet for other items as well that would be handy to have near the toilet such as reading material, tissues, or feminine products. You will want to keep in mind that most cabinets will require some assembly.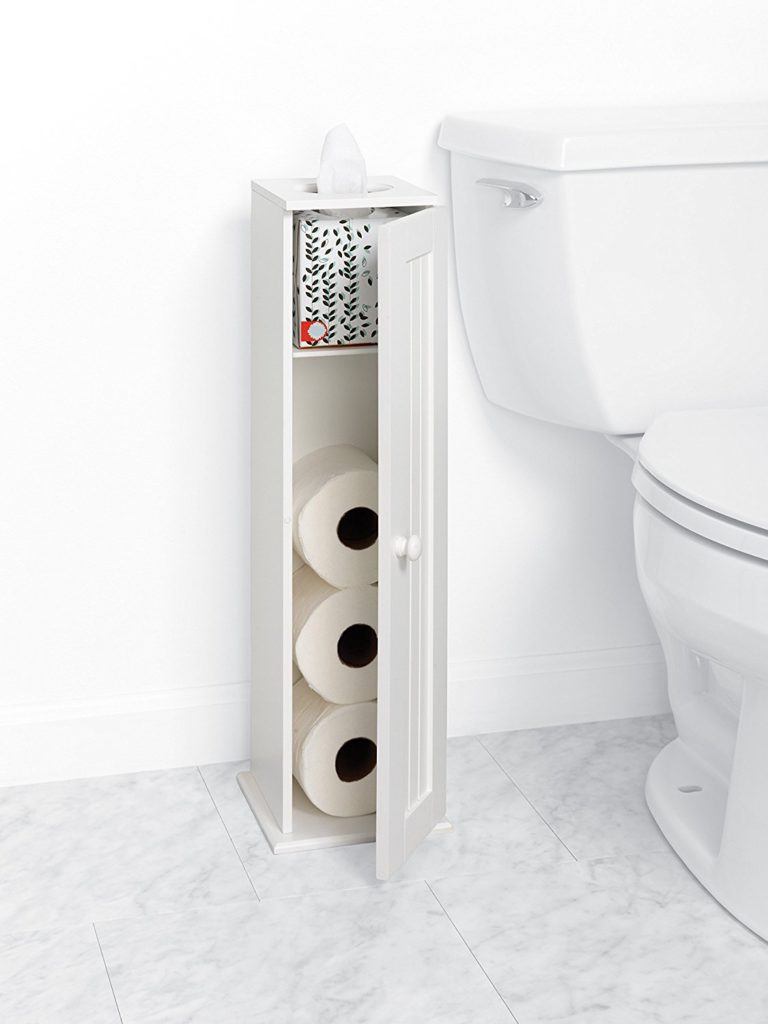 Over The Tank
Most consumers don't realize that they can even utilize the sides of their toilet as storage with what's known as an over the tank toilet paper holder. These use a hook that hangs over the top of the tank and is held secure under the lid. You will want to use them with a tank that has relatively straight sides instead to help make sure they hang flush with them.
"Tank toppers," as they are also sometimes called, are almost always made from metal, and come in different finishes. Many people simply go with white because it helps to blend in with their white toilet bowl. Like other types of holders some have a basket while others will use a post to hold the rolls. And some also include a dispenser.
Over the tank models are one the cheapest choices of all and since they don't need to be screwed into the wall are ideal for renters and students. You can even use one on each side of your tank for double the amount of storage without spending much at all.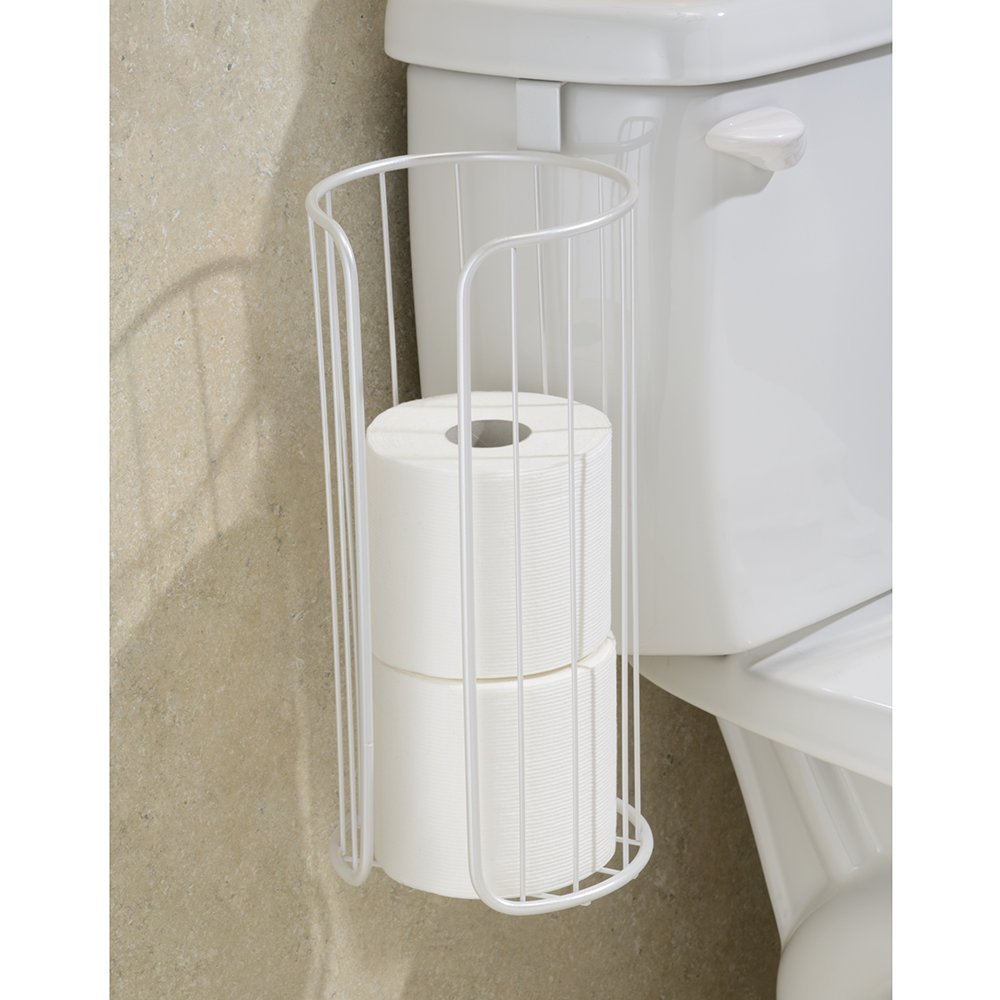 No bathroom should ever be without the proper toilet paper storage. And with these options you have more than enough choices to make sure you always have as many rolls as you need close by.
Click Here Now to start shopping for toilet paper storage solutions!