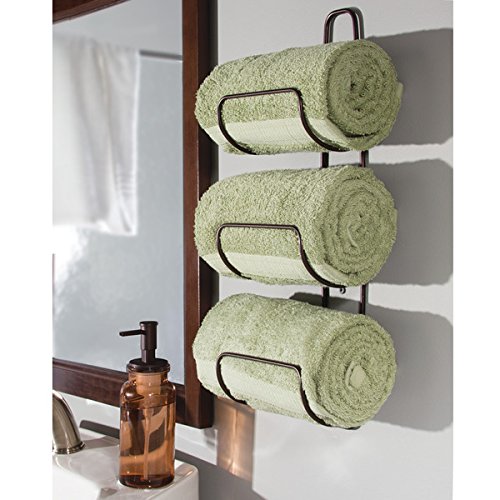 We all need extra towels in the bathroom and unfortunately the average towel rack won't give you any help. However the following towel storage ideas will. For spaces large and small you'll be sure to find a solution, or more than one, that gives you the storage and look you desire.
Cabinets
Cabinets are an easy solution because not only do they provide you with quite a few benefits. They give you a place to keep your towels that is hidden out of sight and when chosen carefully can really add to the appearance of your bathroom. You'll also have more room to keep larger size towels like bath towels but of course you can also use them to keep other items and extra supplies.
All bathroom cabinets will have shelving you can use to keep extra towels on, or you may want to choose a model that is advertised as a bathroom towel storage cabinet or linen cabinet which has shelves made specifically for towels. Cabinets can be placed on the floor, on the wall, and there are even those made to be used over the toilet. What you choose will depend on how much storage you need and also how much space you have.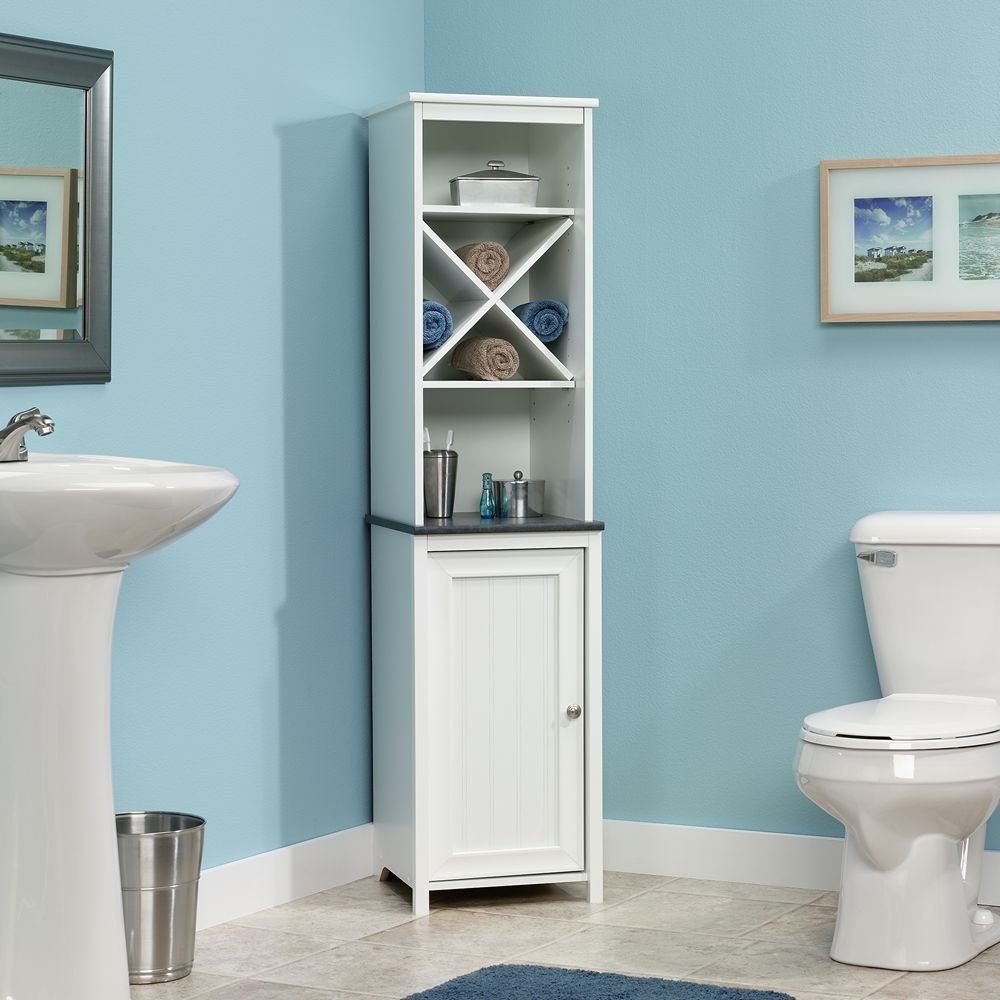 If you are planning a new bathroom installation, you may want to consider a bathroom vanity with towel storage underneath. However when you're looking for extra storage in your current bathroom adding a standing cabinet on the floor is a common choice. A standing cabinet can give you a lot of storage space but you will need enough floor space. Although if your floor space is limited, you might be able to get away with something that is narrow and has more vertical storage.
If you don't have the floor space to spare, installing a cabinet on the wall would be a great option. Or you could always use one with a standing cabinet for even more storage. Wall cabinets can be the best choice if you have trouble bending down.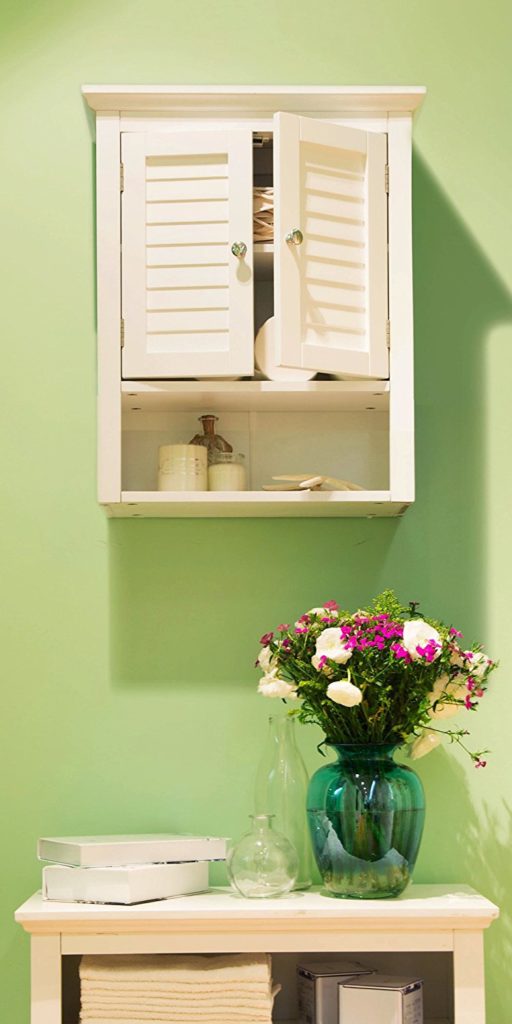 The area above the toilet is often overlooked as place to keep things, however it happens to be one of the best options for towel storage in small bathroom spaces. By using a cabinet that is designed to be placed there you will be taking advantage of one spot that would most likely never be used.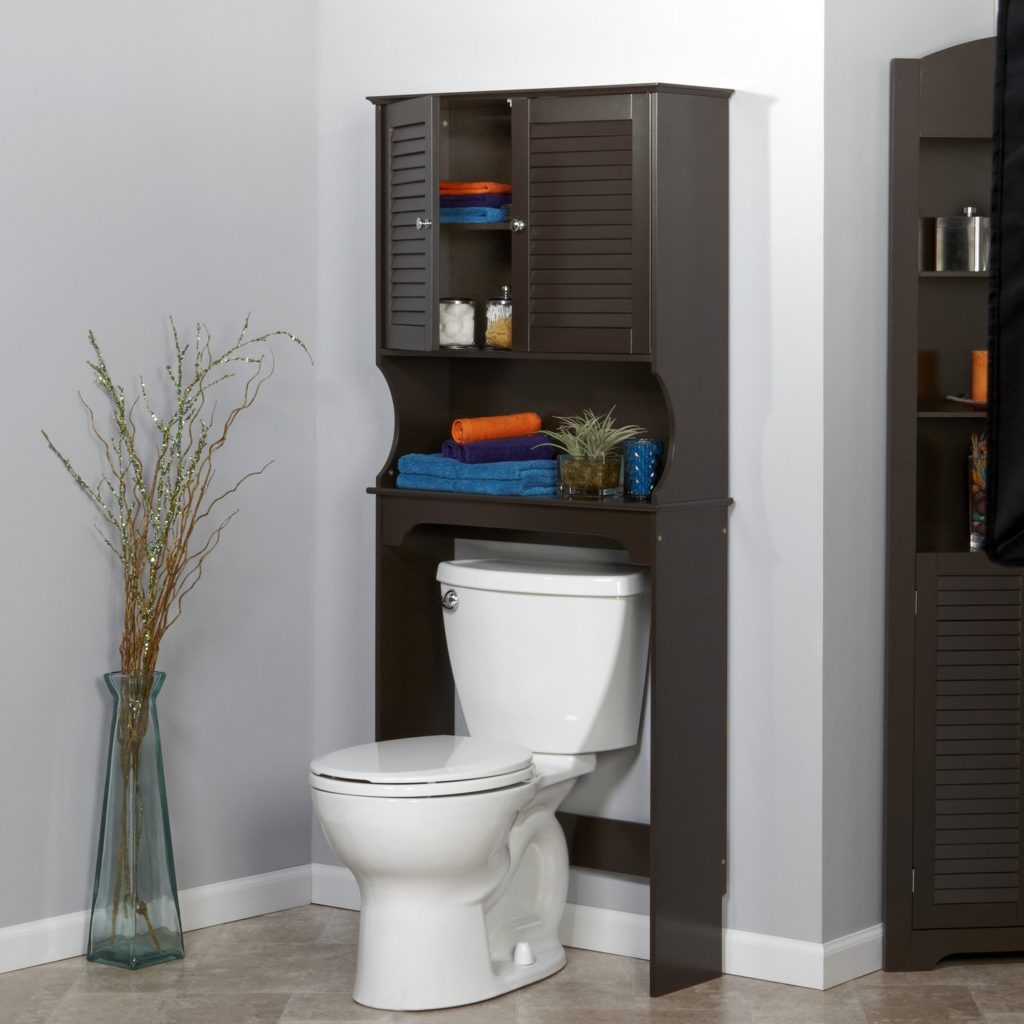 Shelves
Like cabinets shelves can be used on floors and walls. Shelves let you see just how many towels you have ready to be used. Since they are on display for all to see, you can use towel colors to add to the style of your bathroom. Sleek metal shelves in particular can be used to add a modern accent or match a modern style space.
Many floor models don't take up too much floor space at all and can be used in rooms that are limited in size. They are a favorite choice for making use of empty corner spaces. Some options can even be stacked on top of one another for extra vertical storage. Since most bathroom towel storage shelves are light in weight you can also move them easily if you'd like to use them somewhere else.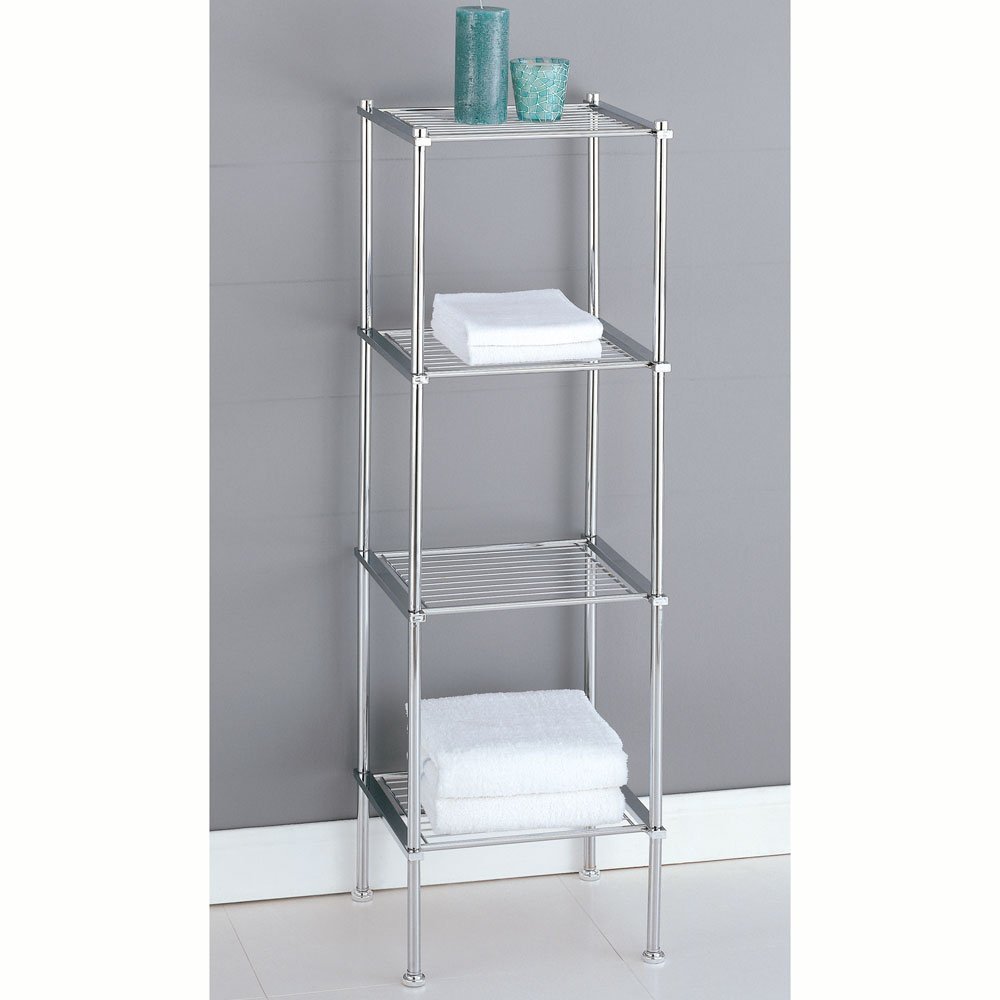 And of course if you are looking for bathroom wall towel storage, shelves can get the job done. They are a simple solution that can work wonders in tiny bathrooms. Some units have an attached towel rack beneath the shelves that makes them extremely space efficient and can save you a little bit of time whenever you need to swap out dirty towels for fresh ones.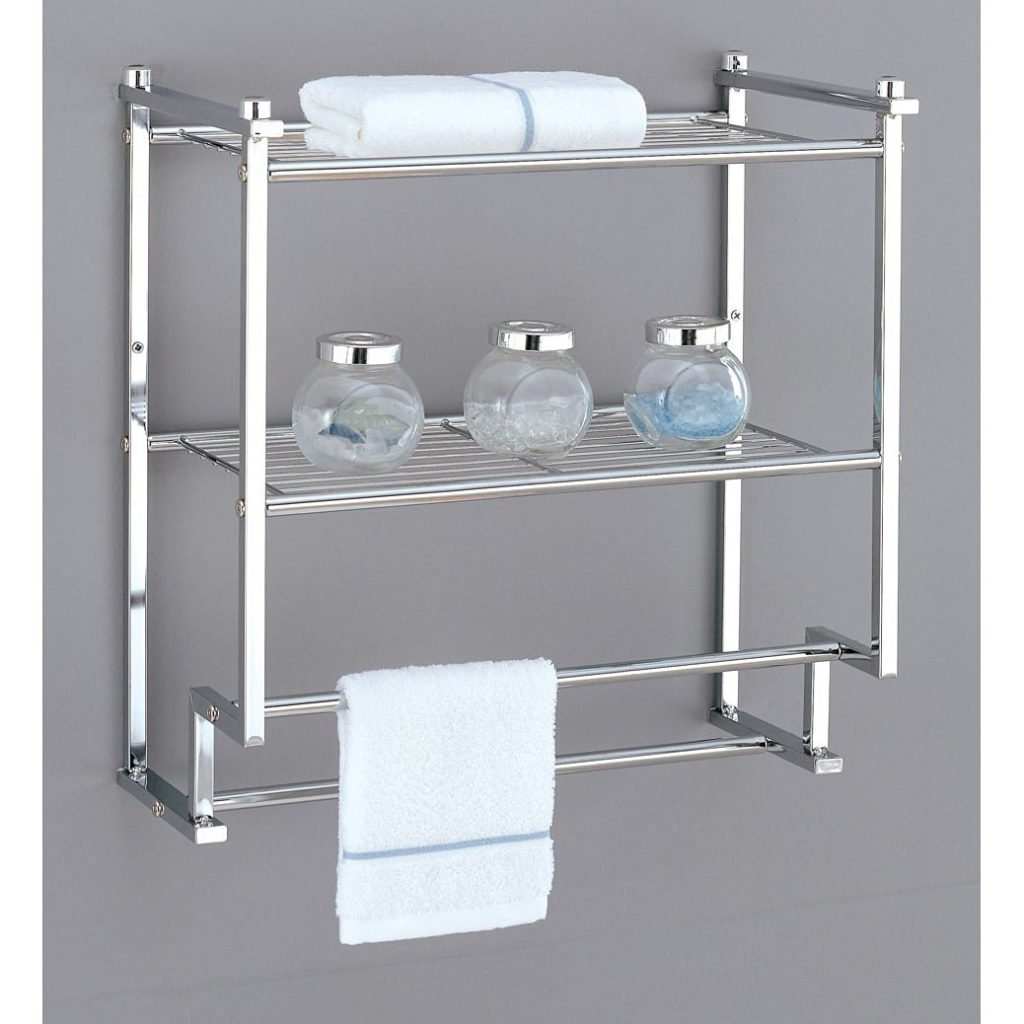 Storage Racks
Probably the most space-saving option of all is a bathroom towel storage rack. Because these are able to handle a large number of big towels when neatly rolled up, they are considered one of the top small bathroom towel storage ideas if not the best. They also happen to be very budget friendly but do come in more expensive materials such as wrought iron as well if you like the concept but want something more elegant looking.
As with shelves you may want to choose towel colors that add to the appearance of your bathroom. While some people go with one solid color for all of their towels others like to alternate two different ones for some contrast. It's your chance to get creative.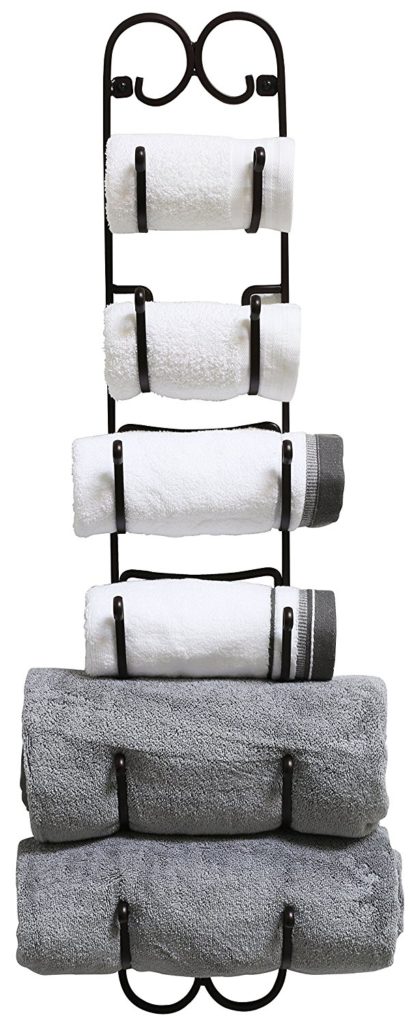 Bathroom Towel Storage Baskets
When it comes to keeping hand towels you won't need  much. A simple storage basket is often enough. Placing one on your counter top will give both you and your guests access to fresh towels for drying your hands. There are many good looking material choices from metal to natural wood.
An attractive basket with some colorful folded or rolled up towels can also add a splash of color to your counter top space. Of course you can use different size baskets depending on how many towels you'd like to keep inside and what size they are. You don't have to stick only with baskets made for towels, any all-purpose storage tote or basket will do.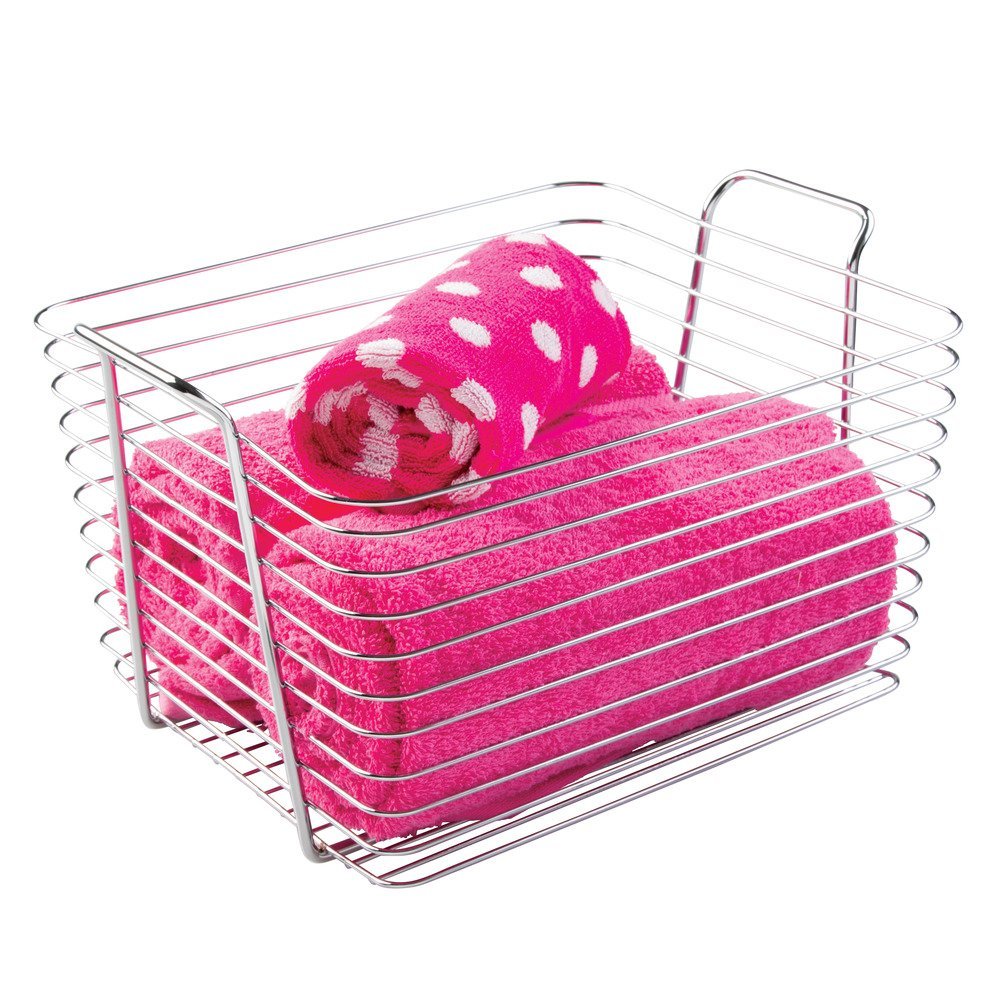 Towel Bars
Towel bars are a fabulous substitute for an average towel rack. They have multiple arms, usually at least three or four, that each hold a towel. This gives you more storage than a rack while actually taking up less space. The arms can be positioned so that they are flush with the wall to save space or separated to keep wet towels from touching dry ones.
Since they do give you more storage they are ideal for families but also holding both your bath and face towels. Most models are made from metal and are often used by those looking for modern bathroom towel storage. Choosing a metal finish that matches the fixtures used in your bathroom can be a smart way to use your bar to further enhance the look of your room you are working with.
Many people like how towel bars function so much that they use them to hang an array of other bathroom items. After owning one some consumer get creative and choose to use them in other areas of home too such as in the kitchen or in the closet since they are quite versatile.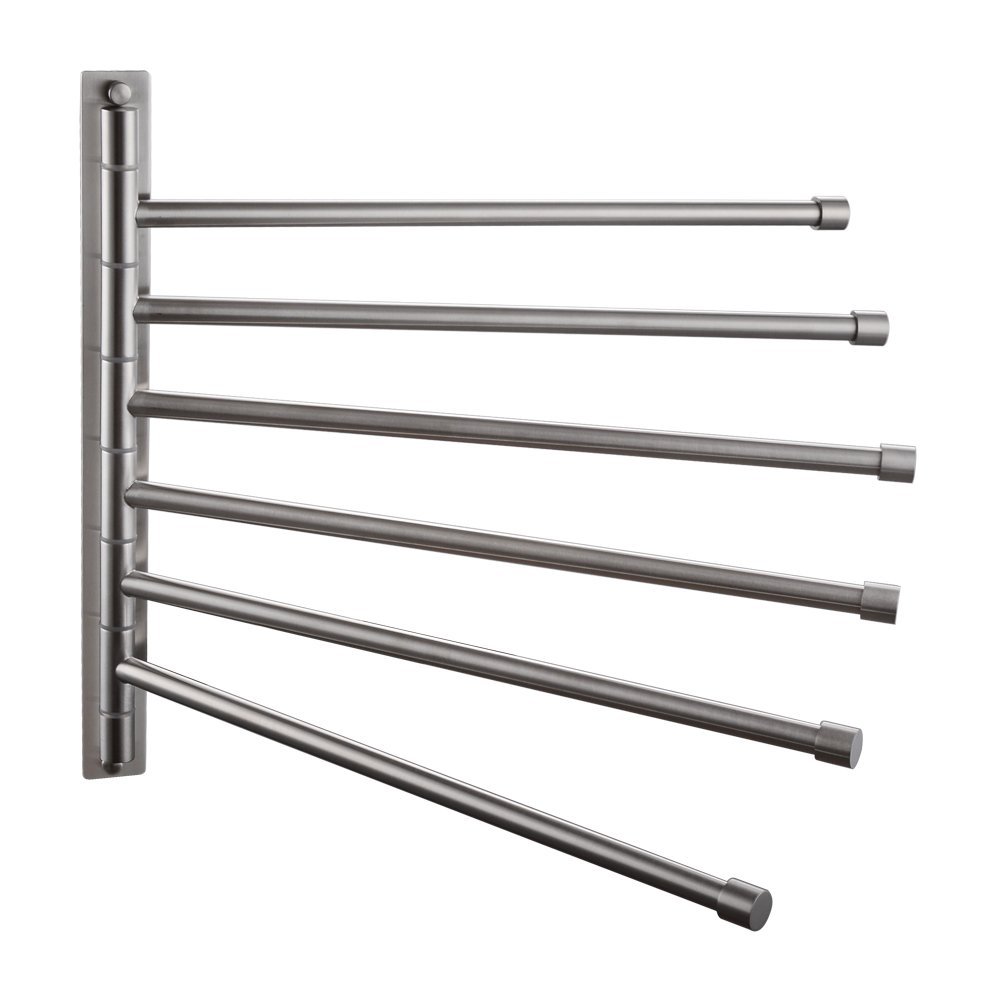 You now know all of the the top bathroom towel storage options. So pick something that works with the size and look of your space so you can enjoy the benefits as soon as possible.
Click Here Nowto start shopping for bathroom towel storage solutions!