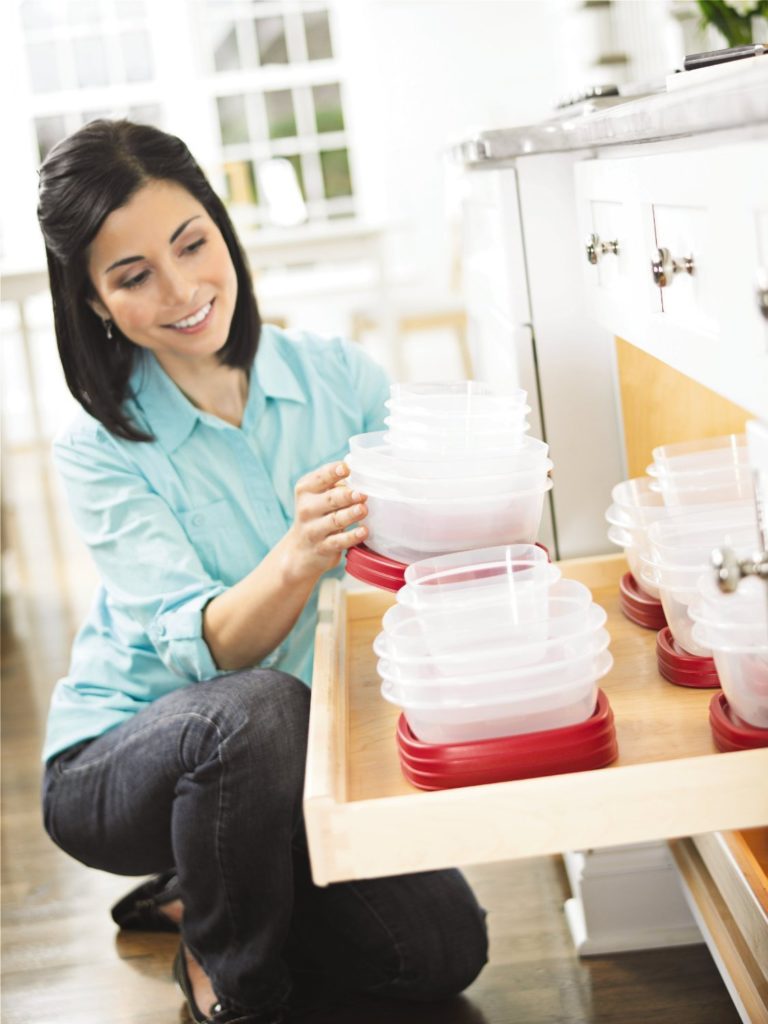 Each room in your house or apartment has its own unique function and that in turn means that each one has its very own storage needs and solutions. Those solutions are normally ones which allow us to access that storage in an easy and convenient manner. Here are 31 great storage ideas for just about every room in the house along with some extra ones thrown in for the most common items most people require storage for.
Garage Storage Ideas
-Overhead Garage Storage Rack
The most overlooked garage storage space is overhead. It's especially easy to do so if you don't have any garage shelving. An overhead garage storage rack can immediately clear up floor and wall clutter allowing you to be able to actually park your car inside your garage or just free it up in general. Another great feature of these are that they keep your possessions out of reach from children, pets, and from being run into or over by your car.
Many storage racks can hold some serious weight, up to around 600 pounds, and are made from steel. A really helpful feature to look for are accessory hooks which may have to be purchased separately but let you use your rack not only as shelving but to hang all sorts of items that would otherwise take up space.
Most are not difficult to install yourself, but always remember measure twice and drill once. Expect to spend anywhere from $100-400 for quality a rack depending on its size.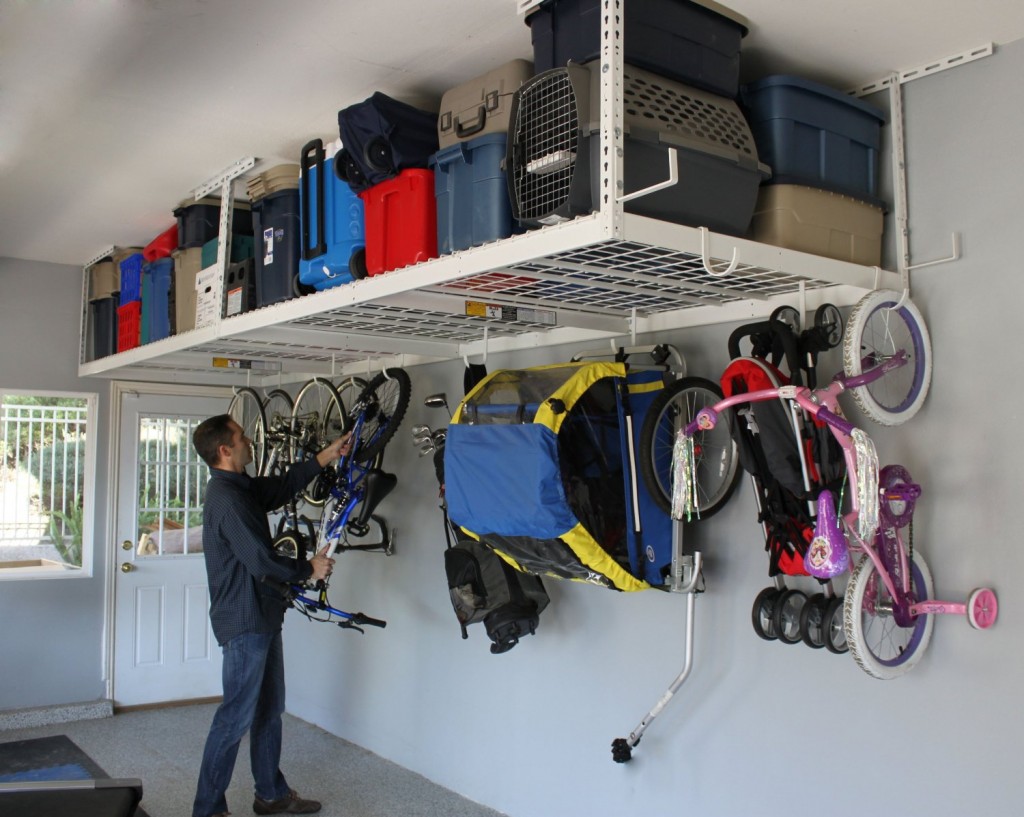 -Broom Organizer
A broom organizer is a cheap and easy way to get all kinds of yard tools, brooms, and snow shovels up off the floor and in order. While it's easy to place handles inside of the organizer as well as take them out, broom organizers will firmly hold items in place not allowing them to fall. This is because the rolling balls inside the clips automatically adjust to the thickness of the individual handles.
These also are fantastic for indoor use and many people use them for things like vacuums, Swiffers, mops, and more. Like with an overhead garage storage rack you should look for one with hooks to help you hang even more tools. Three of the best brands are Evriholder, Strackle, and Anybest, all which are excellent quality and sell between $10 and $20.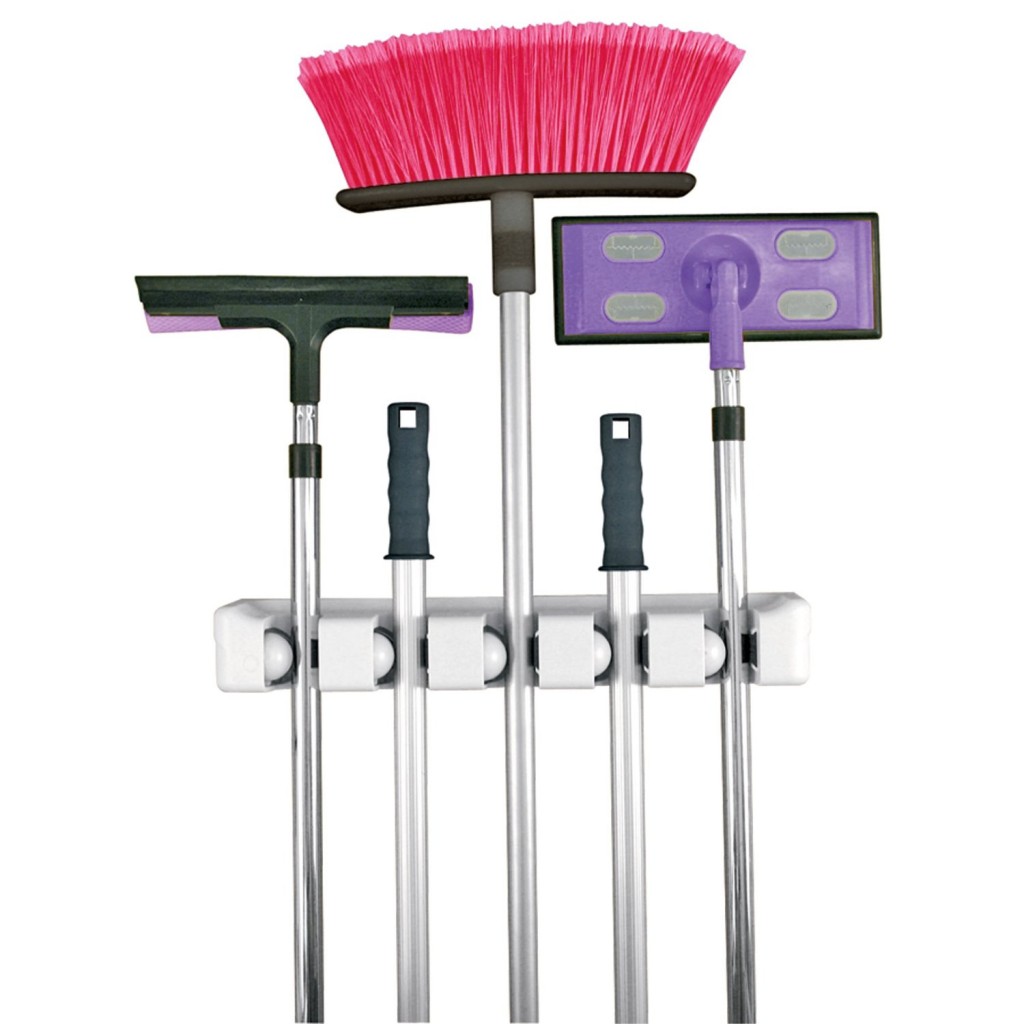 Bathroom Storage Ideas
-A Space Saving Bath Cabinet
Bathrooms can be one of the hardest rooms to use for storage especially if they are not very large. A space saving bath cabinet is one of the best small bathroom storage ideas but also works just as well in bigger bathrooms too. The reason they are so handy is because they utilize the space above your toilet. This is a space which is almost always overlooked and putting it use is always a good idea.
The one below by Sauder features a 2 shelf cabinet, a bottom shelf, and 2 adjustable shelves. Unlike other models which normally offer only shelving, with a model like this one you use the cabinet for storage and the shelves to display items or pictures which could compliment your bathroom as well.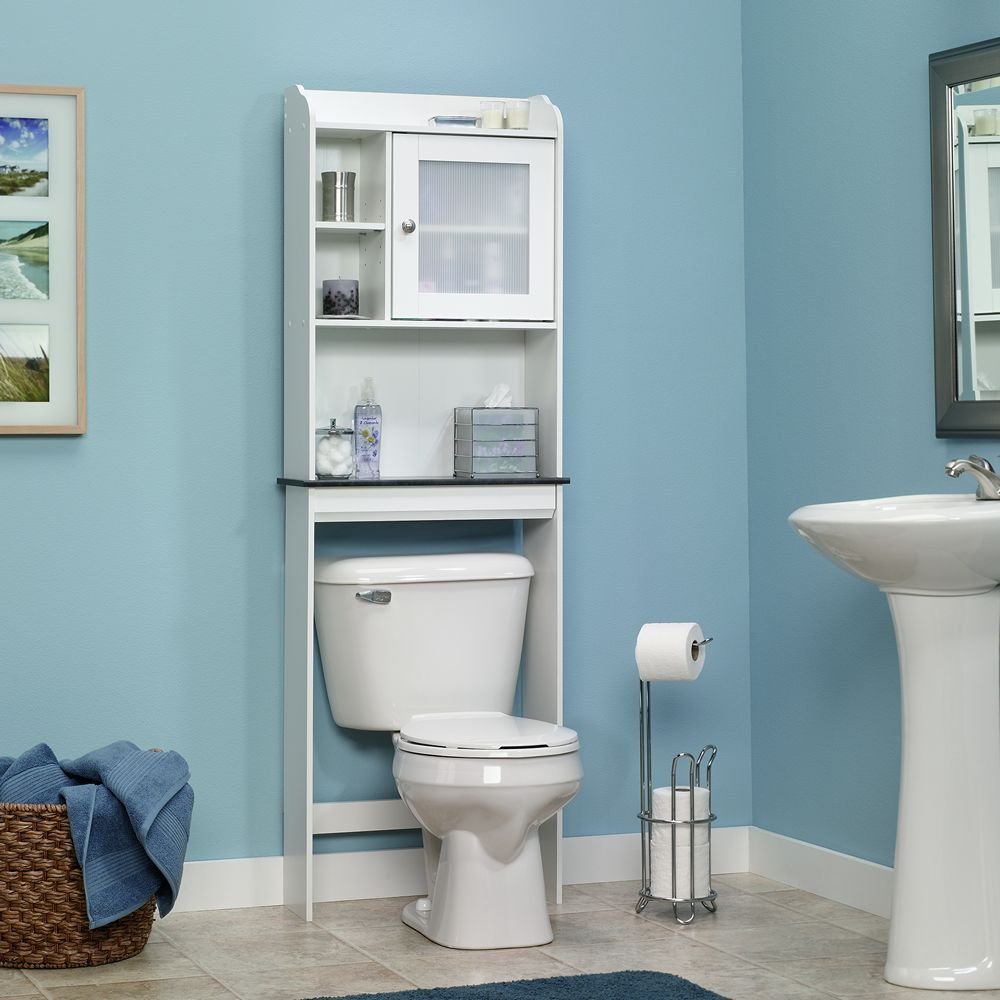 -Toilet Roll Stand
Not having an accessible place to keep extra toilet paper rolls when they are needed can be not only an annoying problem but an embarrassing one. Keeping them on top of a counter might not be too appealing to the eye even if it gives you easy access in case you run out. However a toilet roll stand lets you keep extra toilet paper where you need it most, close at hand, while looking good at the same time.
Some stands actually function as toilet paper dispenser along with holding up to 3 extra rolls, so you will never have to worry about running out. They come in a variety of materials but normally in chrome or bronze. A toilet roll stand can add function and beauty to a bathroom big or small and of course save some embarrassment too. Expect to pay between $20-40 for a top of the line stand.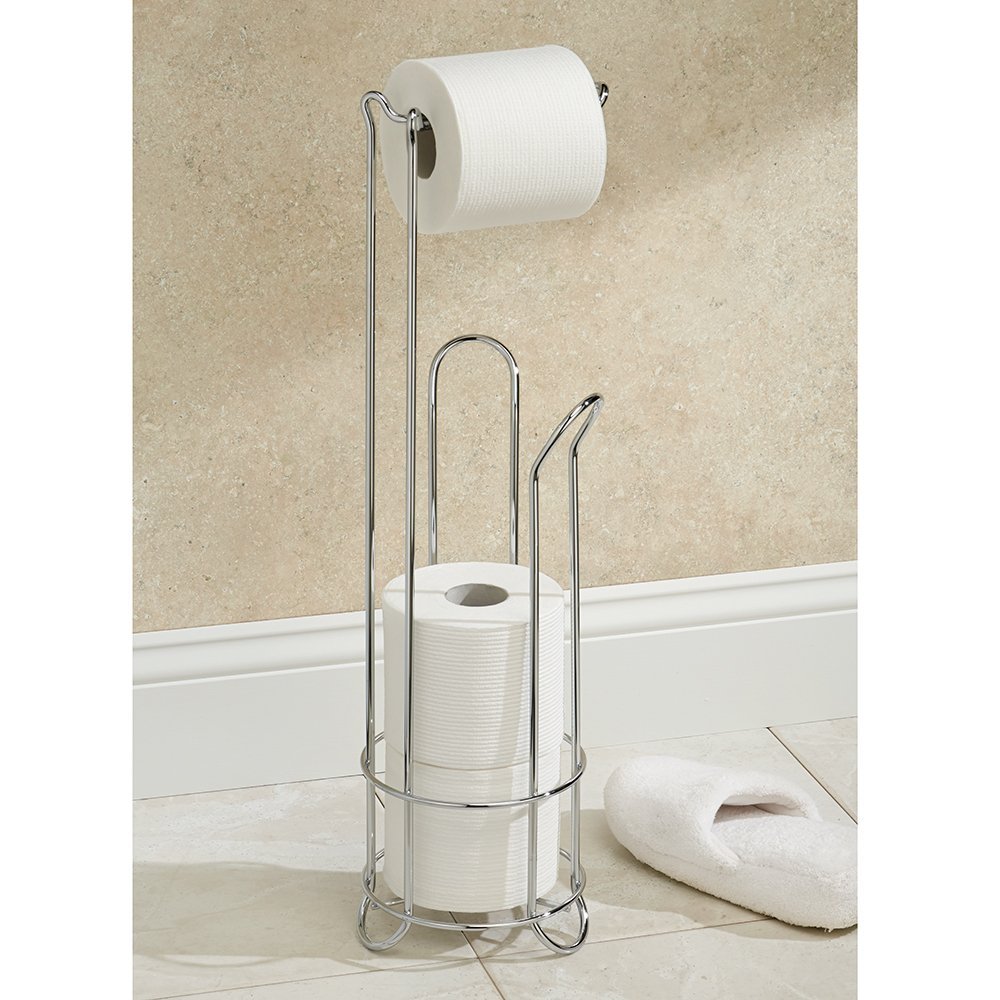 Bedroom Storage Ideas
-Bedside Caddy
While many people love to read or listen to music while in bed, they don't necessarily have a place to neatly store their books, magazines, tablet or IPod which is easily accessible. Most people have to get out of bed to put their things away or end up falling asleep with them in the bed. While that's no big deal if it's a book or magazine, a fall from even bed height onto a hard floor could end in you having to replace or at least fix most electronic items.
A bedside caddy fits between your mattress and bed frame to give you easy bedside storage for the remote, headphones or anything else you need at hand when relaxing in your bed. These are also a fantastic gift for university students who need all the extra storage they can get, especially if they plan on studying in bed or don't have a desk. Costing less than $20, many people buy a few, keep one, and give the rest away as gifts.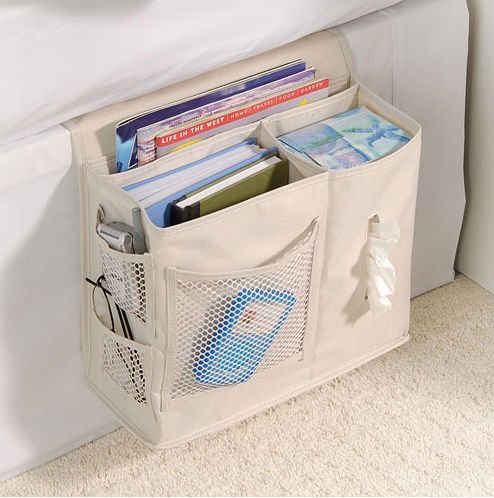 -Drawer Dividers
Trying to find matching socks, the right tie, bra, or pair of underwear is always annoying, especially if you're in a rush. Drawer dividers provide an easy fix and one which not only provide neatly organized storage for small items of clothing but also fold down themselves so they can easily be stored too.
They make a great functional gift for messy teenagers and spouses and come in sets so you can use them to store a variety of different size items. These also work really well on shelves in walk-in closets and are made from sturdy canvas so they are durable. They make another great bedroom storage buy at under $20.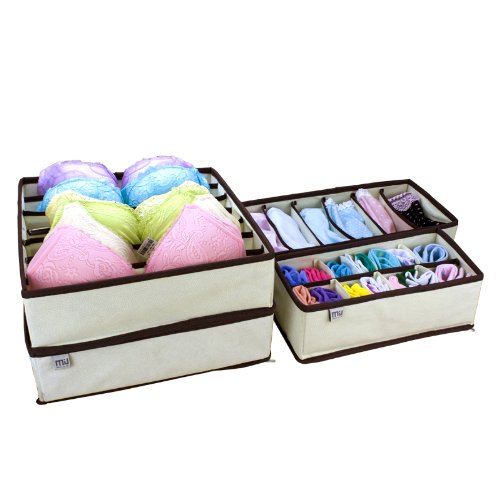 Kitchen Storage Ideas
-Dry Food Dispenser
No more cereal box clutter and having your cereal go bad before its expiration date as a result of not properly being sealed. A dry food dispenser makes a wonderful and unique looking counter top storage option that will have your friends asking where they can get one too.
Most dispensers can hold around one gallon of food each and will dispense a controlled portion of food with a twist of the knob, which also means they are great for kids and area simple way to not waste food. You can use them for a variety of food items like cereal, candy, rice, nuts, and more. While they will take up a small amount of counter space they will save a ton of cabinet space.
They are easy to clean and make a smart choice for both storage and looks. They can usually be found from $25 for a single dispenser to around $50 for a double dispenser and of course cheaper if on sale.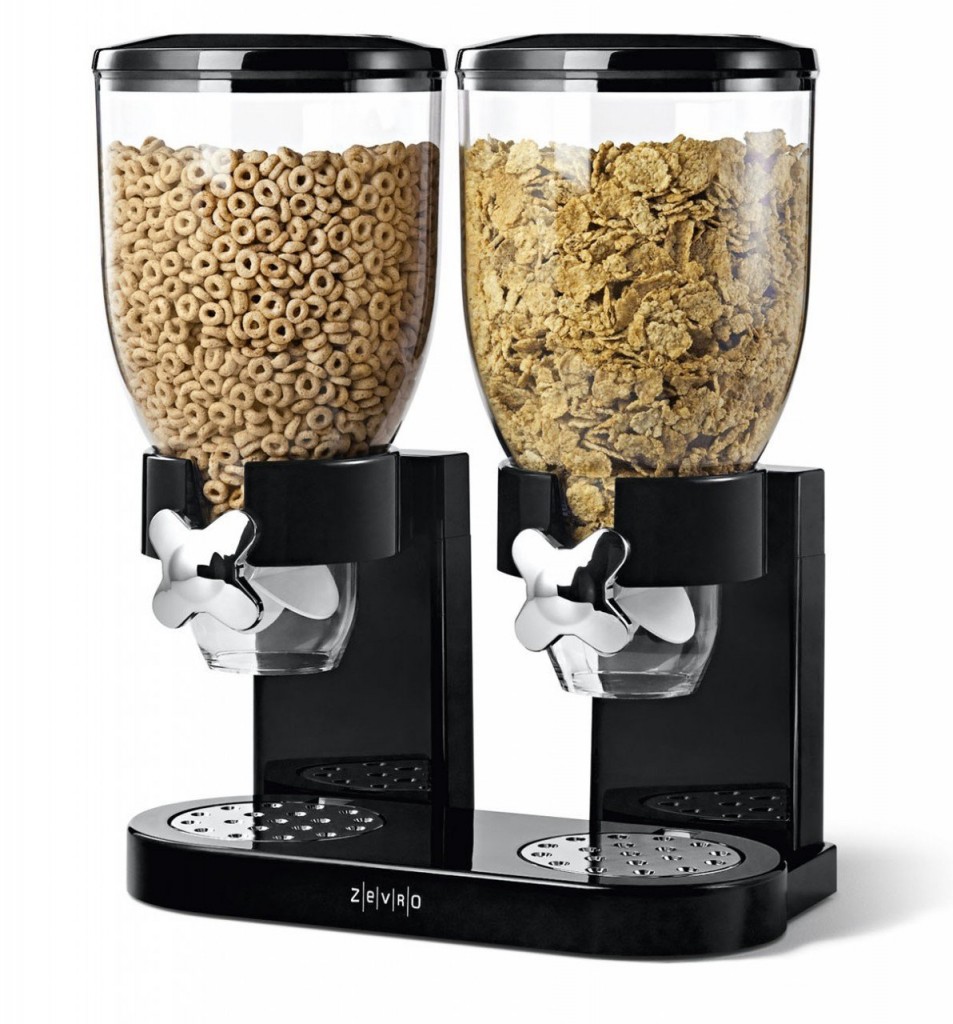 -Bag Dispenser
While a huge amount of people save plastic bags, almost none have a convenient or good-looking way to do so. If you are like the majority of people you use a large plastic bag to keep all of your other plastic bags. While this might work, it can be unsightly and definitely something you want to keep hidden inside your cabinets.
Trying to take out only one bag is also extremely annoying as it almost never works and a few extra always tend to fall out. A bag dispenser will make bag hoarding look good and also handy at the same time. All you need to do is tuck your bags into the opening on top and if you need a bag simply pull it out from the wide dispensing area.
They work just as well inside a cabinet as mounted on a kitchen wall and will make helping the environment by reusing plastic bags more convenient than ever. The one below manufactured by Superhuman will hold up to 30 grocery bags and costs around $10.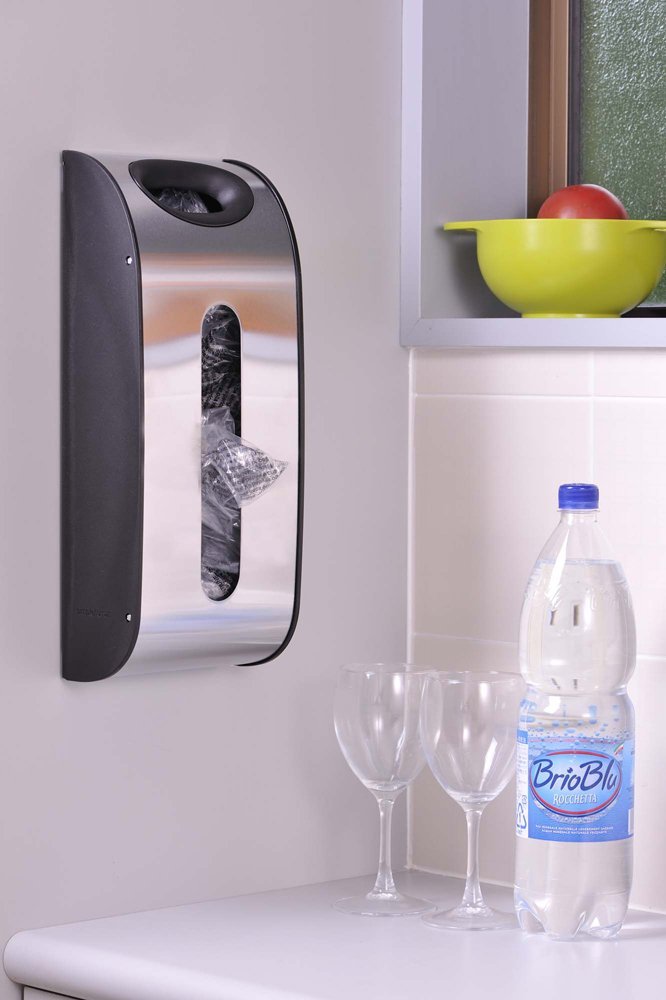 Pantry Storage Ideas
-Pantry Organizer Rack
Piling platters, cookie sheets, muffin tins, and cutting boards on top of one another in your pantry doesn't make them easily accessible when it's time to use them. In fact doing so means you will always have to take out the ones on top of the one you need first which is not efficient at all. Or even worse, if you choose to slide out the one you need, whatever is on top could quite easily break as it comes down.
Pantry rack organizers are made to be sturdy so you can store all types of cooking and baking platters and boards in your pantry without having to worry about it tipping over. And they have multiple dividers so you can quickly grab whatever you need without any pushing, shoving, or maneuvering. Many are also good-looking enough to use on a countertop as well and are ideal for keeping cutting or chopping boards within easy reach at all times.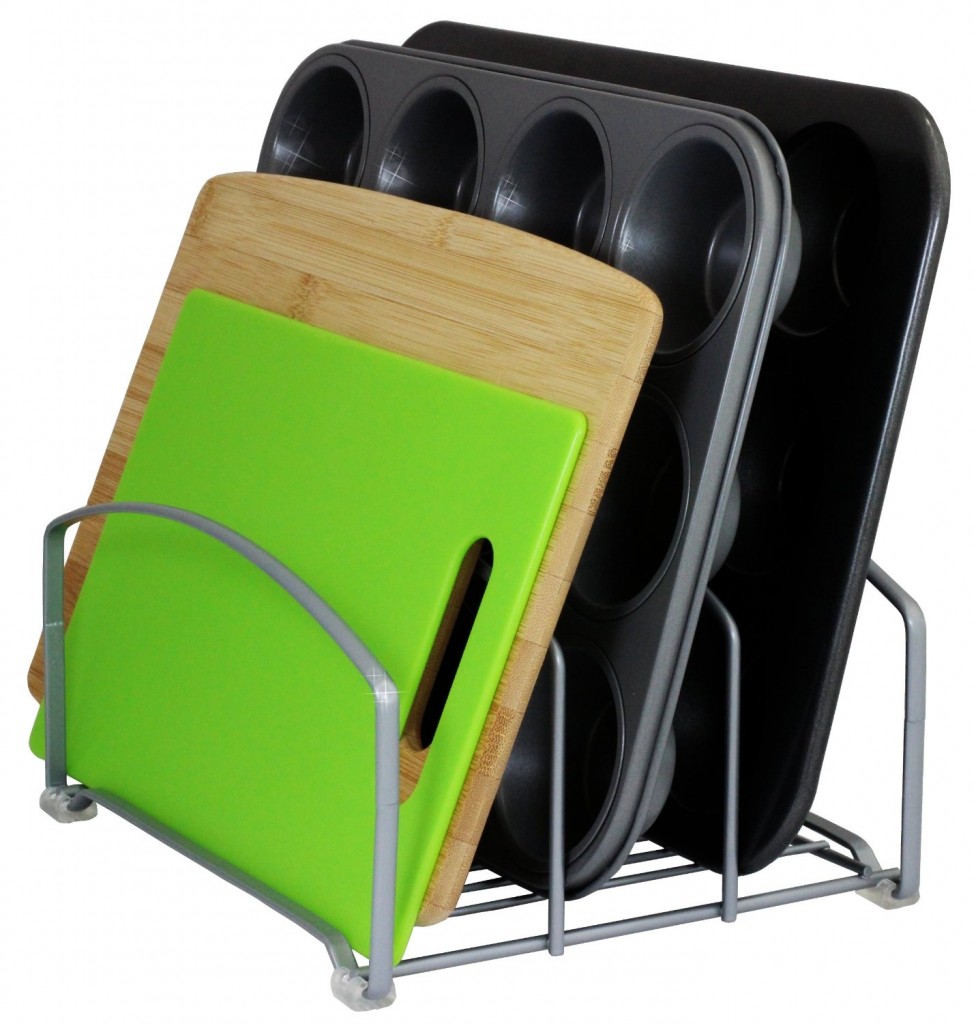 -Pantry Bins
Keeping any cabinet organized, especially when they have food containers of all different shapes and sizes is a challenge. Pantry bins are designed to manage this problem by using a few key features. The fact that they are made from clear plastic lets you instantly see what's inside of each one so there is no moving things around to find what you need.
They also come in a variety of sizes and ones which also are the most suitable for fitting items you would keep in your cabinets. There are bins specifically made for things like coffee, packs of seasonings, as well as for mixed items of all sizes. They are available with dividers and have a lip which lets you easily pull out the whole bin if you need to. InterDesign is well known for their high quality and handy bins which are made to neatly contain almost any item you could think to store in your pantry.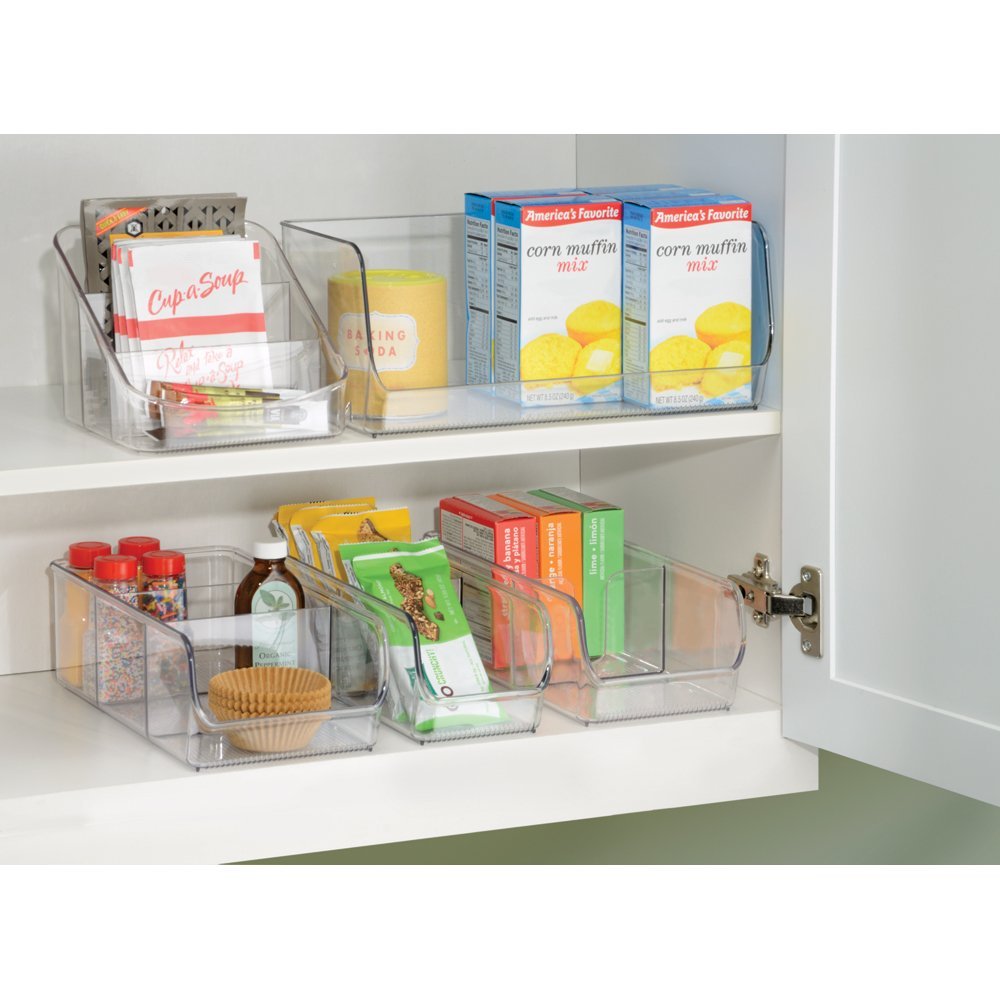 Closet Storage Ideas
-Closet Doubler
Just like the name suggests a closet doubler can double the hanging space in your closet. This is a very simple idea that works very well. A closet doubler attaches to your closet bar and hangs low enough that you can use it to hang an extra level of clothing under the ones already hanging from standard hangers. You can double the amount of clothes in the same space in a matter of seconds and all for around $10-15.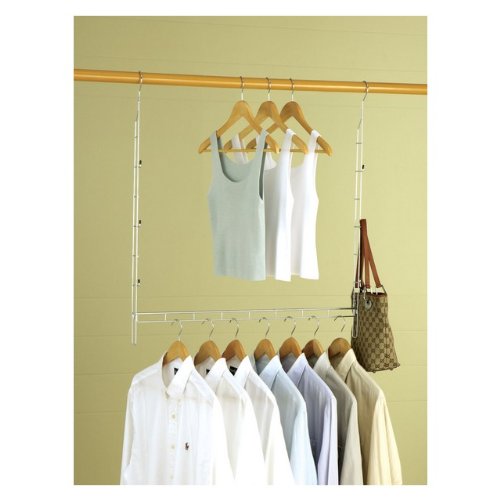 -Custom Closet Organizer
Keeping a closet organized without the proper shelves or garment racks can be extremely frustrating and almost impossible. With a custom closet organizer set like the one offered by Rubbermaid (pictured below) you can transform your closet space into a thing of organized beauty. In fact this kit will add 12 feet of hanging space and 20 feet of shelving to your closet.
It is fully customizable and adjustable and it even allows you to create a double hang area similar to that of a closet doubler. And if that's not enough, you can purchase add on kits such as pant racks, shoe shelves, or a tie and belt valet. Anyone can install one of these in minutes leaving you stress free and clothes organized. While this kit retails for over $200, you can find it for less than $100 online.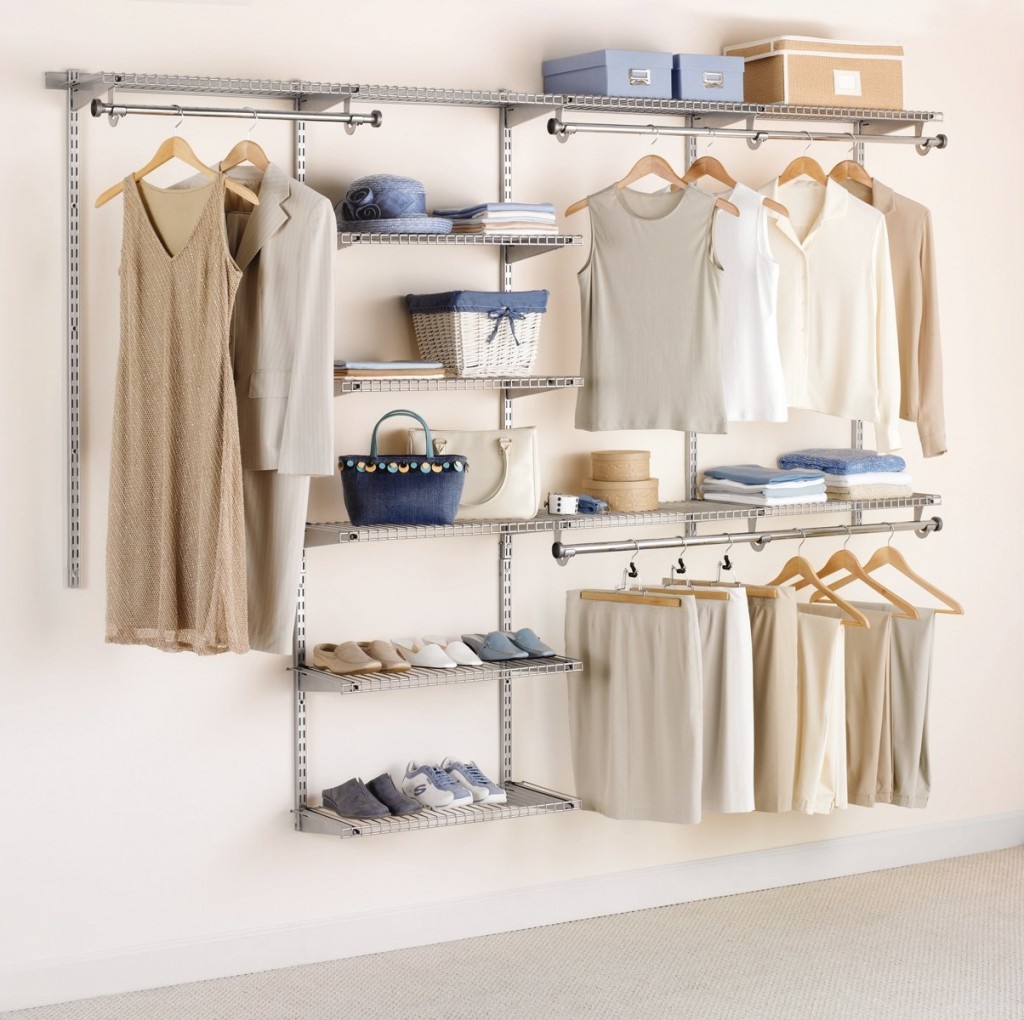 Shoe Storage Ideas
-Hanging Shoe Organizers
Normally made from canvas, hanging shoe organizers make a great low cost storage investment. They hang from the rod in your closet and their cubbies each can hold a pair of shoes. Most organizers will hold about 10 pairs so you'll actually be able to see the bottom of your closet once again. There are also smaller organizers available that can hold 3 pairs or 6 pairs if 10 is too many.
And because canvas is a breathable fabric your shoes will be able to air out as well. Hanging shoe organizers can also be used for small items of clothing too. Both Household Essentials and Richards Homewares make excellent and high quality organizers from about $15-20.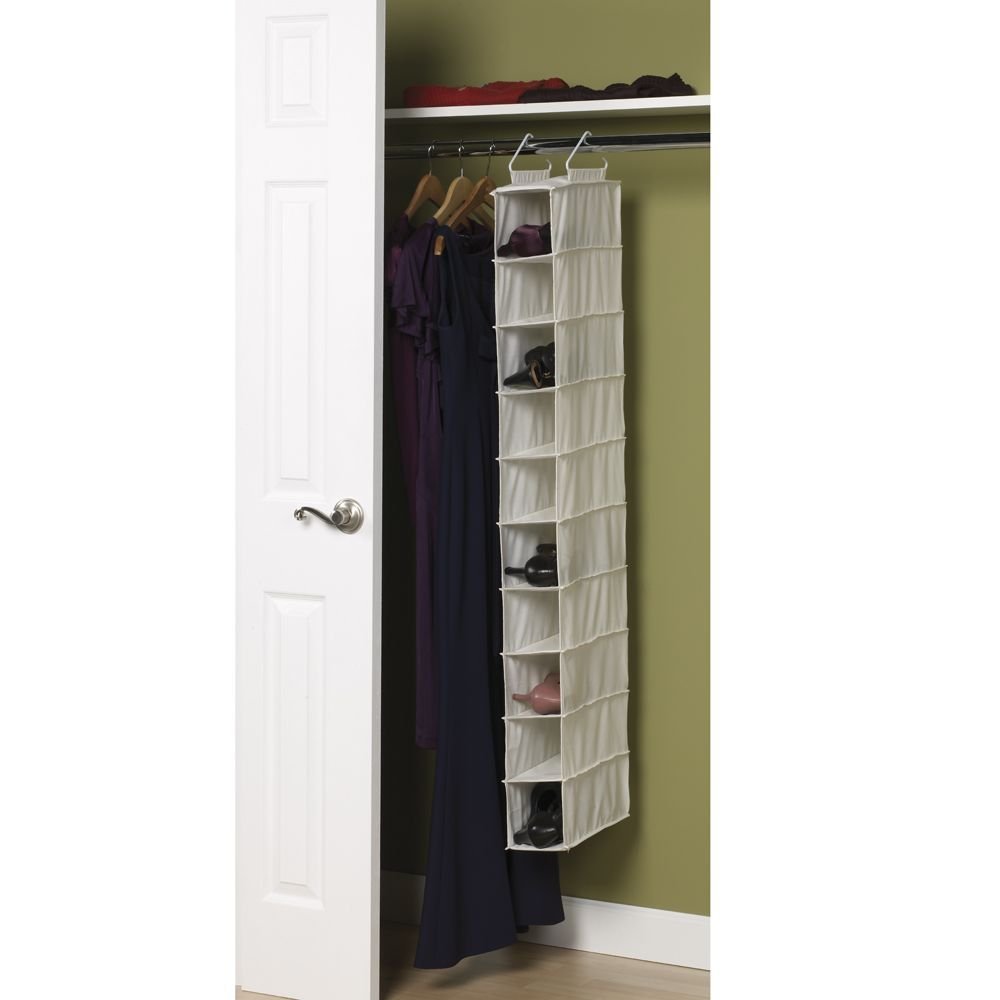 -Shoe Storage Boxes
Another great way to store your shoes, shoe storage boxes offer some really convenient features. They are almost always clear or at least semi-clear so you can see inside of them and not have to open a ton of shoe boxes to find the shoes you need which will save a heap of time. Also, because they are a uniform size, unlike normal shoe boxes, you can stack them and organize them easily which really helps with closet clutter. Shoe storage boxes are very cheap at around only $2 per box.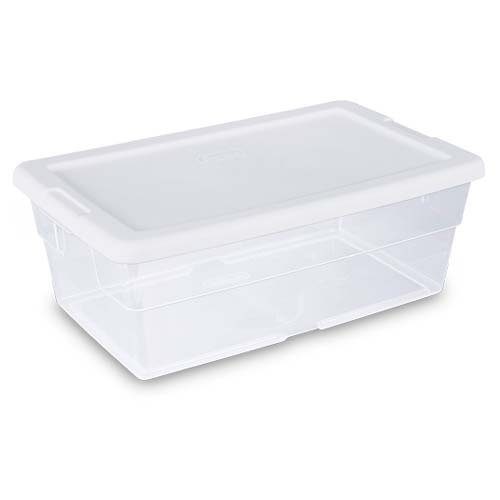 Toy Storage Ideas
-Toy Hammock
A fun way to keep your child's toys off the floor is with a toy hammock. They function just like a normal hammock but instead of providing you with a place to relax they provide a unique storage solution for toys. A toy hammock is also the perfect item for any child with an extensive teddy bear or stuffed animal collection; this is why they are often referred to as "pet nets."
When it comes to buying one, especially one which is large enough and sturdy enough to hold a decent amount online is the place to look. The Prince Lionheart Jumbo shown below is a best-seller on Amazon and can fit up to around 50 stuffed animals all for under $10.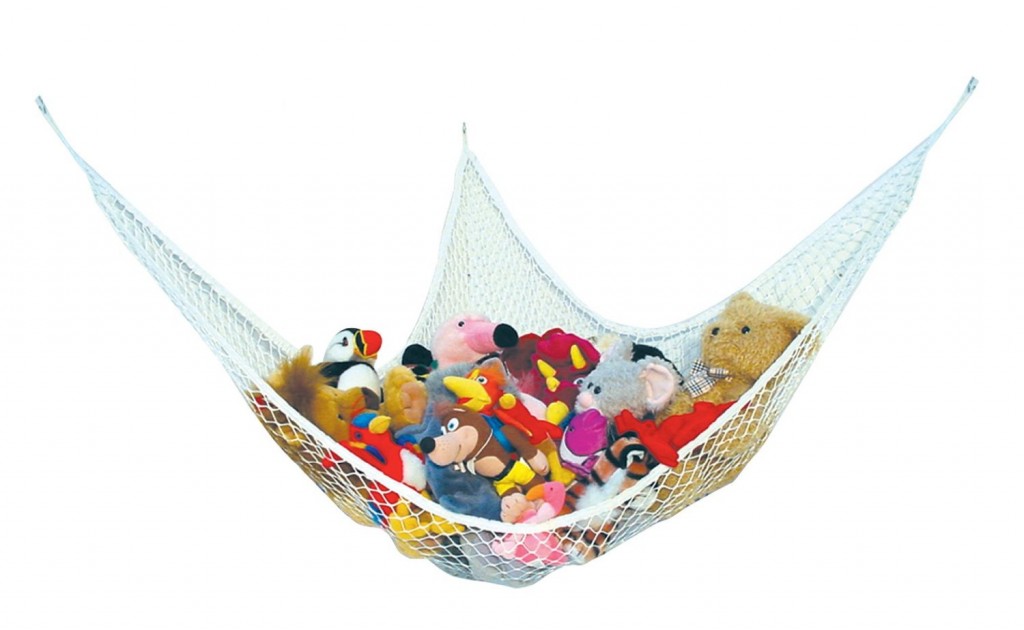 -Toy Storage Organizer
Kids' toys can be all different shapes and sizes. This can make them notoriously hard to keep neatly on shelves or in cabinets. A toy storage organizer with multiple tote bins lets you keep all your children's toys in a manner which makes them easy to see, access, and put away for both you and your child. Because they are made from plastic they are easy to clean and are durable.
They are also available in a large variety of colors and some have handles making them easy to move. Choosing a model without any sharp edges or corners is always smart idea to prevent injuries.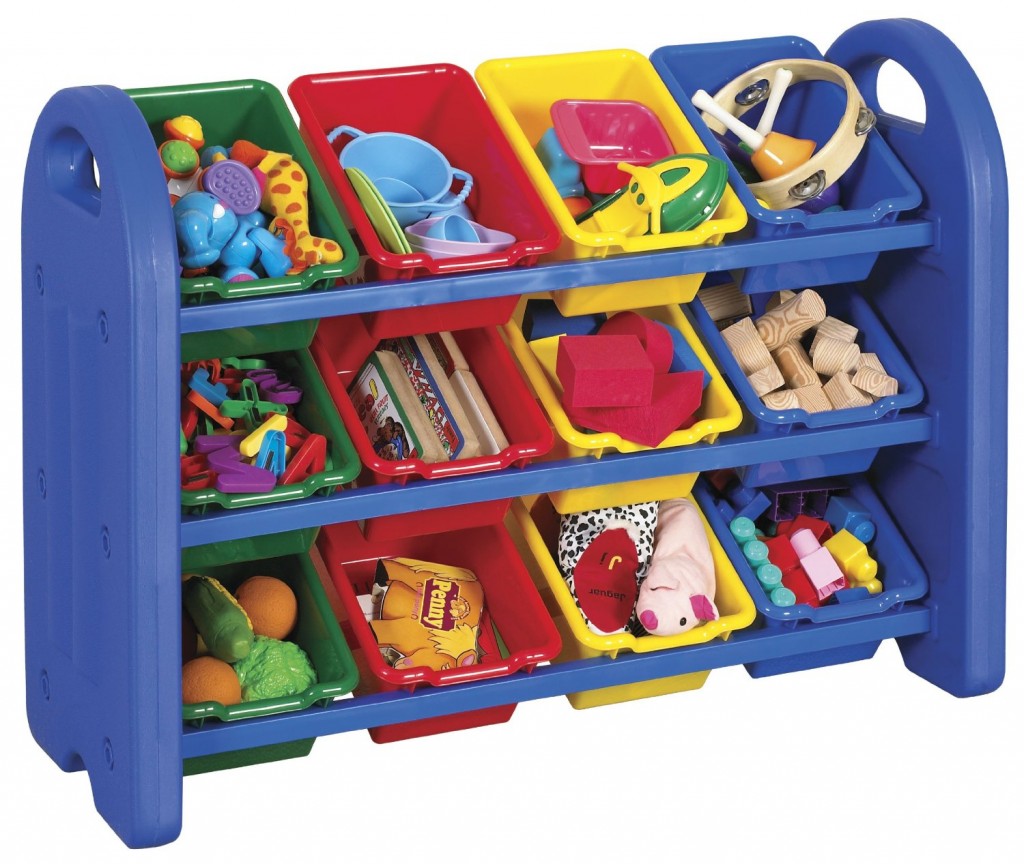 Lego Storage
-Lego Storage Head
What better Lego storage idea is there than a Lego storage head. These large heads are a fantastic gift idea not only for keeping Legos but for all sorts of toys. The best part is they come in both male and female faces, from small to large in size, and with a variety of fun facial expressions which your kids will love. With a large head able to store around a thousand Lego blocks it's guaranteed to not only look cool but hold a large amount of blocks as well. Simply open up the head and dump the Legos in!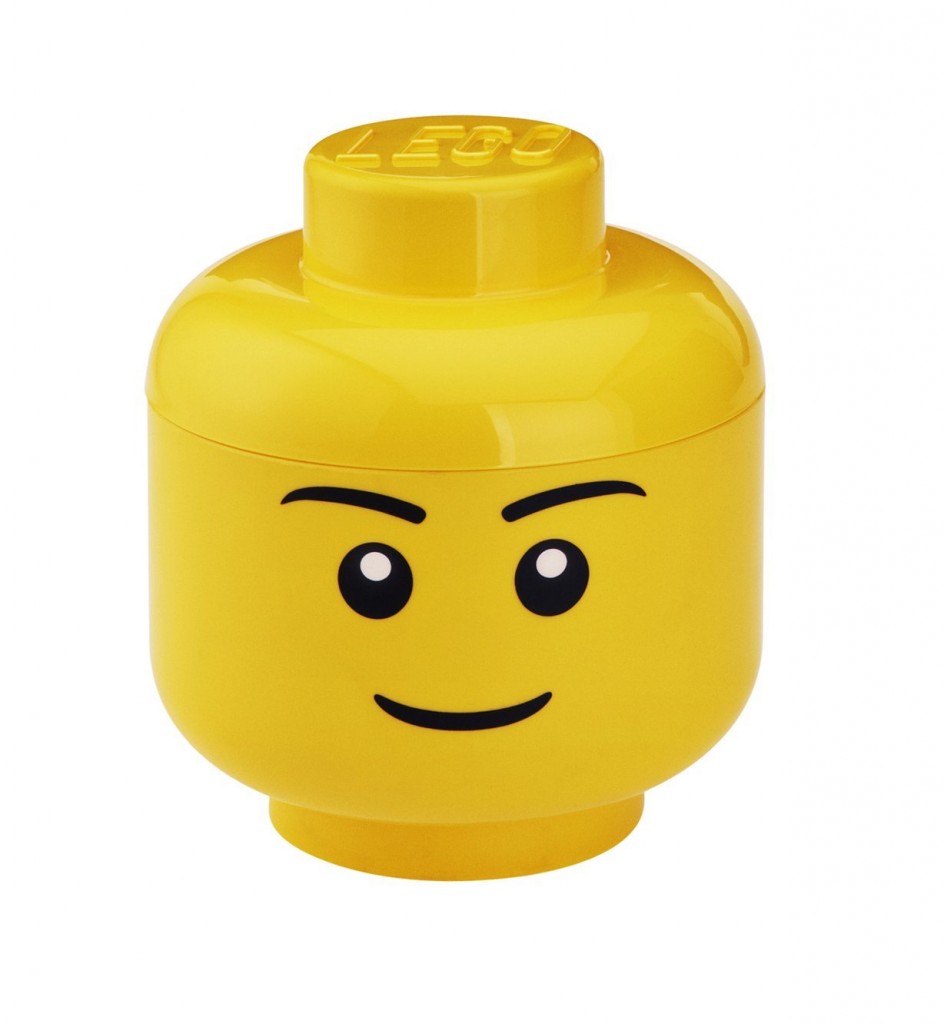 -Lego Storage Brick
As opposed to a storage head, another fun Lego storage idea is a storage brick. Shaped like an actual Lego block these open up for easy Lego storage. They can range in size from the small 2 block, the medium 4 square block, or the rectangular 6 block. These are made by Lego so they are available in all the traditional Lego colors. The unique thing about them is they stack up just like real Legos do making clean up time fun and creative!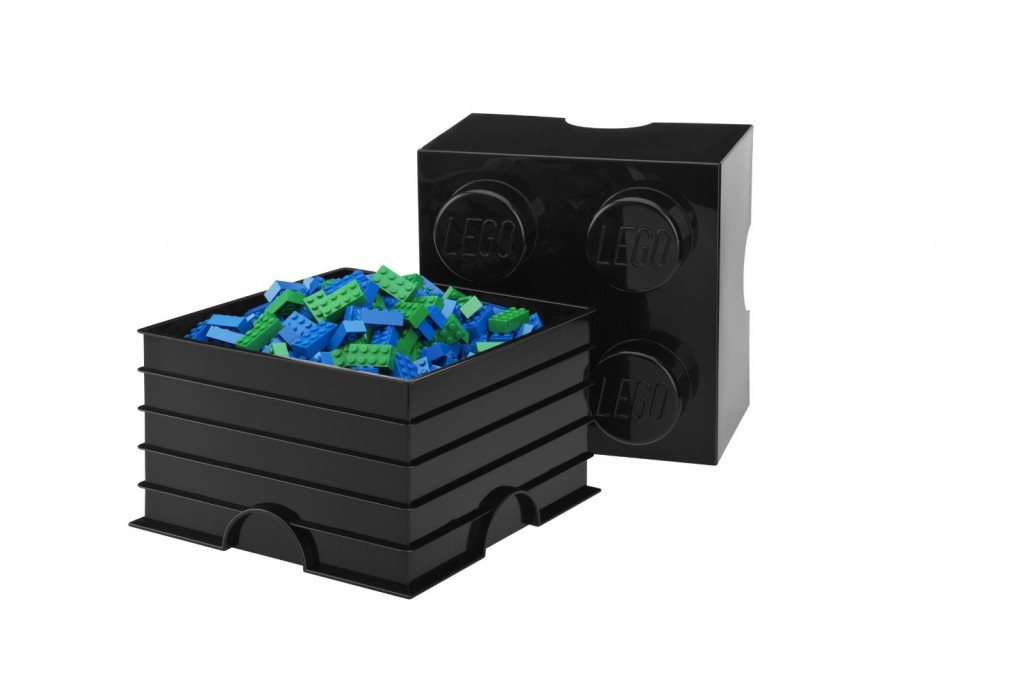 -Lego Workstation and Storage Unit
Yet another great way to store Legos. Containing 6 portable project cases, this workstation by IRIS makes being organized a snap. Not only will it hold a ton of Legos but comes with 2 free building base plates. It also has a secure place to fit a base plate on top of the storage unit so your child can use it as an area to play or show off their latest Lego creation while still being organized.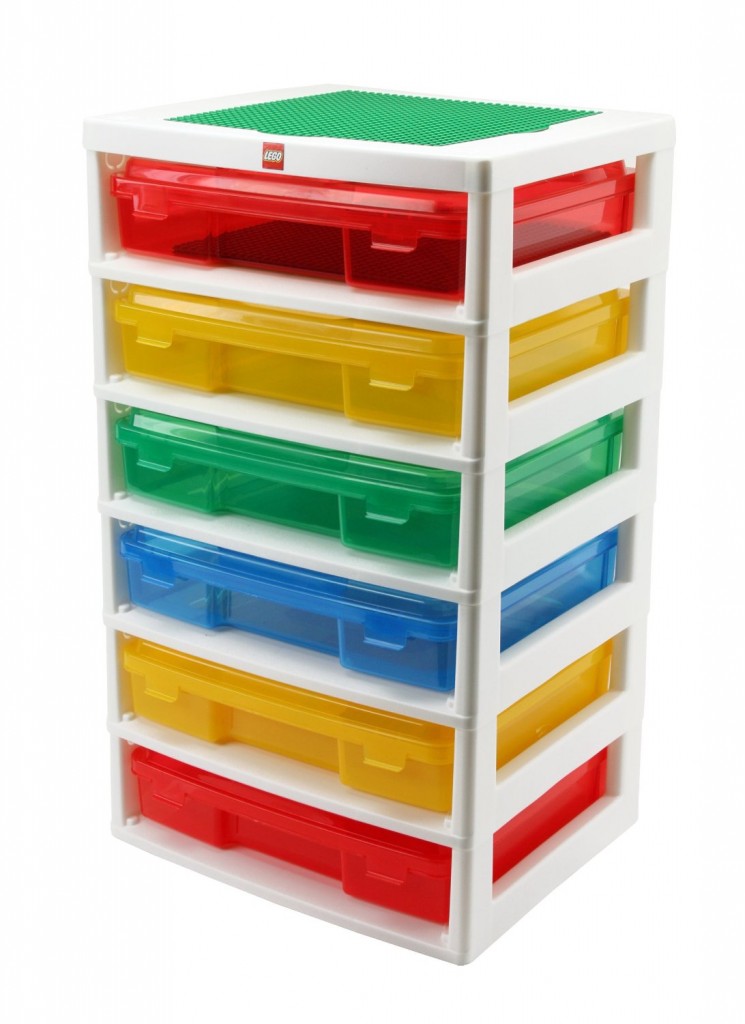 Jewelry Storage Ideas
-Ring Case
This simple classic always works well. With cushioned ring holders your rings will not only be safe from damage but organized as well. A handsome wooden case always make a great compliment to any room and is also a smart gift idea for both men and women. They can be used to store not only rings but earrings and cuff links too.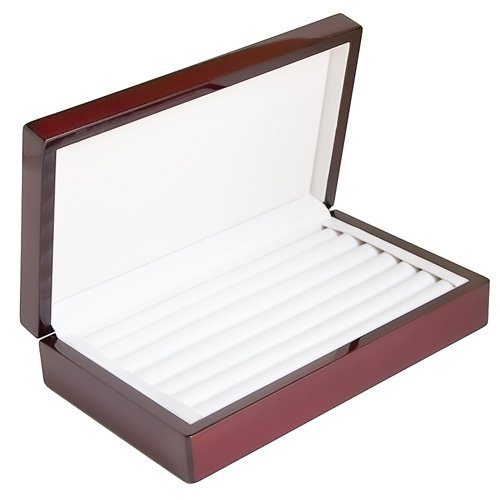 -Hanging Jewelry Organizer
An innovative way to store your jewelry, a hanging jewelry organizer is a simple concept. They are usually made from cotton and canvas and are supported by a heavy duty aluminum hanger which you can hang in your closet. They have clear pockets, some organizers up to 40 per side, so you can keep all of your jewelry and find what you need quickly.
Because all of your jewelry is stored separately you won't ever have to worry about it getting tangled or scratched and of course tarnished. Hanging jewelry organizers usually cost anywhere between $15-25.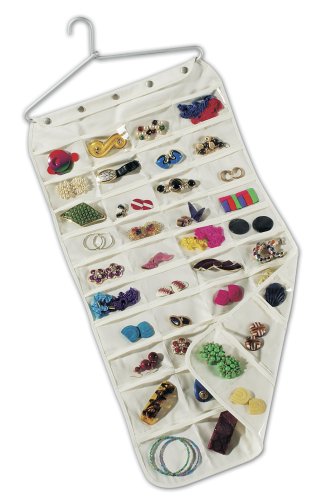 Makeup Storage Ideas
-Makeup Storage Drawers
Made from acrylic, makeup storage drawers eliminate the wasted time spent looking for the right makeup. This is because acrylic is clear, that means you can see through the whole set of drawers and instantly find what you need. These are an excellent choice for bathroom countertops or vanities.
Most drawer sets have between three and five drawers and can really hold a lot of makeup, many times your entire collection with room to spare. They always work well as a gift for the wife or girlfriend especially if they have a ton of makeup, and an added plus is that makeup storage drawers look great too!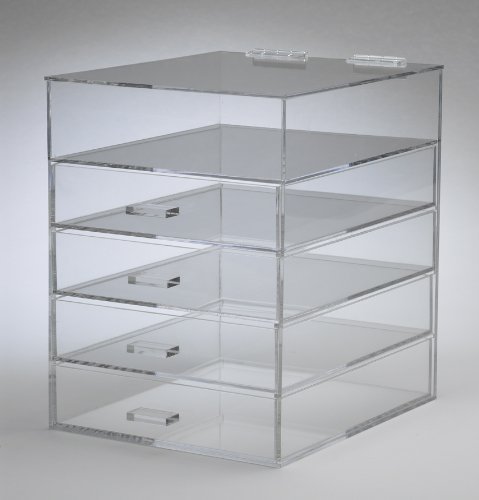 -Lipstick Organizers
Finding the right shade of lipstick can be a major pain especially when you have a lot to look through in order to do so. A lipstick organizer keeps your lipsticks standing upright so you can find the right one quickly and without any effort. These like many makeup storage options are made from acrylic.
They are available in quite a few colors so you can choose one to match your décor, your style, or one that's just your favorite color. Lipstick organizers are very inexpensive and normally hold around 24 lipsticks.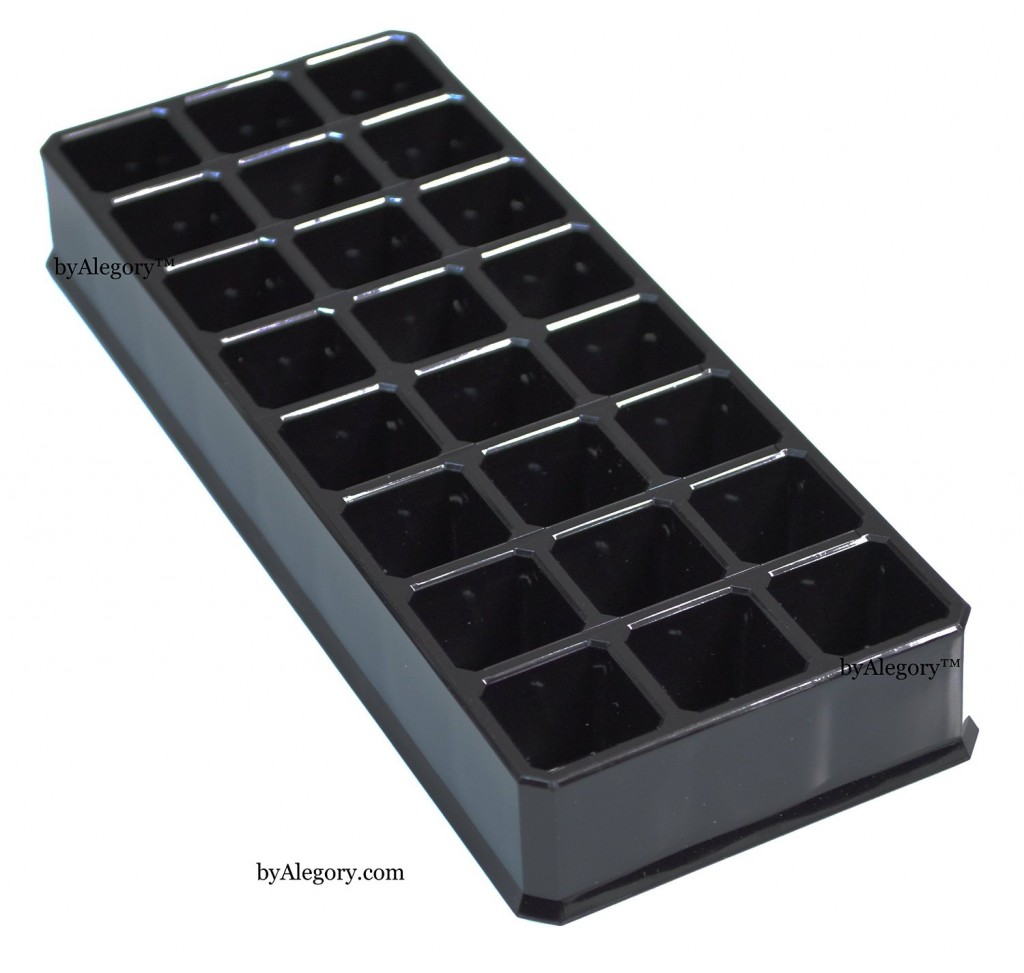 Bike Storage Ideas
-Bike Hoist
Bikes can take up a lot of space, and in a garage this could mean you not being able to park your car or simply not having enough room for your bike. A bike hoist uses hooks to support your bike under its seat and handle bars in conjunction with pulleys to get your bike up in the air and out of the way. These are surprisingly very cheap and usually only from $15-25.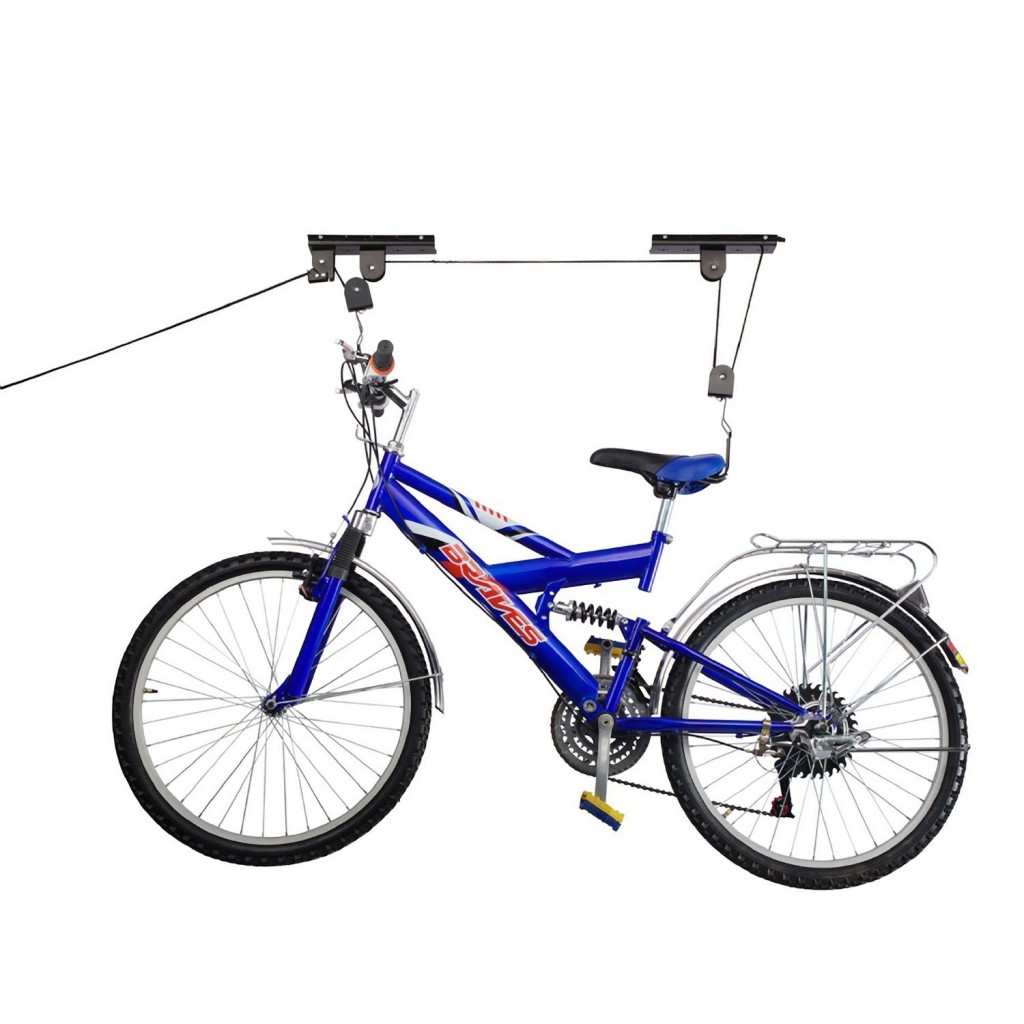 -Bike Hooks
The cheapest bike storage option are bike hooks. Costing only around $10 for a set of two hooks, they are also simple to install.  Just drill a hole in your ceiling and screw the hooks in, no skills necessary. Many apartment dwellers use this option to not only save money but space as well.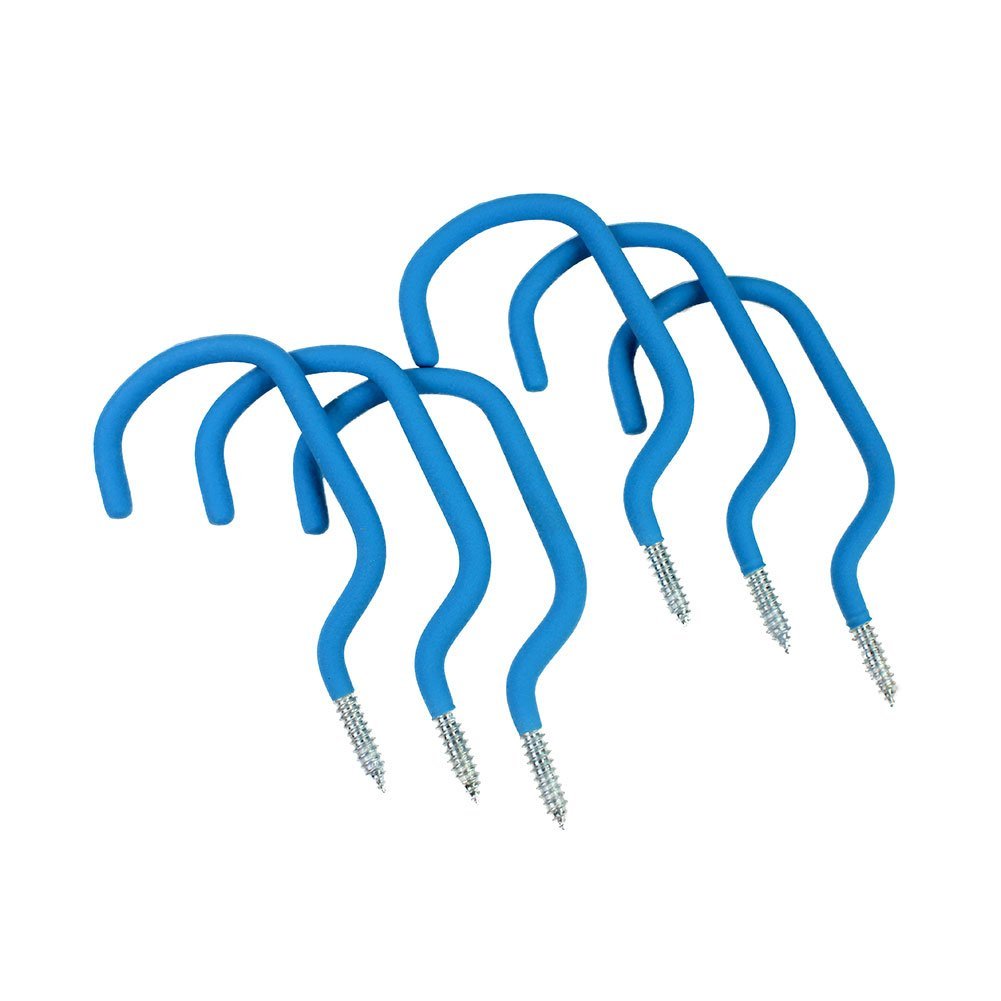 Craft Storage Ideas
-Craft and Hardware Cabinet
A great buy for anyone who has a large amount of crafts or hardware to store. They are filled with semi-clear polypropylene storage boxes so you can see what's inside each box without wasting any time. The best-selling Akro-Mils craft and hardware cabinet shown below actually has 32 small boxes and 12 large boxes for a total of 44 total boxes allowing you to store an enormous amount of items for less than $30.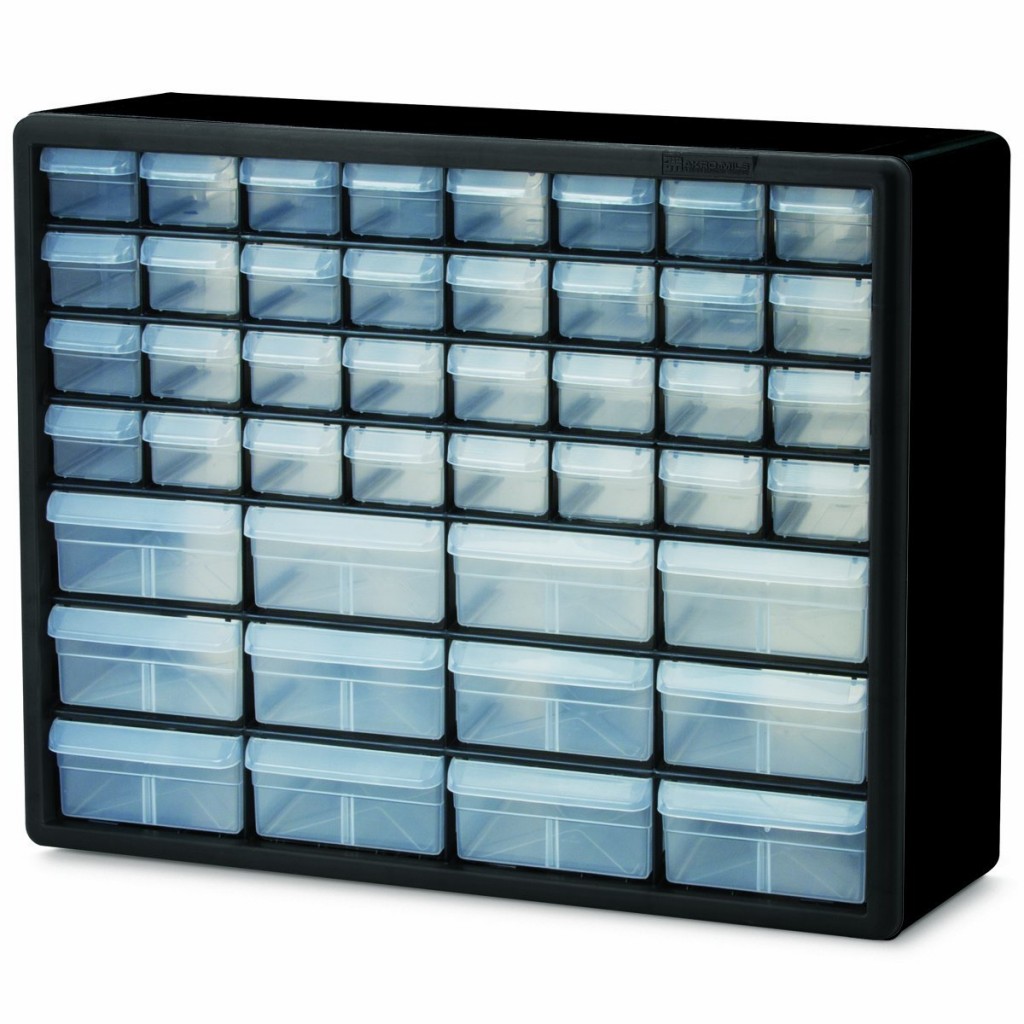 -Divider Box
Keeping crafts separated and organized makes using them so much more enjoyable. A divider box is the cheapest and easiest way to do so. The best boxes have removable dividers so that you can customize the box to fit your own unique craft storage needs.
Divider boxes are stackable so you can keep multiple boxes in a small space. A simple sturdy handle is a good feature to look for as it will help you to not only carry your box but to take it down off of shelves with minimal effort.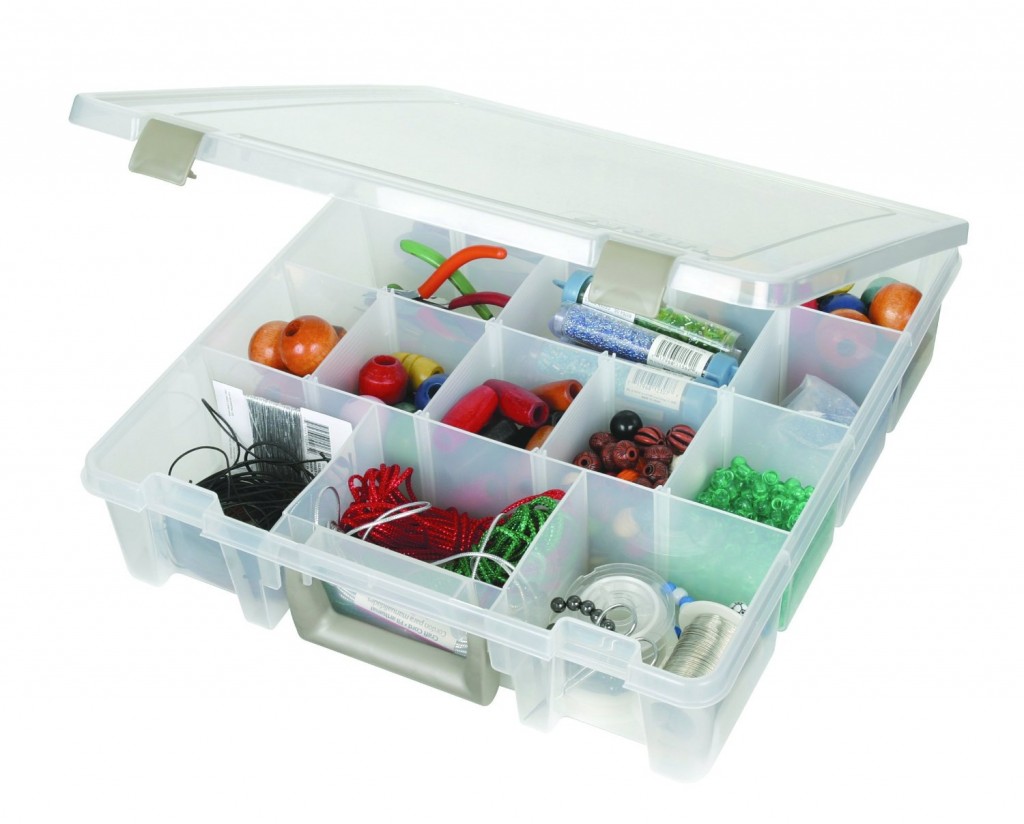 Book Storage Ideas
-Book Box
If you don't have the shelf space, are in the process of moving, or just want a convenient way to store your books a book box could be the answer. Keeping books moisture and dust-free is what these boxes are made to do. Made from clear polypropylene so you can see inside and quickly find the book you need, book boxes are also tough.
This toughness allows you to stack multiple boxes on top of each other to save space while protecting your books at the same time. These also work for magazines and comics as well.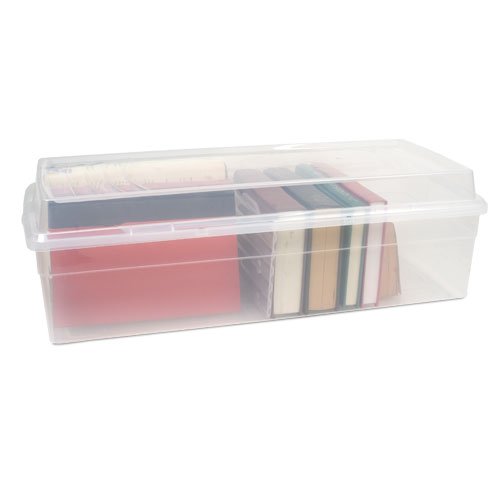 -Over The Door Book And Magazine Organizer
Perfect for dorm rooms and other rooms where you would like to keep books and magazines out of the way, yet organized and in easy reach. While you're not going to be able to keep all your books in one of these they are sturdy enough to hold quite a few. Many parents also use them to separate mail for the family as well as to keep important school papers organized for their children. Over the door book and magazine organizer are also inexpensive only costing around $20.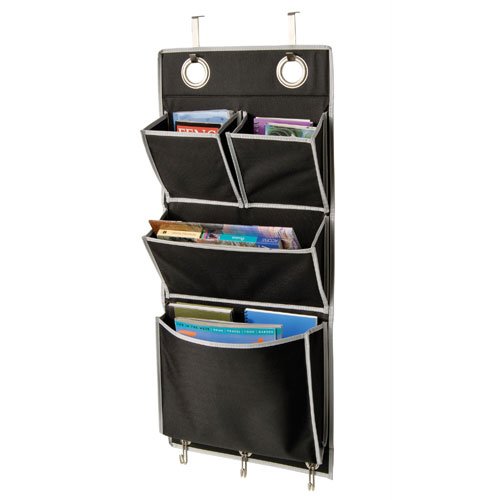 Tool Storage Ideas
-Metal Pegboard Tool Organizer
These are ideal for your garage, workroom, or basement. A pegboard keeps your tools organized and easy to find. These panels are mounted on the wall and with holes that accommodate hooks, brackets, and shelves you can hang your tools in any way you like.
While they are available in a few different materials metal pegboards are the way to go as they are more durable and sturdy than other materials which is very important when using one to hang expensive tools. Metal also easily wipes clean, and looks really good too. Most pegboards will come with a bunch of hooks so you can setup your board and start hanging tools right away.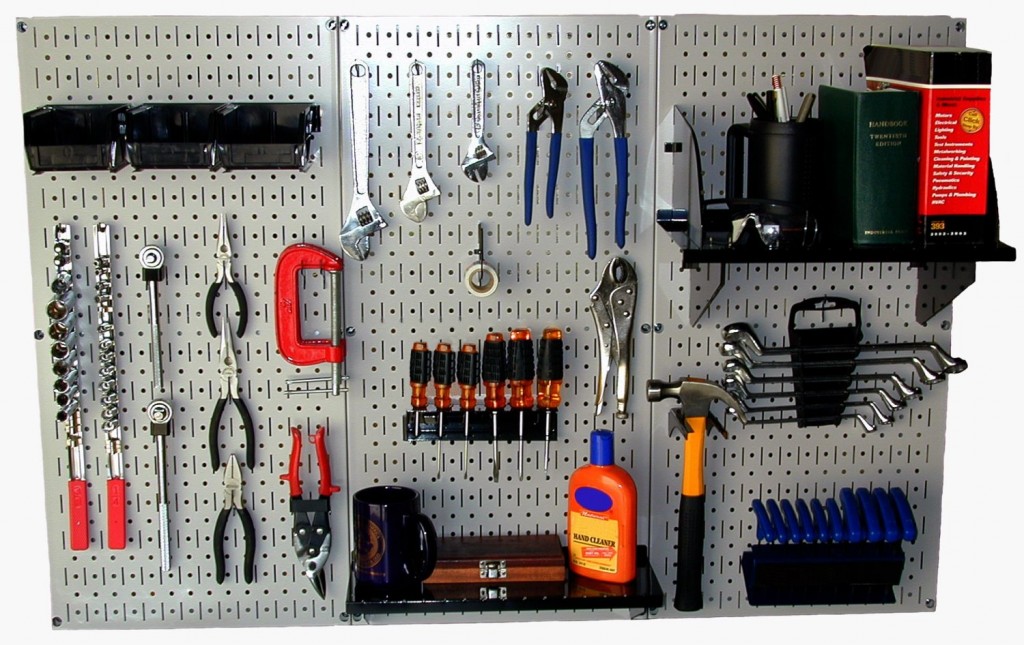 -Household Hanger
For hanging only a few tools a household hanger like the one shown below made by Lehigh is super convenient and cheap. Only about $5, these screw to the wall and are strong enough that they can easily hold six tools or other household items such as brooms, dust pans or mops.
While not the answer for the serious tradesman who has a ton of tools these all-wire hangers are an excellent choice for a closet, garage, basement, or anywhere else you need a simple and strong hanger. Many homeowners purchase 3 or 4 because they are so cheap, strong, and reliable.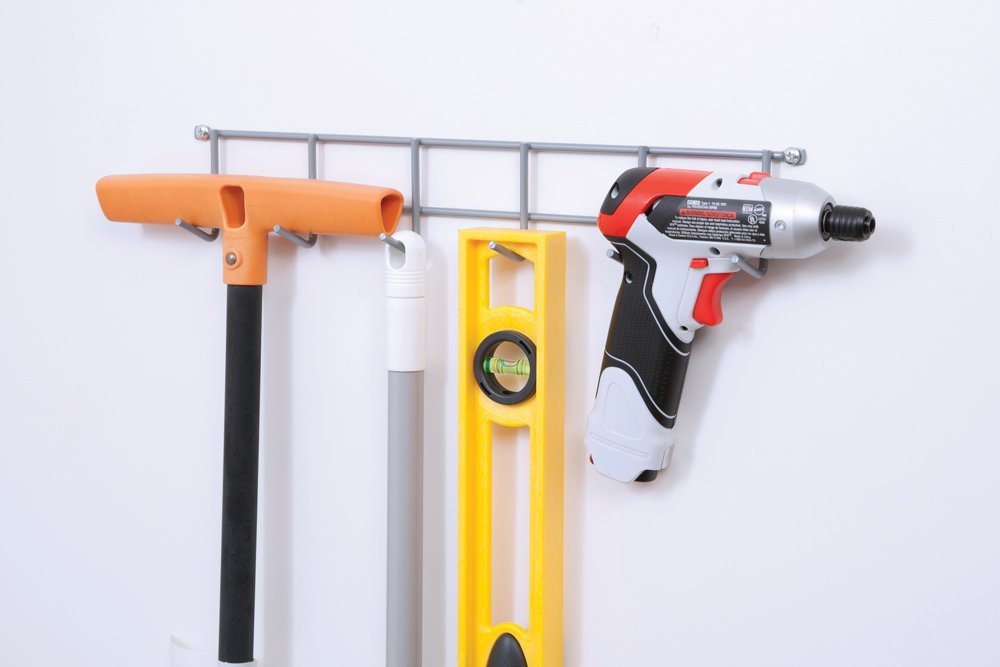 With so many fantastic storage options listed above you're bound to find at least a few that will make your life easier. Any option that saves you time, frustration, and also cuts down clutter is worth its weight in gold. So choose what works for you and start on the path to organization and stress-free storage today!
Click Here Now to start shopping for storage solutions!