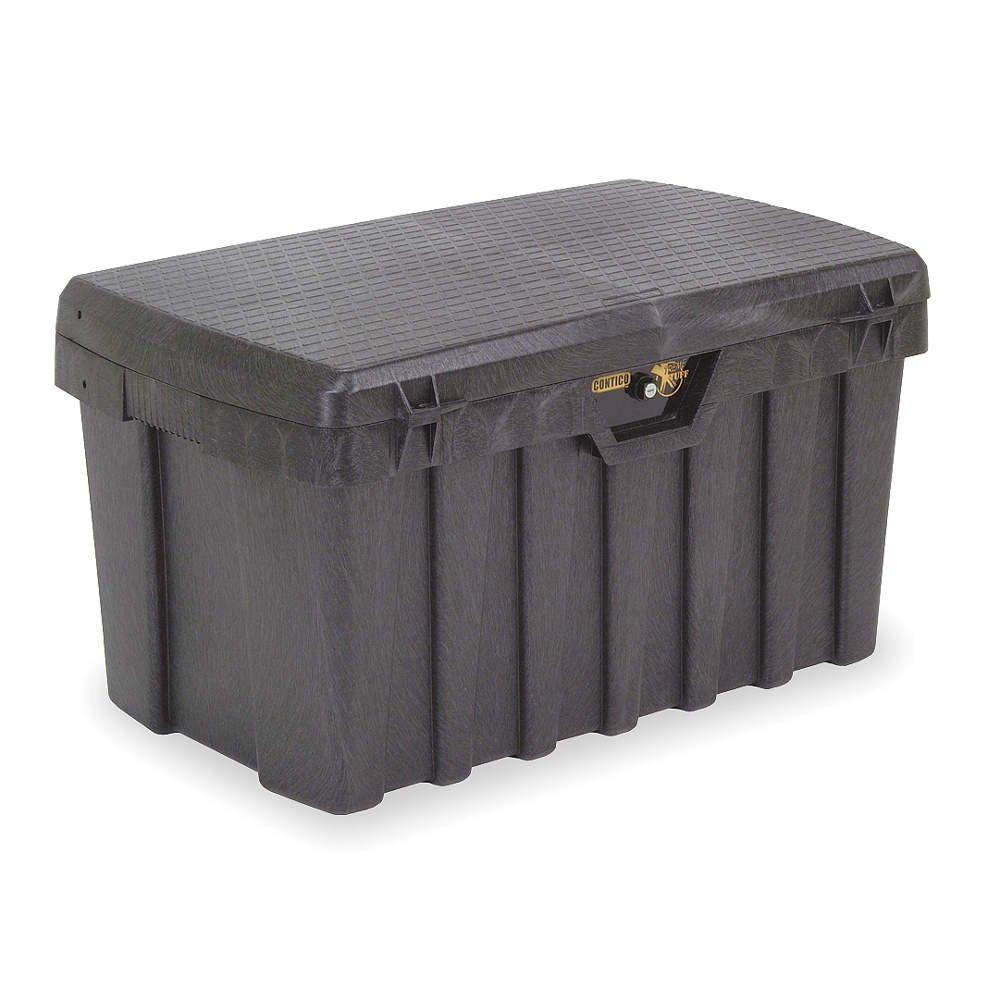 Keeping your possessions under lock and key is often a must. When that is the case a lockable storage box is most likely what you need. There are boxes designed for just about every preference, requirement, and use.
Most boxes today are made from either heavy-duty plastic or metal. Both have their own advantages and uses for which they work best. So we've compiled a list of all the top options from both of these materials along with the important info you need to know to make things easy for you.
The Top Benefits Of A Lockable Plastic Storage Box 
Plastic boxes aren't typically used with valuables and are not fire-proof however they are not designed to be, instead they are made to have convenient features such as being: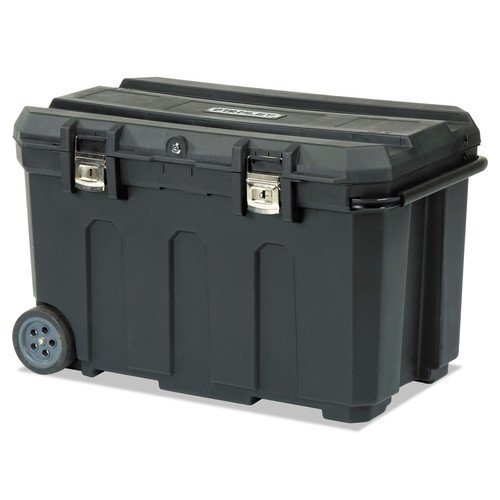 Lightweight Yet Tough
One of the biggest advantages of  plastic lockable storage boxes is the fact that they are light in weight but very strong. This makes them easily portable and movable without added weight or bulk.
Weatherproof
Boxes made from plastic also have the benefit of being weatherproof. This means that no matter what the weather, your belongings will be not only safe but dry as well. Unlike with other materials  when using plastic you won't have to worry about the box itself decaying, rotting, or rusting when used outdoors or in wet areas.

Available In A Range of Sizes
When shopping for a lockable plastic storage box you will find that there is a wide range of sizes to choose from. The sizes are described by how many gallons or cubic feet of storage they can hold.
Designed With Function In Mind
Plastic storage boxes are known for being made with extras that are very helpful. Some have wheels for easy transport, grooves that make them easy to tie down with bungee cords or rope, strong latches, easy to hold handles, texture for extra grip and recessed lids that make stacking a cinch. Of course these will depend on the type and model and brand you choose.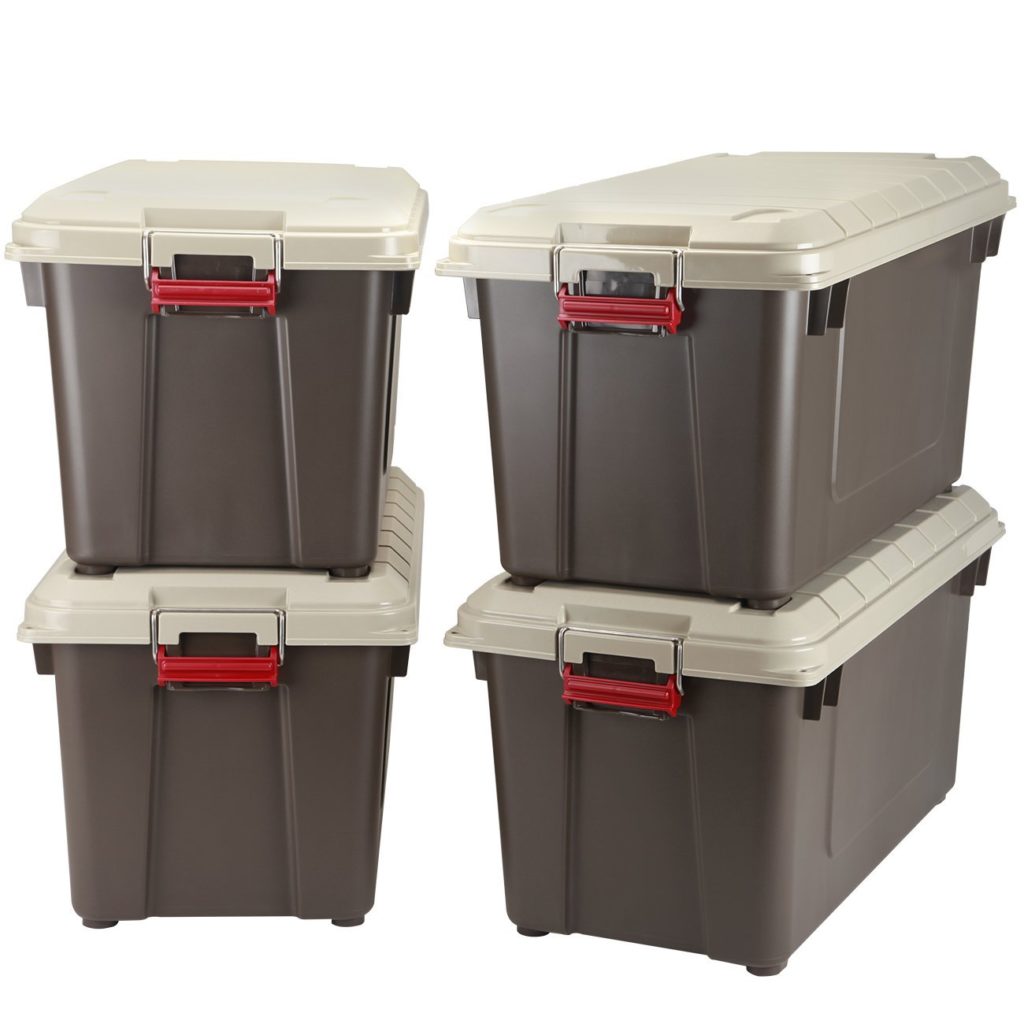 The Most Common Types Of Lockable Plastic Storage Boxes
Cargo Boxes
Made to be very rugged so that they can handle a lot of abuse, cargo boxes are often the preferred choice of hunters, campers, fisherman, and anyone who works with tools. While there are various sizes, in general they can store quite a lot while still being easy to handle.
A locking cargo box isn't as wide and deep as bigger options so you can fit one in your backseat, trunk, bed of your pickup, or on your boat. Many consumers actually choose them specifically for keeping emergency equipment and supplies in these locations.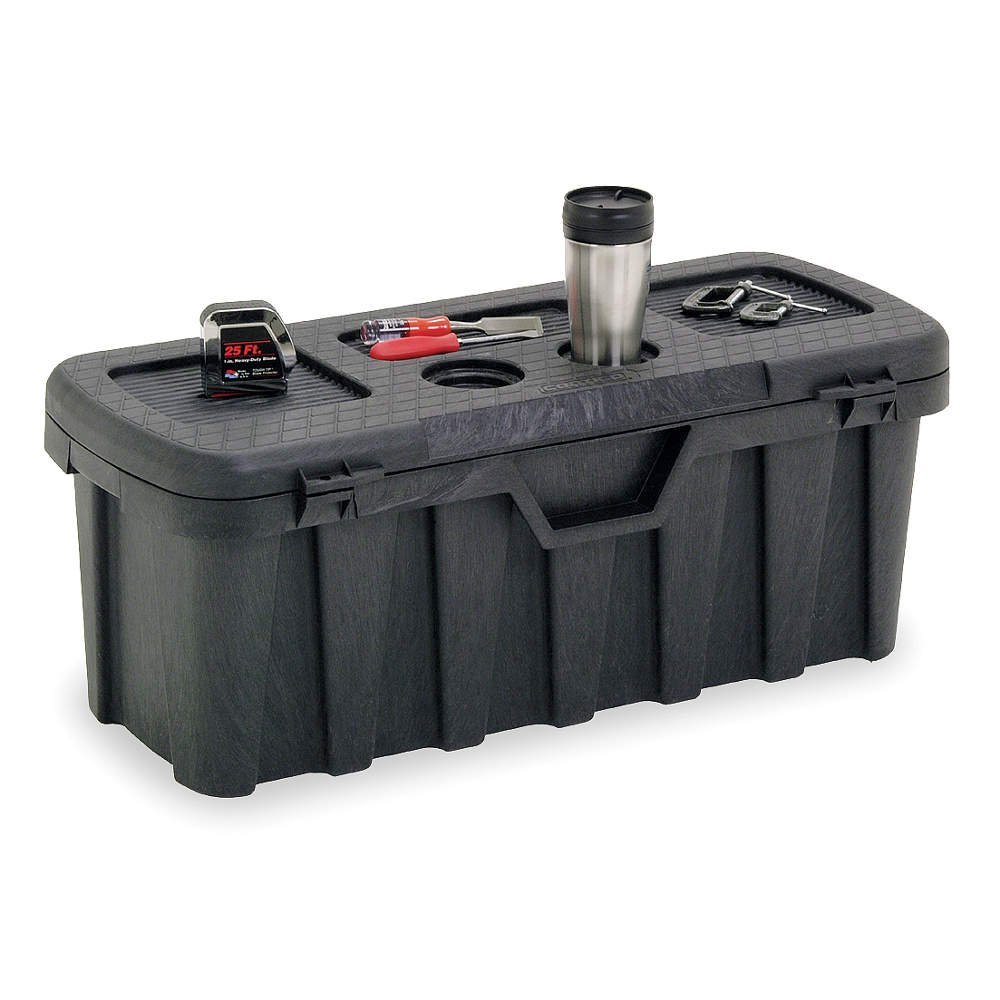 Some cargo boxes will have wheels while others don't. So be sure to keep this in mind if you will be using your when travelling or planning on adding very heavy items. For extra security many models will have multiple padlock tabs so you can use more than one lock to make sure no one gets into your stuff when you're not around.
This is one type of plastic lockable storage box that is often used for shipping gear by air, so the added tabs can be a helpful feature. They are also made to be stacked or tied down if you need to as well.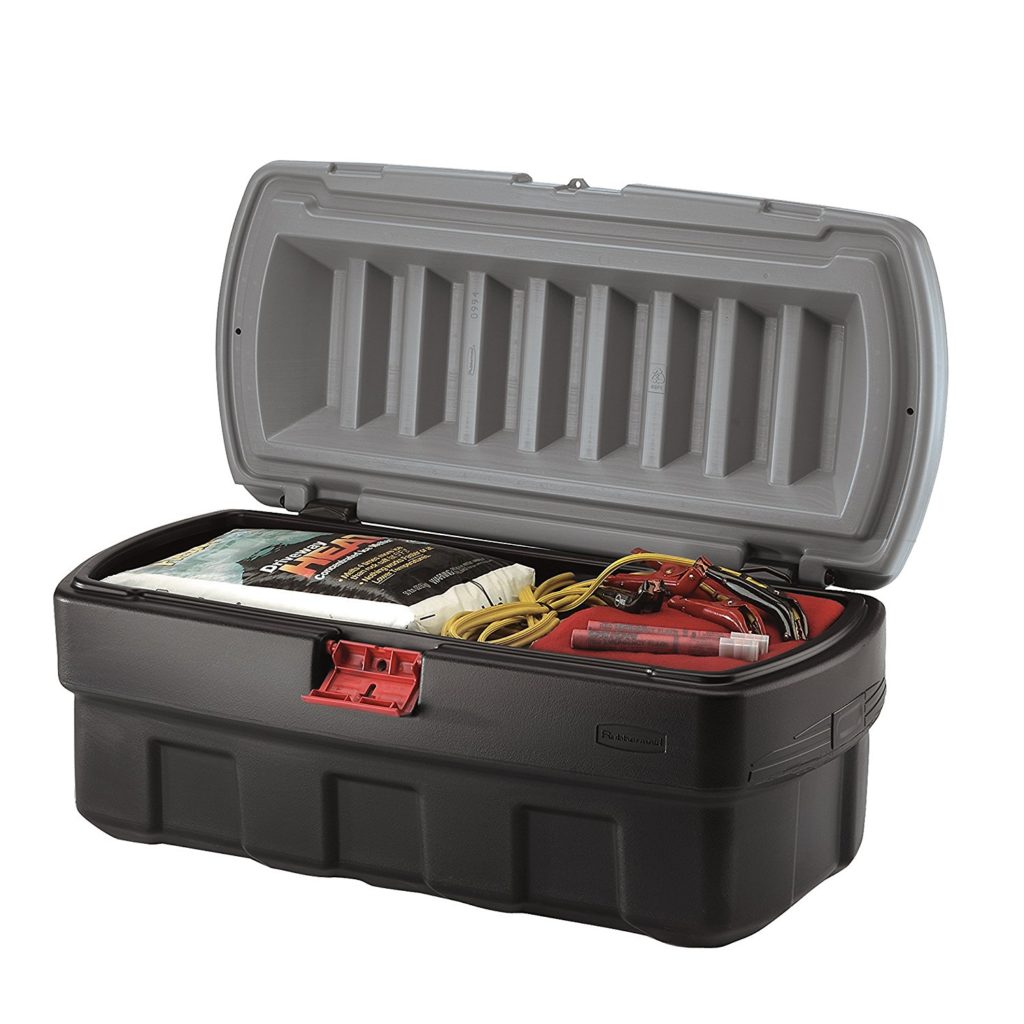 Mobile Chests
For more storage space a mobile chest might be what you need. They are much deeper than cargo boxes allowing for more storage space, many up to 50 gallons. While they might not look huge, their depth allows them to hold a tremendous amount of stuff which makes them a deceivingly large lockable storage box that is still easily manageable.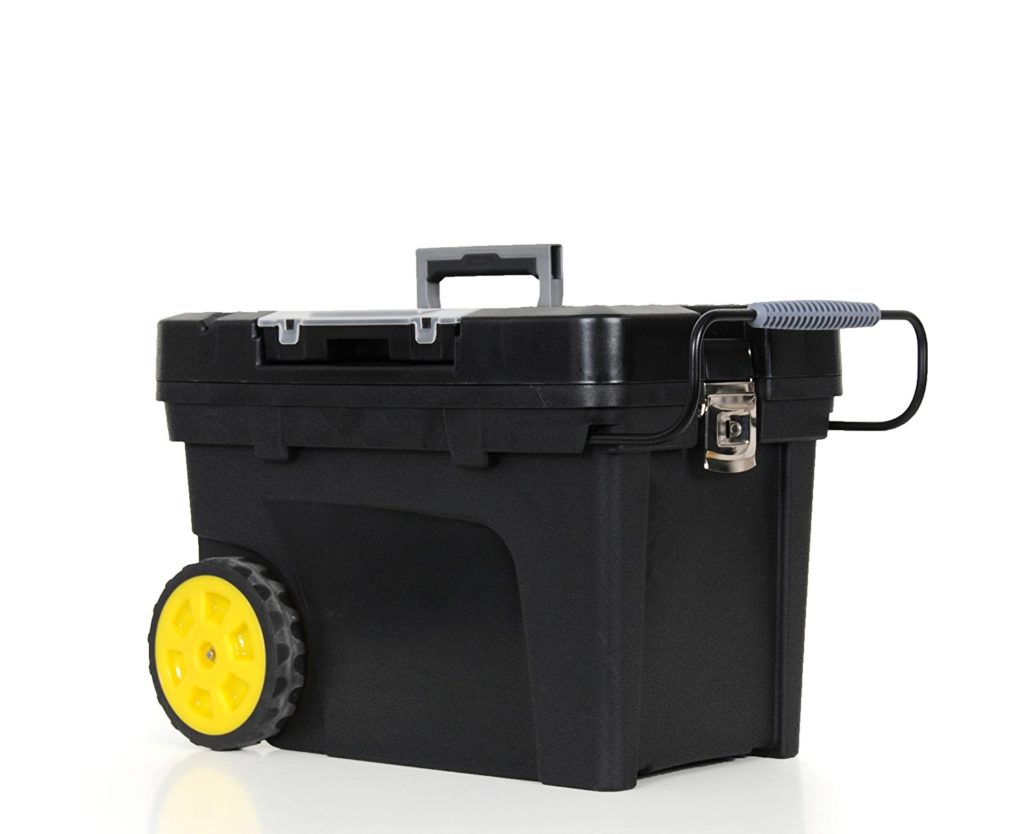 Mobile chests are a favorite of contractors, builders, and tradesmen of all types. This is because they allow them to keep all of their hand tools, supplies, and power tools in one safe, dry, and lockable place. And that means protection from the weather and theft on the job site.
Their extra sturdy wheels can support the weight of heavy tools and with the help of an extendable handle make bringing them to and from the work site every day easy. You won't have to worry about straining your back since transporting one is just like pulling a piece of luggage at the airport. They can even handle some pretty rough terrain.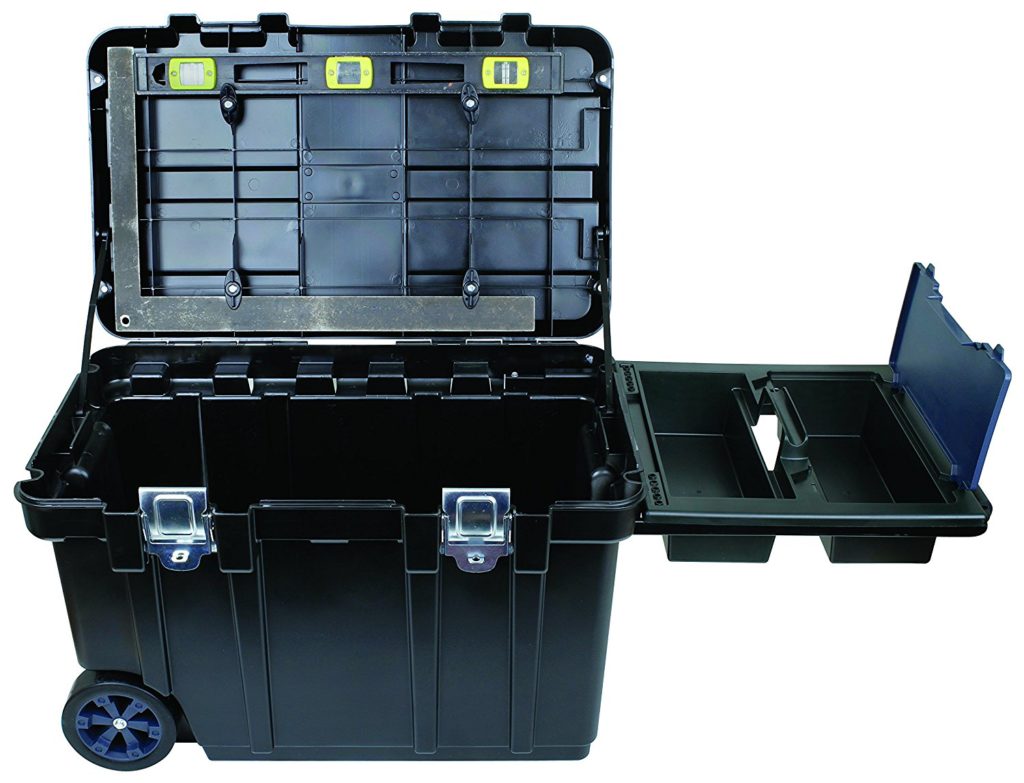 Heavy Duty Storage Totes
Also sometimes marketed as lockable storage bins these are an excellent choice for all-around storage. They may look similar to your average plastic tote or bin but are made to be much more durable. With features like reinforced bottoms and lids that allow them to hold heavy weights without cracking and also be stacked one on top of another without a problem they are often purchased for use in the home, basement, and garage.
Heavy duty totes are also popular with campers who are looking for a lockable waterproof storage box to keep all of their gear, sleeping bags, and food dry. Many of the top brands will offer models that have weather-tight seals to keep out moisture and pests if you need even more insurance. For gear and items of all types these offer extra protection that works just as well at home or in outdoor extremes.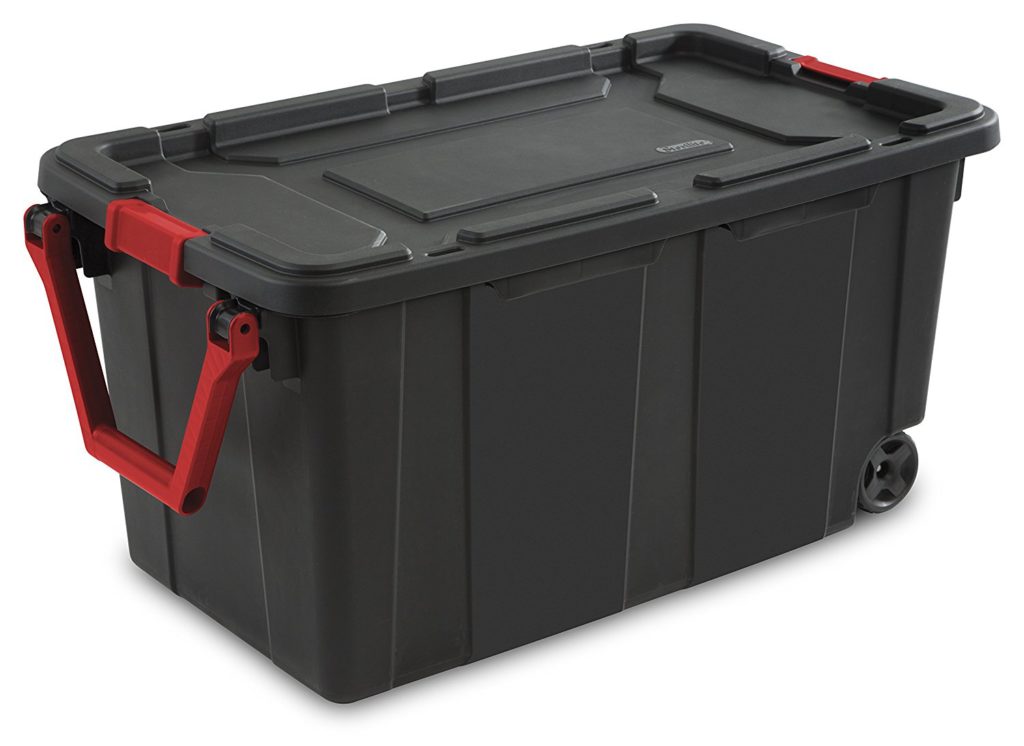 Lockable Storage Trunks
The next step up in size are trunks. These have the same extra strong features as totes but with added space for even more and larger items. Trunks area made to be stackable too, so even though they may take up more space than a small lockable storage box, they can be stored vertically in an organized and efficient manner.
Usually trunks will have wheels so that even if you fill one up and it becomes to heavy to lift you'll still be able to wheel it around. And while they are yet another choice for keeping tents and camping materials, you shouldn't expect to be able to bring one into the woods with you since the wheels are suited only for flat surfaces. That being said they are a smart choice for home use, teens going off to college, and for travelling with expensive or delicate gear and materials.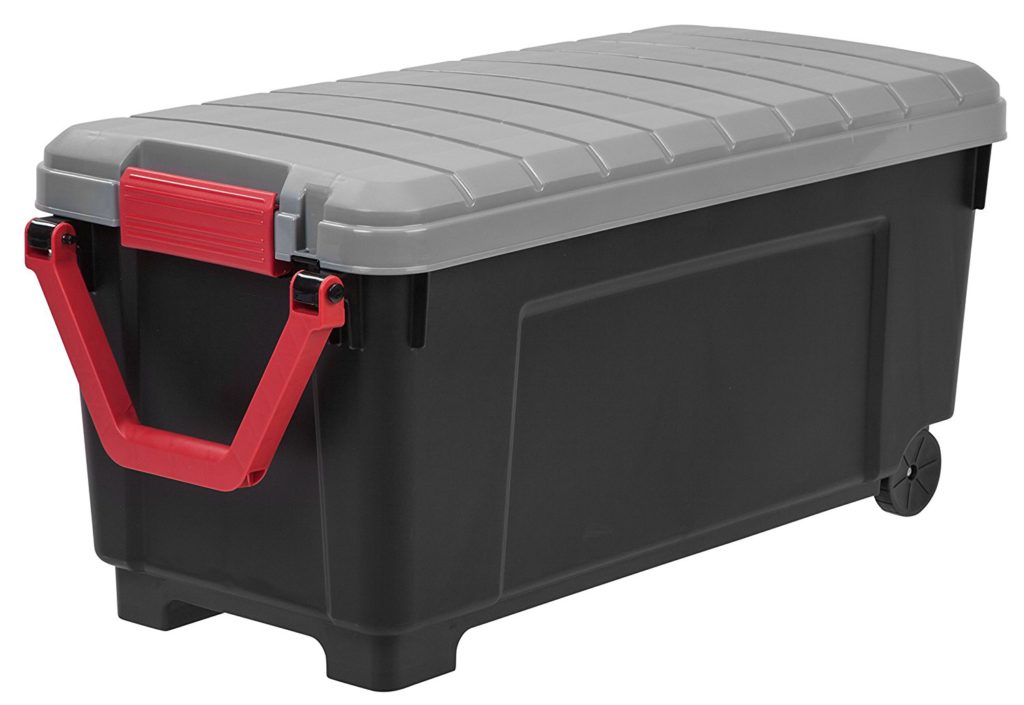 Deck Boxes
A deck box is a lockable outdoor storage box that has a very large capacity. In fact they are the biggest plastic option for homeowners offering anywhere from fifty up to around one hundred and thirty gallons of storage space. Like you can guess from the name deck boxes are ideal for the deck but also on the patio or anywhere else.
They are typically used to keep a wide range of outdoor items in a place which is convenient for you and your family. With a deck box you don't have to keep going back and forth to the garage or storage shed every time you need something. Simply place your box near where you will be using the items and stock it up.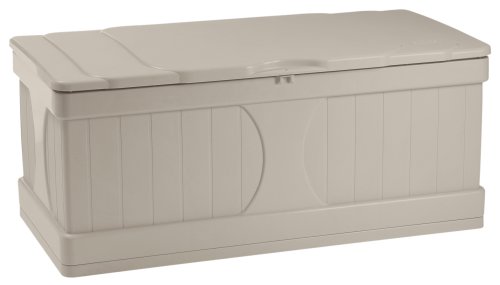 If you have a swimming pool one of these placed near the water makes an excellent place to keep toys, cleaning equipment and chemicals. For anyone who loves planting when set close to your flowers they make an ideal lockable garden storage box for tools, fertilizers, and bags of soil along with extra pots.
But of course they can be used for anything and everything from grilling equipment to keeping extra seat cushions. Lockable with a padlock they will keep kids, neighbors, and thieves out. Whatever you choose to keep inside them of course will remain dry, and protected from all the extremes of the weather regardless of if that is rain, snow, or the sun's rays.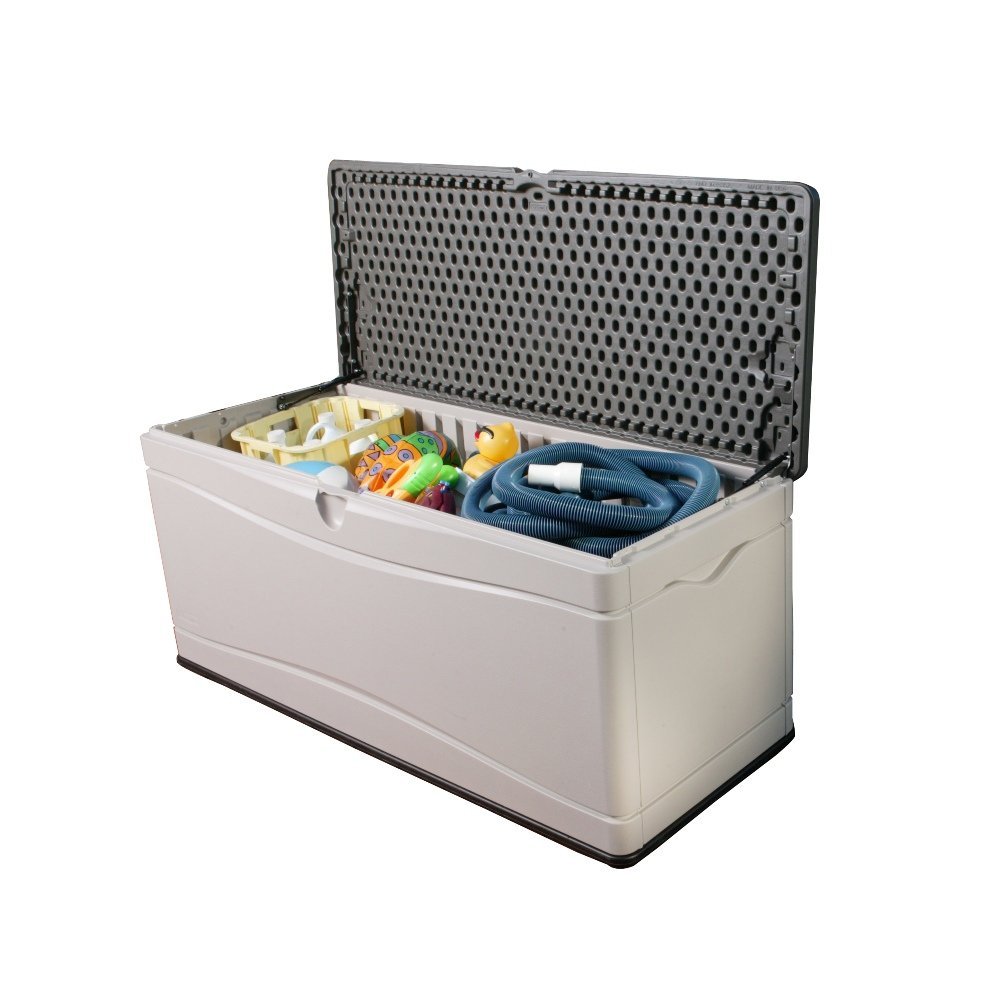 Some, but not all, are designed with a flat top that can support a lot of weight so that they can double a bench.  This is a handy feature you might want to take advantage of if you have limited space or just want to have the option of using it for extra seating if the need should arise. If seating and storage are both priorities you may also want to check out an outdoor storage bench.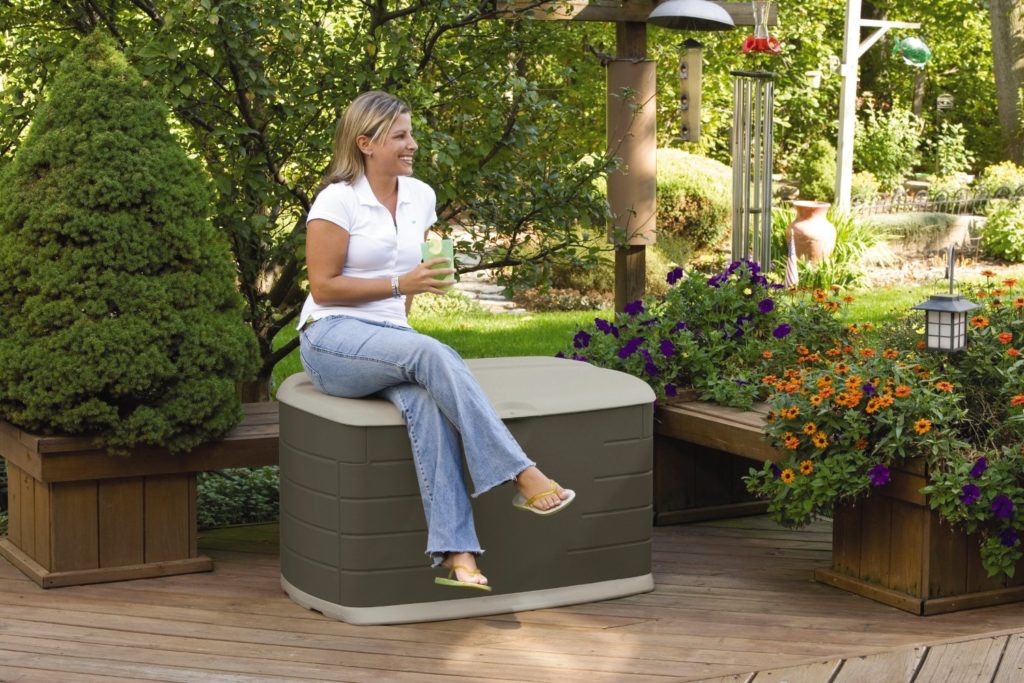 Lockable Ammo Boxes
As any hunter or firearm owner knows ammunition needs to be kept secure and dry. Plastic ammo boxes provide the perfect protection from family members, guests, or anyone else who shouldn't have access to your ammunition. All you need to do is attach a padlock.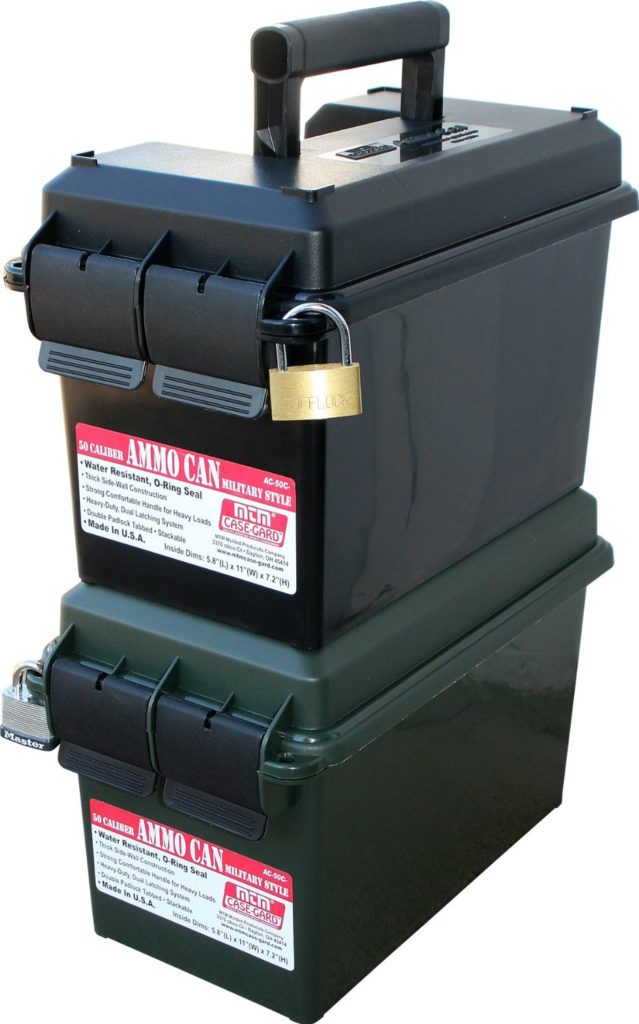 The plastic material keeps water and moisture out which helps to prevent corrosion so you won't have to worry about your ammo becoming unsafe to use in the future. The top options will often also have an O-ring seal or a dual latching system to make sure the contents inside stay totally dry. With plastic storage boxes you also won't have to worry about unsightly dents and dings like with metal ammo boxes.
Since storing multiple boxes of shells or bullets can quickly add up in weight, these lockable storage boxes are made with heavy-duty handles and latches. Many also are designed with ridges that allow for easy stacking so you can stockpile your ammo in an organized manner. These range from smaller plastic ammo cans to larger boxes that can also be very useful for holding a variety of other items as well.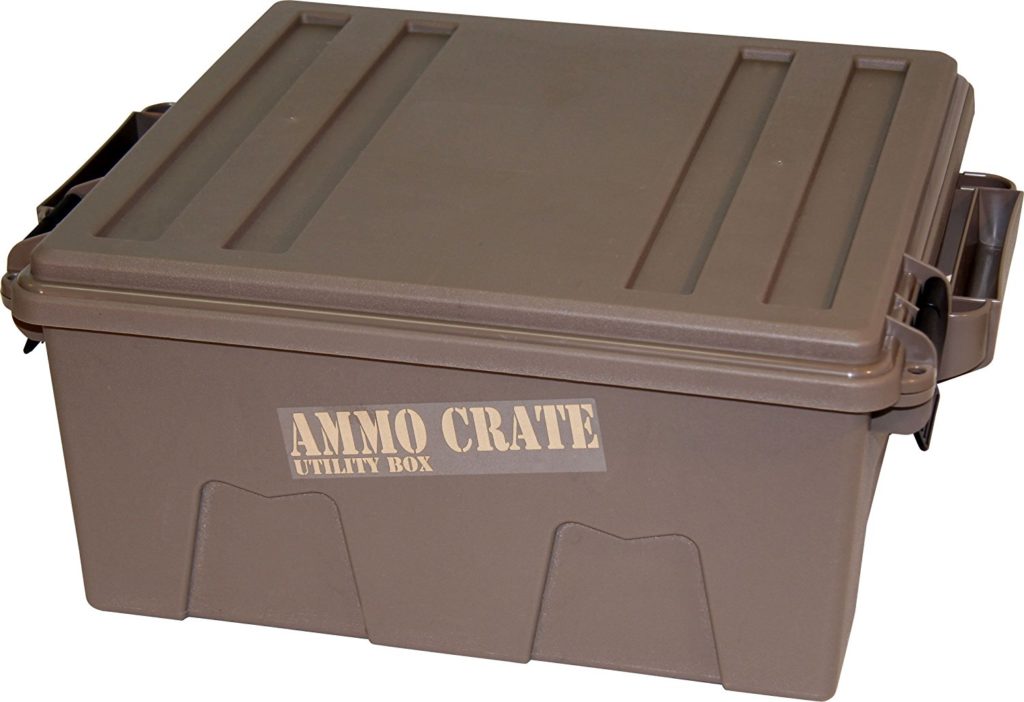 The Advantages Of A Lockable Metal Storage Box
The other material option when it comes to a lockable storage box is metal. Unlike plastic, metal boxes are designed specifically to be used in the home or business for your valuables or items which require more security. And while they might not be as versatile as the plastic variety and are not made to be used outdoors they do offer quite a few things that plastic does not.
Protection That Is Portable
For keeping items of extreme value a safe if really what you need. However safes are designed to be heavy and hard to move which may not be convenient for what you plan on keeping inside. When you want protection that is portable metal boxes can be the perfect solution.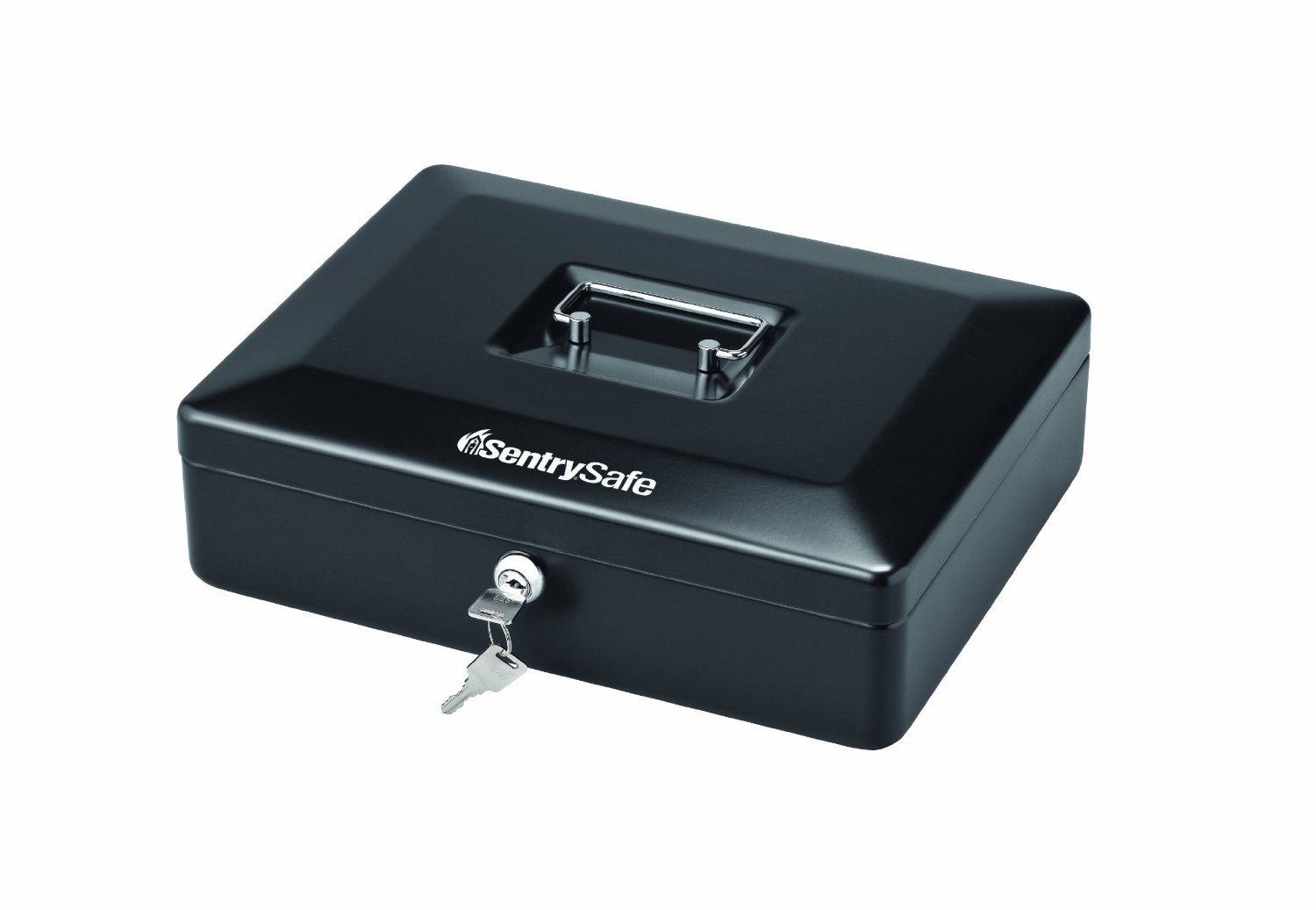 Various Levels Of Security
Of course there are different levels of protection to choose from depending on what you need. While one made from aluminum may offer very basic security, a steel lockable storage box  made from heavy gauge steel will be much tougher. Those with double steel wall construction are actually designed to be highly fire-resistant.
Built-in Locks
Unlike plastic lockable storage boxes which require you to purchase your own lock, metal boxes normally have their own built-in combination or key lock. Some actually have two locks which require two separate keys for extra security. For those who don't want to have to bother with a key there are also boxes that are equipped with standard or digital combination digital locks.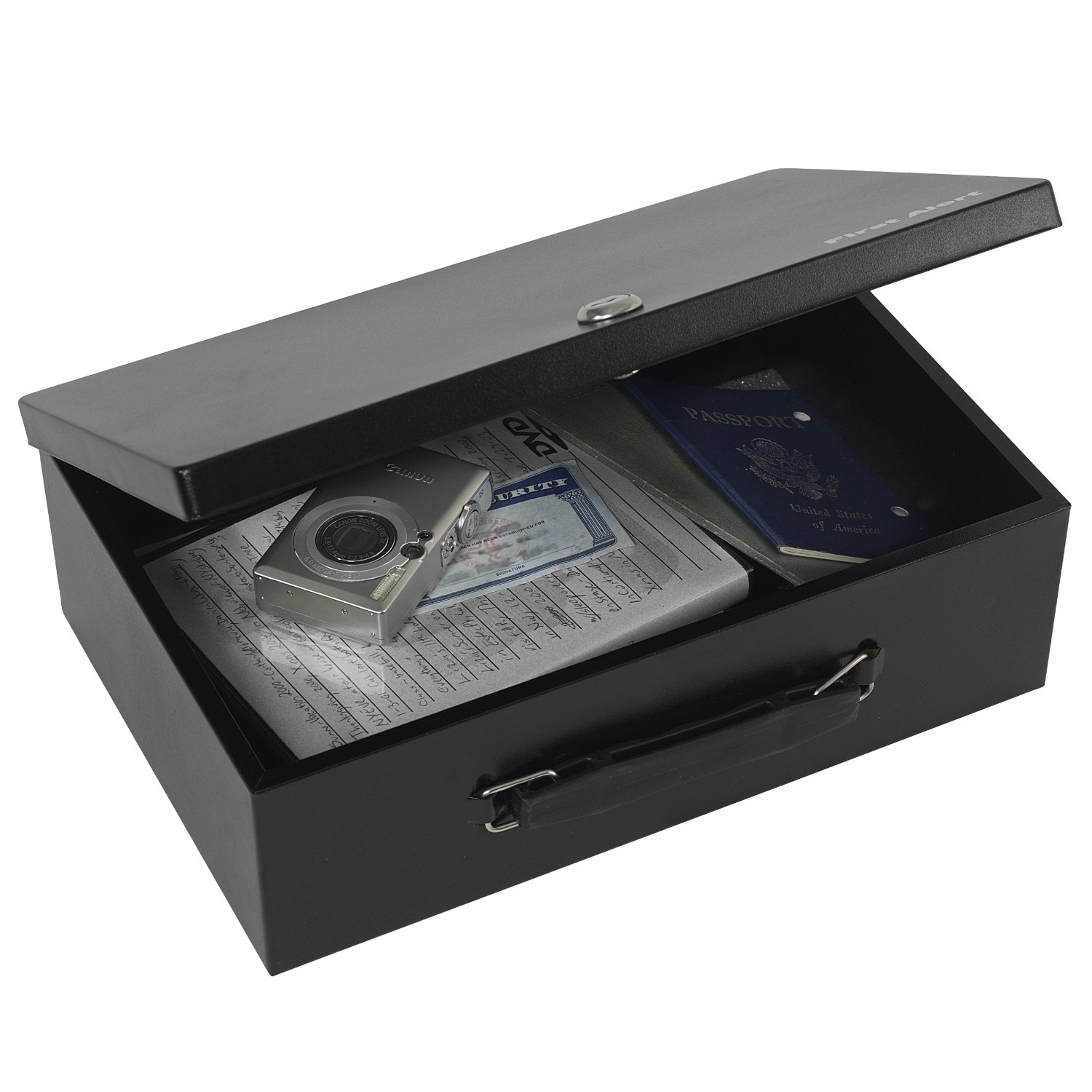 Inexpensive
Compared to buying a safe which can cost thousands of dollars, a metal lockable storage box is a great deal. Even the best brands are only a fraction of the price of an inexpensive safe which makes them, cheap way to insure the well-being of your valuables.
The Most Common Types Of Lockable Metal Storage Boxes
Cash Boxes/Security Boxes
Without a doubt the most commonly used type of lockable metal storage box is what is known as a cash box. They are also sometimes called security boxes or safe boxes. These are meant to protect cash but can be used for anything that can fit inside. They are also ideal for important documents such as birth certificates, receipts, contracts, and passports. Many firearm owners will use them as an inexpensive and safe way to keep handguns as well.
Models that are made specifically for cash often have built-in drawers and bill weights to keep bills and change neat and organized into different denominations. Other boxes come with cash drawers that can be taken out so you can keep other items under them or use them only if you choose to. And some have no dividers or drawers at all which may be what you're looking for; it depends on what you will be keeping inside.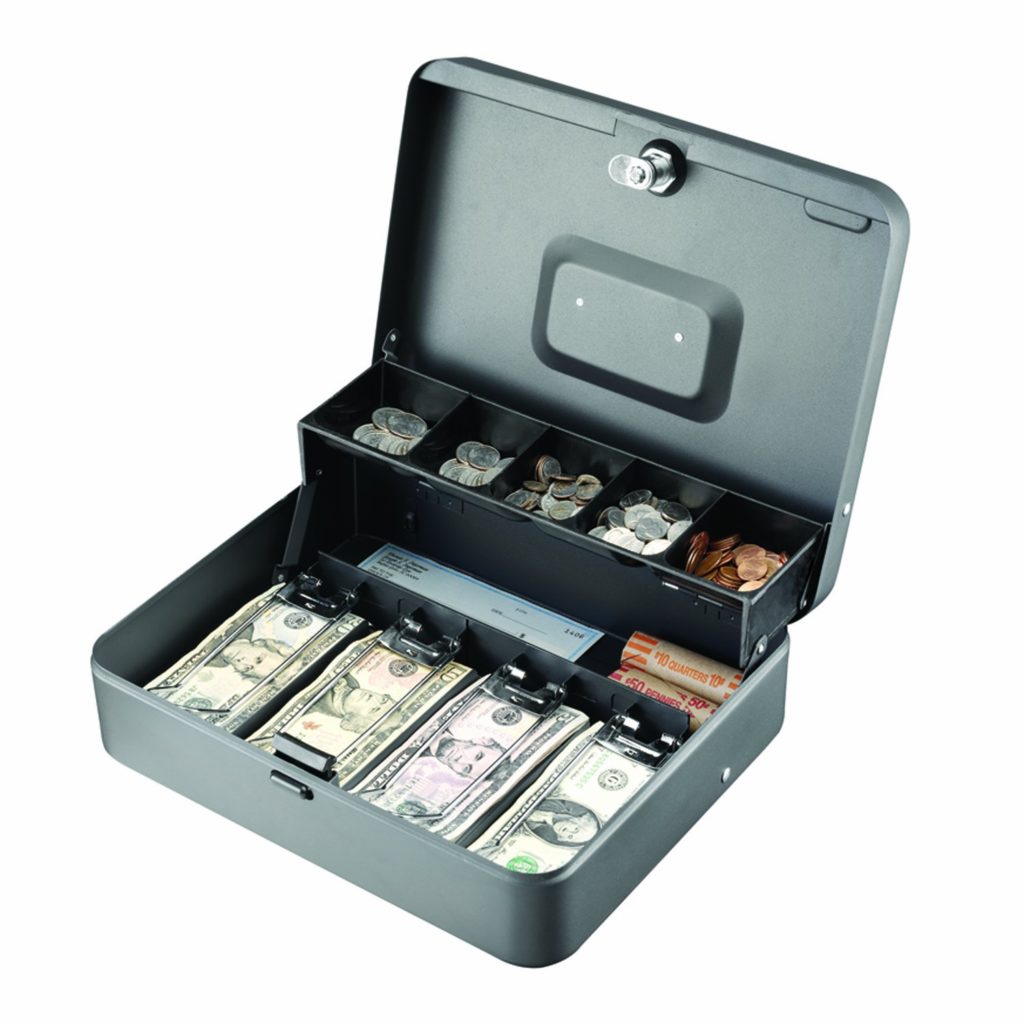 While they are not as impenetrable as a real safe, they are designed to keep valuables and cash under lock and key so that employees, co-workers, guests, kids, and of course thieves can't  have access. However, they are also very helpful for making sure that all of your important things are in one secure place.
The smaller size and portable nature of cash boxes really makes them very well-suited for being hidden. This is often a huge advantage over a metal safe which is normally obvious and will attract immediate attention from thieves. A box on the other hand can be hidden in a closet, desk or random place that a thief or curious child might not think to look. A lot of people will use one as a lockable under bed storage box that can be grabbed in a hurry if needed.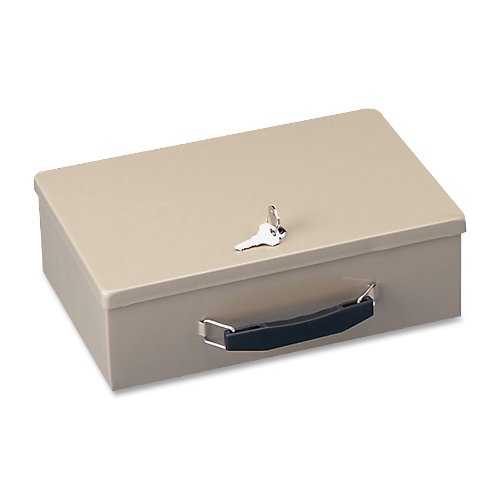 Since these boxes are made to be portable with strong handles that make carrying easy you can bring your cash to the bank, gun to the range, or valuables out of the house in an emergency. They are often used for bake and garage sales and can make a good gift for children and teens who want a special place to keep their things and of course savings. For the small business owner they often function for keeping petty cash and receipts.
If you need something that is fire-resistant be sure to choose a box that has double steel insulated walls. You can also purchase special fire resistant bags to place your items in before they go in the box. For even more protection you might want to consider one that is fire proof.
These are specially designed to be fireproof for a designated amount of time, for how long and at what temperature depends on the model. Some have waterproof seals as well and can function as both a fireproof and waterproof lockable storage box so you can be sure neither fire nor flood will ruin what's inside.

Lockable Medicine Storage Boxes
There are many reasons and situations when using a lockable storage box for medication is a necessary. Every parent needs to make sure that medicines are secure so that children don't have access to them. Even medicines which may be considered harmless can cause severe reactions and even death when taken in large quantities. So it always better to be safe than sorry.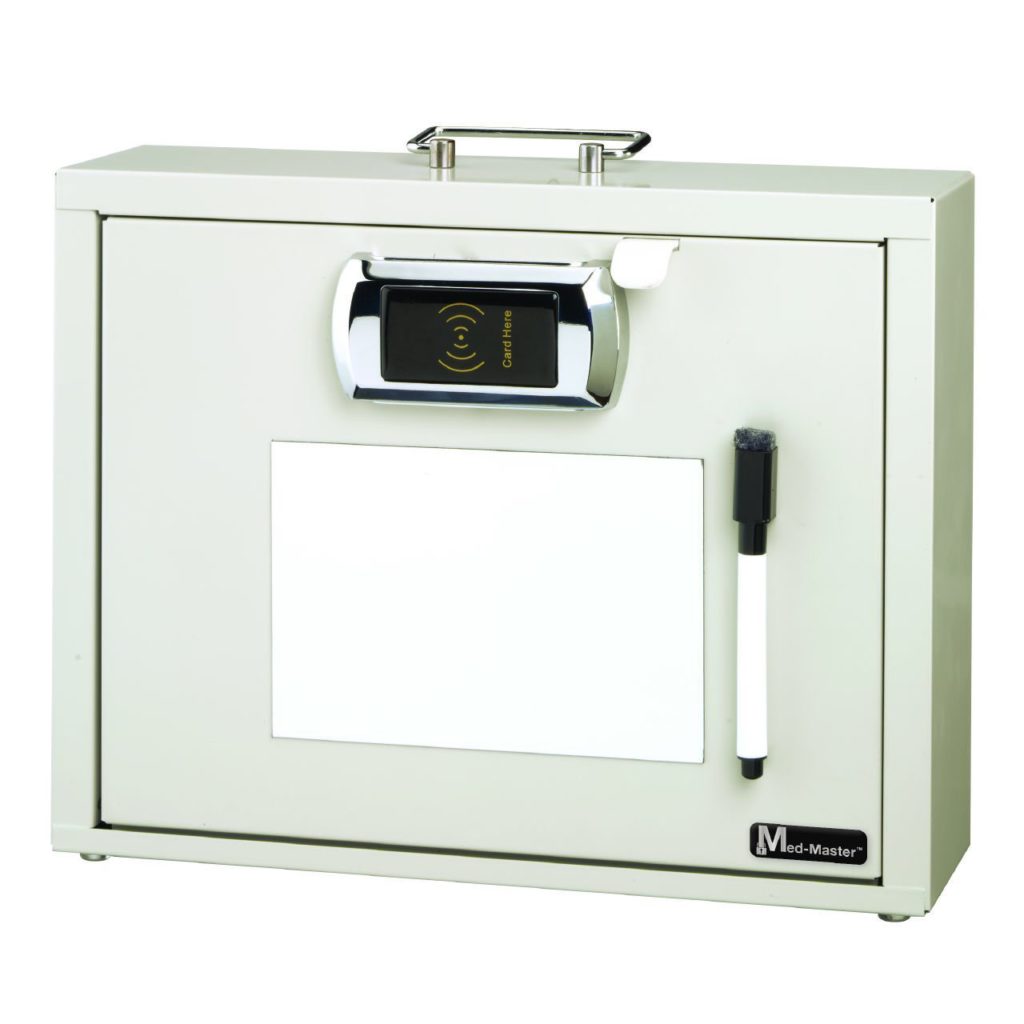 Anyone who shares a home with a family member who has a substance abuse problem or that has become addicted to pain medications really needs to consider purchasing one as well. They are also a good idea when taking care of the elderly who may not remember if they have taken their medicine already or not. By locking their prescriptions up you can help prevent an accidental overdose.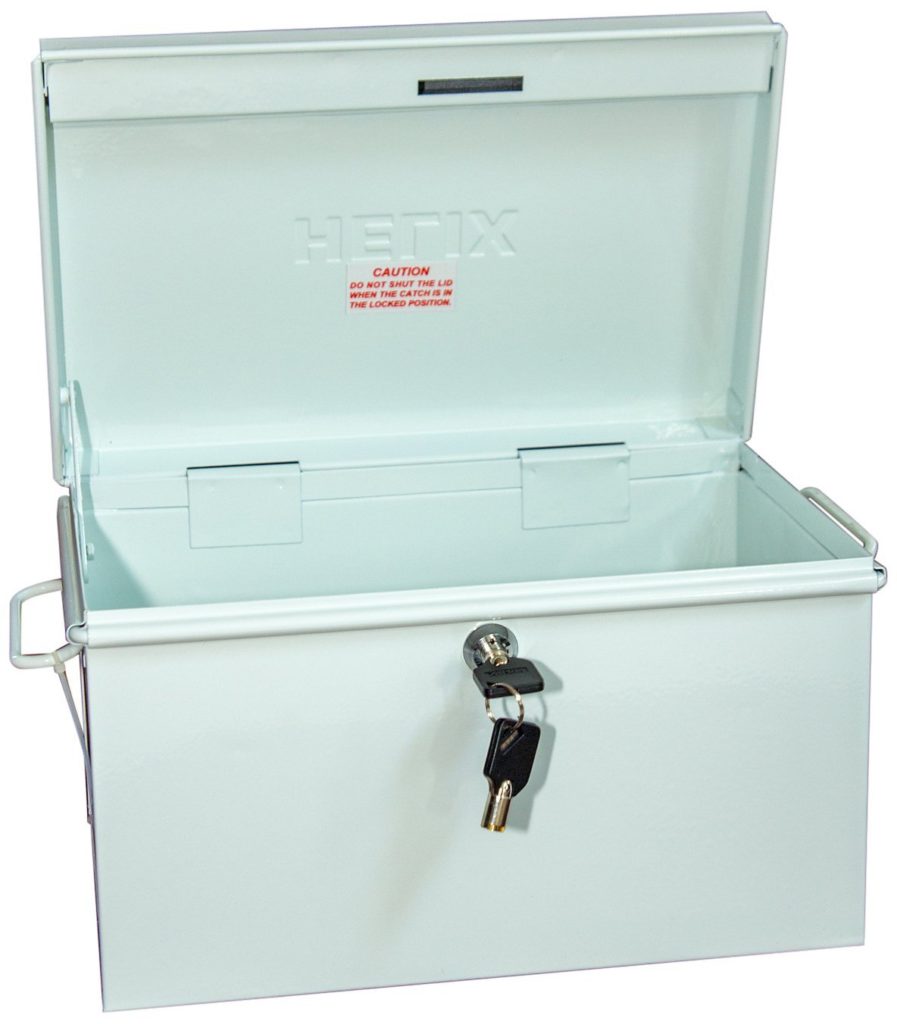 A lockable medicine storage box can also protect medicines from theft at home, work, and of course when travelling. While they can be found in plastic, metal boxes are much sturdier. The toughest options are made from steel. Many are designed so that they can be anchored to a wall for extra security and may even come with a cable that can be used to secure them to large objects. Their size allows them to be hidden in the home easily or fit inside a cabinet if you'd like.
The majority come with locks that work with a key or have a combination. A few even use key cards for for those who prefer key-less entry and not having to remember a combination. Just be sure to pick a box that is large enough so that it can fit the size bottles you want to keep inside. This is particularly important if you will be storing liquid medicine. Extra features like pouches and straps might be something to look for since they can be very handy for syringes and other medical necessities.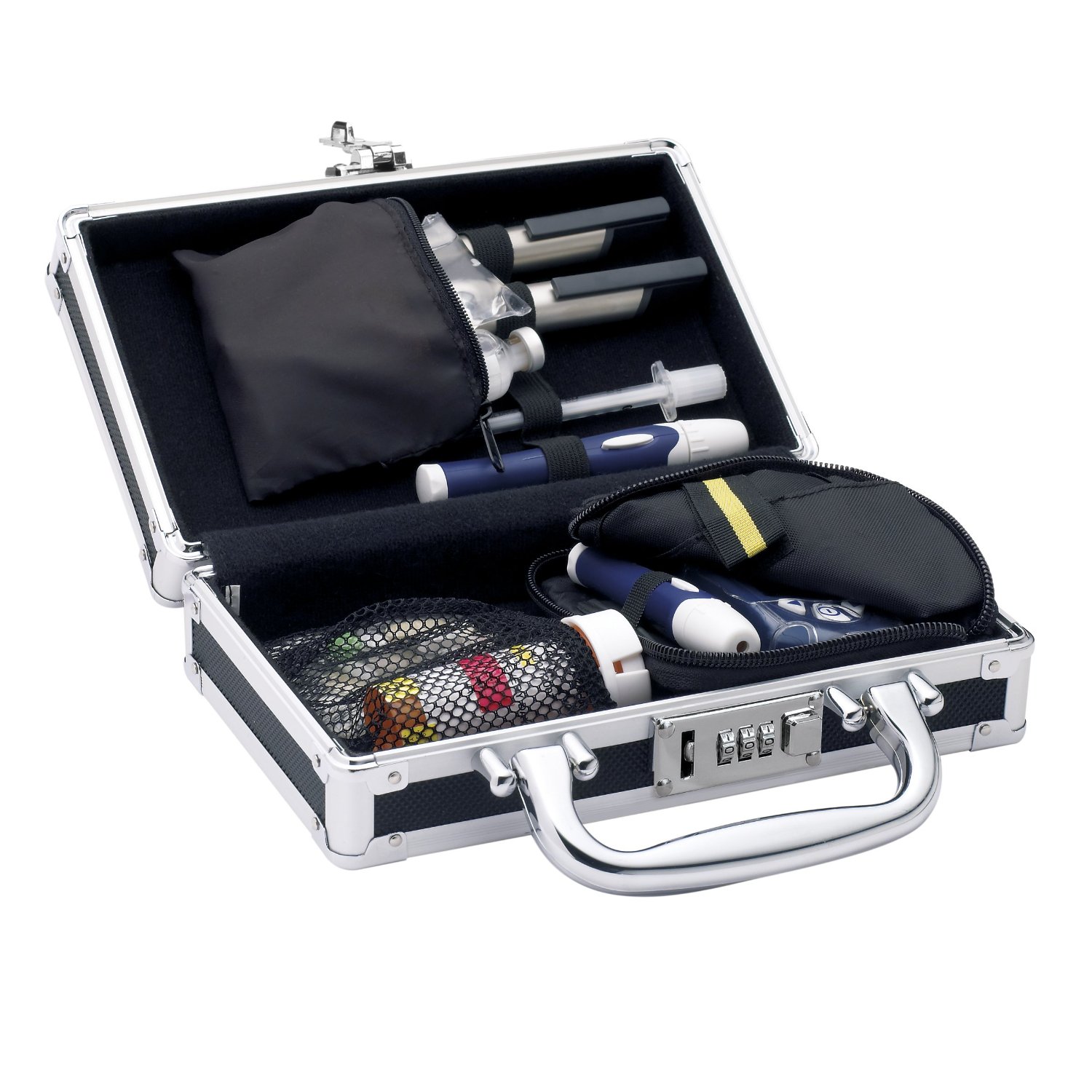 Gun Boxes
Responsible firearm owners always keep their weapons locked up. And for handguns this doesn't always need to be in an actual gun safe. Made from heavy gauge steel, gun boxes offer an alternative that can be both very convenient and also affordable. They will keep family members and visitors from having access while at the same time protect your gun from damage with an interior that is lined with soft foam.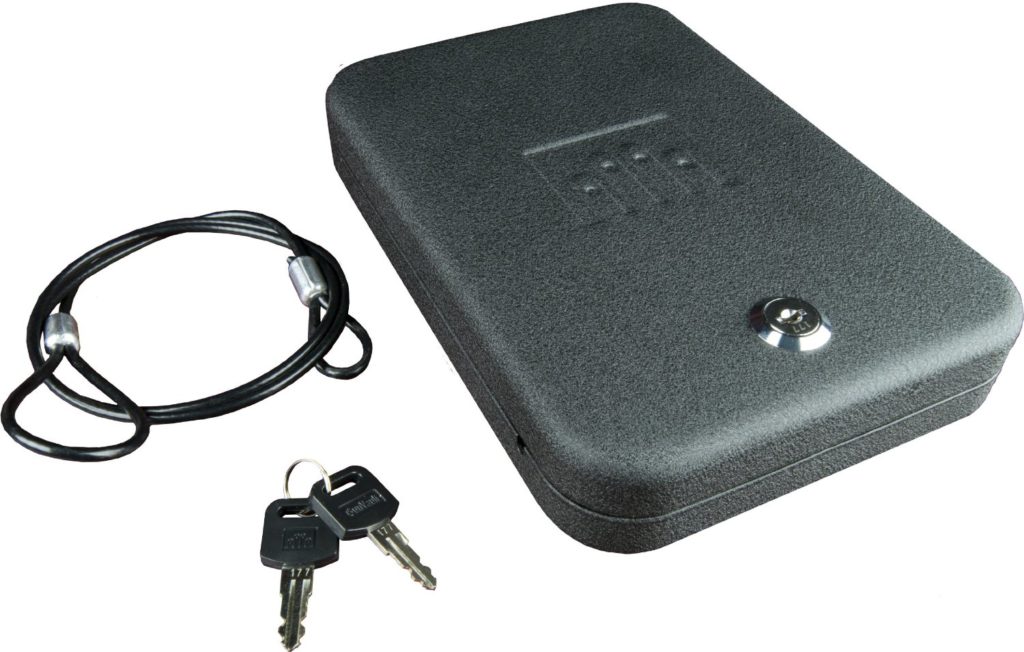 Gun boxes are commonly used for handgun storage in the home especially in areas where you can have quick access today them in the case of an emergency. And because they are slim they can also be hidden quite easily in areas that a safe would not fit.
They also function very well as a portable lockable storage box for those who will be travelling with their gun in their car and many even meet TSA guidelines for airline travel. Some boxes will also come with a steel cable so that you can secure them to solid objects in the home, inside you vehicle, or directly to the inner parts of your luggage.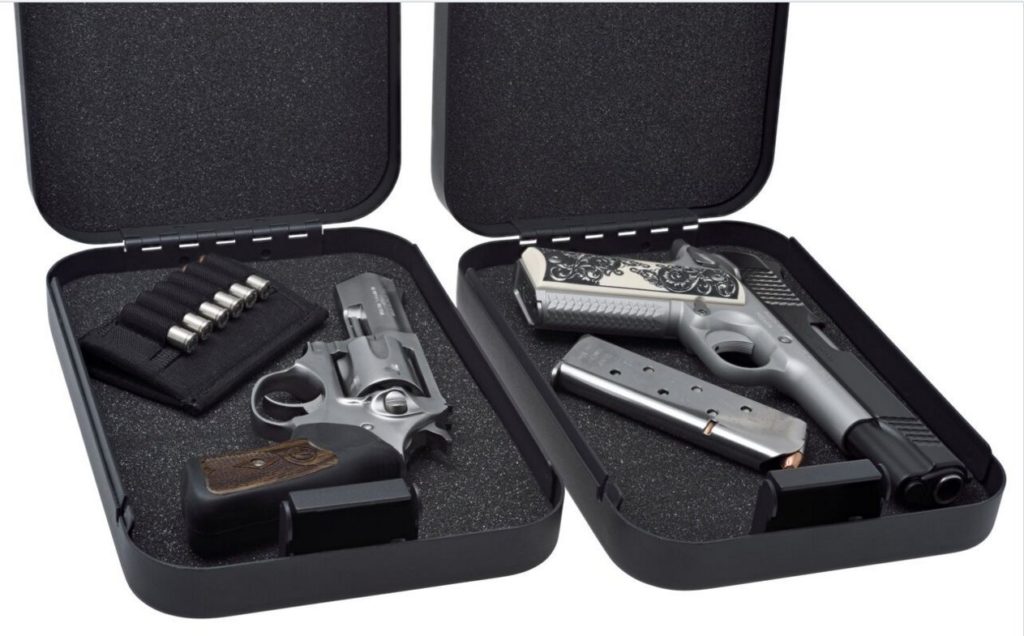 Locks can use keys, have a combination, or be biometric and are always built in. Generally biometric and key locks are preferred if you will want to be able to open your box as fast as possible in the dark. While they are typically inexpensive, with this type of lockable metal storage box you do get what you pay for, so you should never try to sacrifice quality for price when it comes to safety.
Multi-Use Boxes
There are a quite a few multi-use boxes on the market as well. They are ideal for anyone looking for a portable lockable storage box that isn't designed for a specific type of item. You can put whatever you want inside from school supplies to your favorite possessions. And for this reason they are popular with students and young kids but also for anyone who works in an office and want to keep their things safe at work.
In general they are not as sturdy as a cash or gun box but they aren't made to be which means that they are often quite inexpensive as well. And while some come with a key or combination lock others may require you to purchase your own padlock.

Oversized Boxes
Some items may be a little too big or oddly shaped to fit into standard size boxes. This is often the case with longer items as well such as tools and knives. Oversized lockable metal boxes are a smart solution. These are usually easy to stack for convenient storage and are often used for things like ammo and even to keep foods safe from pests in the kitchen.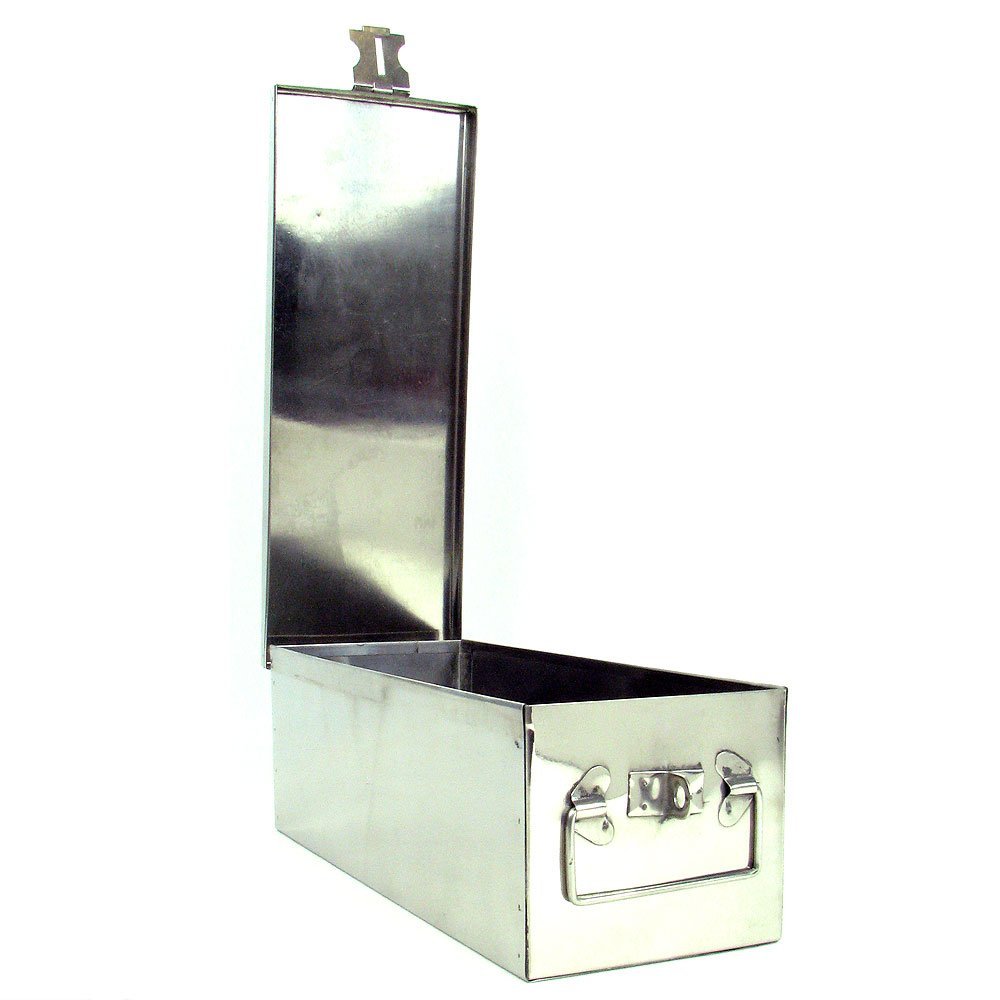 Both plastic and metal lockable storage boxes are an excellent investment for anyone looking for safe and well-protected storage. For large scale storage or keeping tools, equipment, and general items a plastic storage box is probably your best bet. And if you will be storing valuables and important documents be sure to choose a lockable metal storage box from a reputable brand for maximum security. But most importantly be sure to relax and enjoy the fact that your possessions are secure and organized!
Click Here Now to start shopping for lockable storage boxes!


Read More